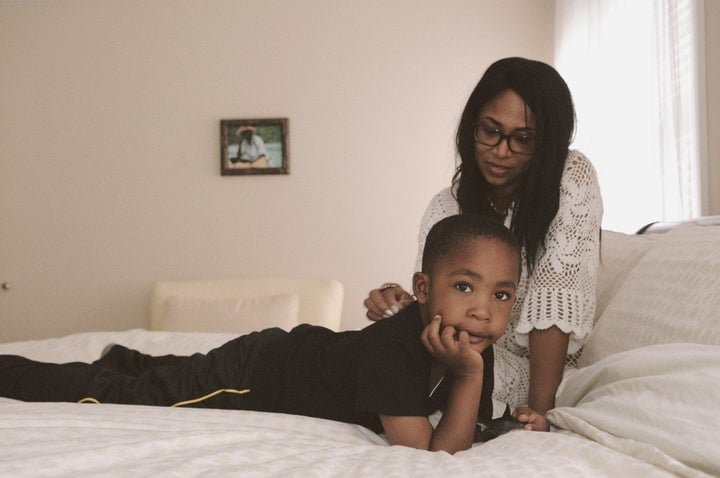 Little man Ian Frempong Boadu is the king of all he surveys, which right now is the entirety of his parents' sprawling weekend home in picturesque Westchester, New York. This includes the expansive yard with wildflowers and dragonflies, as well as the swimming pool, in the back. With a plastic toy shark held tightly in his right fist, Ian marches back into his house, pointing out the contents and goings on of each room.
"This is the bathroom. This is my grandma and grandpa's room. And this," the 4-year-old says, with a proud flourish, "is mommy's office."
Off to the side of a room dominated by a flat-screen television and Ian's XBox is a glass topped wrought iron desk with a few papers stacked on it. It's here that mommy -- better known as Gwen Frempong Boadu -- runs her business: Gwyneth, a line of shoes you can find online and in 35 stores across the country. Frempong Boadu has been designing shoes for 20 years, starting her career off as a shoe model before shifting to shoe design at Sam and Libby, Kenneth Cole and Steve Madden's Steven line.
"I find my work very gratifying. I look at it as a gift from God," Frempong Boadu, 46, says. "I just feel really lucky that I can do something that I enjoy so much and be rewarded for it as well."
But after two decades of nonstop work, Frempong Boadu said she realized the accolades and acclaim afforded an independent businesswoman couldn't quiet her desire to be a mother.
"My career [was] extremely demanding, especially travelwise," Frempong Boadu remembers. "Since the beginning of my career, I used to travel six to eight months out of the year, so it was quite difficult to even consider starting a family until I started my own business."
But in 2007, just as she was preparing to start a new family and her new business, a health scare from her past struck a devastating blow.
"[I found out] my uterus [had been] compromised when I had a surgery to remove fibroid tumors [in 2003]," she recalls. "No one ever anticipates having a problem. I had no idea how difficult it would make conceiving and how it would affect my life going forward."
PHOTO GALLERY
Mater Mea Moms
REAL LIFE. REAL NEWS. REAL VOICES.
Help us tell more of the stories that matter from voices that too often remain unheard.