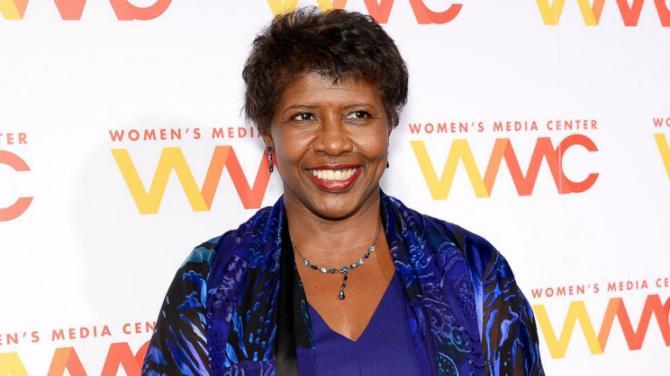 It was with great sadness that I heard the news about PBS NewsHour anchor Gwen Ifill passing away yesterday. A trailblazer for women in media, Ifill had the distinction of being one of the most visible African American female broadcast journalists. I was fortunate enough to be able to interview her last year when she and her co-anchor Judy Woodruff were being honored at the Women's Media Center Awards with the WMC Pat Mitchell Lifetime Achievement Award. In addition to the many accomplishments in their individual careers, Ifil and Woodruff broke new ground as the first women to co-anchor a network news program. When I interviewed her at the awards, she spoke of the need for more women to fill their chairs and offered insights on the state of women's media.
When I asked Ifill why she felt the work that the Women's Media Center does is so important, she told me this: "We take ourselves for granted after awhile. We get these jobs, we succeed, and then we don't get a chance to actually pass it on to the next generation. If we don't do it, there's nobody else to do it. I mean, Judy and I love working together; we think it's great. But we know if we get out of those anchor chairs tomorrow, there will be nobody else who would even recognize what we did as a breakthrough duo but also nobody to replace us. So it's important that organizations like the Women's Media Center exist."
And when I asked her about the current state of women's media, she said: "I think we've progressed to the point where we don't call it women's media anymore. Remember if there weren't Ms., nobody wrote about us? Now we even manage to affect in enough other areas, including—not as well as we could—but including tech and blogging and podcasts. Our voices are out there in all these different ways because the media has changed so much. So I think in some ways we're in a better position that we were, but we still have to be diligent. We still have to police it."
Her partner on the NewsHour, Judy Woodruff, observed, "It's important we have women's voices in journalism as we cover the news because we should reflect the country we're covering. Women are more than half the population; they're more than half the electorate in the United States, and we can't cover what's happening in this country—whether it has to do with the economy, education, health care, and business—unless we bring in women's voices. We need to be making a point every day to bring women into that conversation. And if we're not, then we're not fairly reflecting what the country looks like."
Gwen Ifill has undoubtedly inspired girls and young women to believe that they, too, can have a voice and be successful in a field that is typically male-dominated. With her passing and the potential shifts this country is facing, now more than ever it will be important to have women's voices in the media to continue her legacy and, as she said, "be diligent" in making sure that women continue to progress in all areas. Let's remember her and honor her by encouraging more women to pursue careers in media—and any other field where women have have not had equal representation—and make their voices heard.
Related
Popular in the Community