WASHINGTON – The Ifill family's journey from Barbados to the pinnacle of American society was an arduous and inspirational one.
It was not the kind of story you heard from the campaign of Donald Trump, because it is one that undercuts and invalidates the worst aspects of the message of fear of "others" that Trump peddled.
The Ifills left three generations ago, with an education in faith and a faith in education, but no money or prospects. They made their way to jobs in the U.S. Canal Zone in Panama, though because of their race and status they had to live outside the zone in Panama proper.
"It was like the old segregated South," Sherrilyn Ifill, one of the descendants of those pioneers, told me Saturday. "It may as well have been Alabama."
With the men working on the canal and the women working as domestics, they made the money and got the papers to come to America.
Two young brothers of those founders became ministers in the African Methodist Episcopal Church, traveling from post to post in New York and elsewhere in their new country.
One of the brother's daughters, Sherrilyn, attended Vassar College and NYU Law School and is now the president of the prestigious NAACP Legal Defense and Education Fund ― the organization Thurgood Marshall ran when he won the Brown v. Board of Education lawsuit.
One of the other brother's daughters was Gwen Ifill, the trailblazing and widely respected print and television journalist who died last Monday of endometrial cancer at the age of 61 in Washington.
A celebration of her life at the historic Metropolitan AME Church in downtown Washington on Saturday was a moving personal and religious ceremony, full of lilting gospel music, strong preaching and a stately rendition of Ifill's favorite, the "Hallelujah Chorus."
Tears flowed, shouts rang out, and family and friends embraced as if their lives depended on it. It was an intensely personal three hours for the thousand or so of all hues and heritages gathered in a church famous for past congregants such as Frederick Douglass and beloved for its good works.
But intentionally or not, the event was something more: It was a revival meeting for America, a celebration of that which is so positive, so nourishing and so indispensable about the country's growing diversity that it renews our faith in our common destiny.
Speaking from the pulpit about her family and her cousin, Sherrilyn explained her family's patriotic faith ― that, "with all its flaws, they believe in America," including the opportunities for education it provided. Neither they nor Gwen, in her long career at great newspapers and TV networks, ever "gave up on the project of America."
"She was the most American of success stories."
The fathers and mothers taught the children to always respect the opinions of others, and to realize that "there is no weakness in listening."
Gwen Ifill was an excellent interviewer because she was an even better listener. She mentored dozens of other black and female journalists, and anyone else who came to her for help. Her incandescent smile and calm, equable demeanor hid a fierce impatience with superficiality, cant and people too cunning by half.
Her family's peripatetic lives, moving from place to place for her father's ministry in small towns in Pennsylvania and elsewhere, gave her a ground-level feel for the country and its glorious, maddening variety.
"She was the most American of success stories," said Sherrilyn. "Her life and work made all of our lives better."
The crowd and the messages read out loud were a testament to her reach and her grace: first lady Michelle Obama and former Attorney General Eric Holder were in the pews; House Speaker Paul Ryan sent condolences; Holder read a letter from President Barack Obama.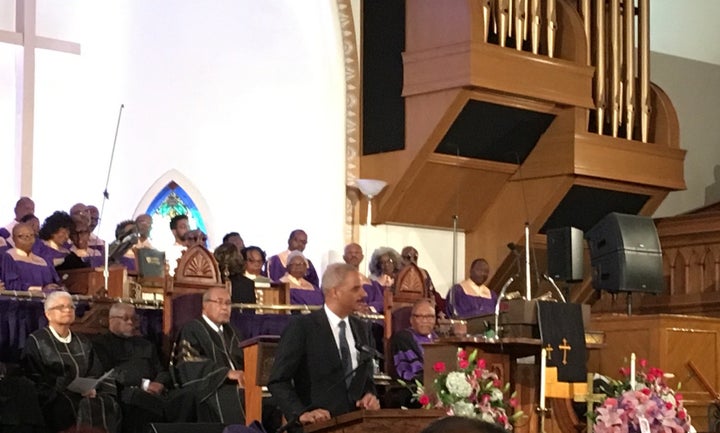 Holder recalled that Ifill ― though a friend and fellow descendant of Barbadian immigrants whom he called "cuz" ― hit him with tough questions in interviews. He challenged the many journalists in attendance to follow her example in the years to come.
"Will you cower?" he asked, beseeching the reporters not to sacrifice the search for the truth to the false god of "access maintenance." That brought knowing applause from the savvy D.C. crowd and sheepish nods from the famous reporters in the church.
The undergirding ― and uplifting ― message to the crowd was one of unity: brought together by one woman, but unified in a faith that, as former President Bill Clinton said, there is nothing wrong with America that cannot be cured by what is right with America.
Ifill's life and work is a testament to that faith, and after hearing about both, the congregation rose as one as AME Bishop William P. Deveaux Sr. led them in the hymn "It Is Well With My Soul."
Everyone sang loudly and with a feeling of hope ― for Gwen, for each other, and for America.
Popular in the Community