An interview with Allure got weird after Gwen Stefani was asked by an Asian reporter about her Harajuku era.
Jesa Marie Calaor, a Filipina American and senior editor at Allure, wrote in an article published Tuesday that during a 32-minute interview with Stefani — which was meant to promote the launch of her vegan beauty brand, GXVE Beauty — she asked the former No Doubt frontwoman if she had learned anything from her Harajuku days, when she adopted the styles and attitude of the avant garde Tokyo district. The question has been asked by other publications due to the criticism Stefani received years later that she had appropriated Japanese culture.
In response, "The Voice" judge defended this phase in her career, asserting "twice that she was Japanese" to Calaor.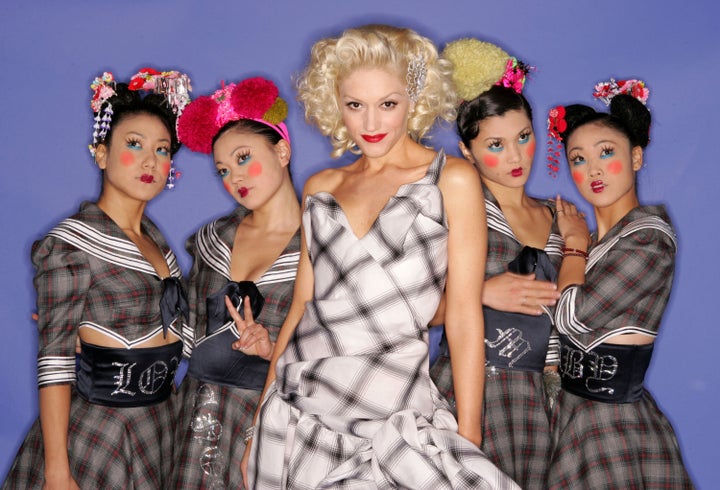 In 2004, Stefani released her first solo album, "Love. Angel. Music. Baby," and promoted it with four Japanese backup dancers known as the Harajuku Girls, named for the young-and-stylish district. These women performed onstage with Stefani and acted as her entourage offstage. They were "reportedly contractually obligated to only speak Japanese in public," according to Time magazine, and Stefani "renamed them — as if they were pets — 'Love,' 'Angel,' 'Music' and 'Baby' after her album title."
In 2008, Stefani launched her Harajuku Lovers fragrance in which she borrowed from Japan's Harajuku subculture for its visuals and marketing, and she made the bottles look like cartoonish, Funko Pop replicas of Stefani and her backup dancers.
Stefani explained to Calaor that she was introduced to Japanese culture by her father, who worked at Yahama for 18 years and frequently traveled between California and Japan. Stefani's father, who is Italian American, would return from his travels "with stories of street performers cosplaying as Elvis and stylish women with colorful hair," Calaor recounted.
"That was my Japanese influence," Stefani told Calaor. "And that was a culture that was so rich with tradition, yet so futuristic [with] so much attention to art and detail and discipline and it was fascinating to me."
Stefani got the opportunity to travel to the Harajuku district as an adult and was enamored.
"I said, 'My God, I'm Japanese and I didn't know it.' … I am, you know."
Stefani then called herself a "super fan" of Japanese culture before launching into a defense against her critics.
"If [people are] going to criticize me for being a fan of something beautiful and sharing that, then I just think that doesn't feel right," Stefani said. "I think it was a beautiful time of creativity…a time of the ping-pong match between Harajuku culture and American culture. [It] should be okay to be inspired by other cultures because if we're not allowed then that's dividing people, right?"
Calaor — who was accompanied by a colleague who is Asian and Latina — seemed bewildered by Stefani's remarks.
After the interview, Calaor said that she and her colleague "were left questioning what we had heard. Maybe she misspoke? Again and again?"
"During our interview, Stefani asserted twice that she was Japanese and once that she was 'a little bit of an Orange County girl, a little bit of a Japanese girl, a little bit of an English girl,'" Calaor wrote.
Calaor then noted: "A representative for Stefani reached out the next day, indicating that I had misunderstood what Stefani was trying to convey. Allure later asked Stefani's team for an on-the-record comment or clarification of these remarks and they declined to provide a statement or participate in a follow-up interview.
HuffPost has also reached out to Stefani for clarification.
Stefani then concluded her interview by telling Allure that due to her upbringing in Anaheim, California, not only does she identify with Japanese culture but with Hispanic and Latinx cultures as well.
"The music, the way the girls wore their makeup, the clothes they wore, that was my identity," she said. "Even though I'm an Italian American — Irish or whatever mutt that I am — that's who I became because those were my people, right?"
To read more about Stefani's interview — and Calaor's thoughts on the exchange — head over to Allure.
Popular in the Community