 Michelle Obama spent the weekend in Los Angeles, attending a spree of fundraisers. Sunday events at the homes of No Doubt singer and fashion designer Gwen Stefani and Warner Bros. CEO Barry Meyer were expected to bring new energy and a fiscal boost to the President's re-election campaign.
"Barack can't do it alone," Obama said at the Stefani-hosted event. "He's not Spider-Man. He's not a superhero. He's a human, so we need your help. I am not just talking to the adults here today. I am talking to the young people here as well. All of our young people--you might not be old enough to vote. You vote at school, I know--I met several young people who are going to be voting for my husband, who are 10 and under--we accept those votes."
THR reports that the event at the No Doubt singer's house, the first of the two on Sunday, was "billed as a 'Sunday of Fun.'" Many of the celebrities in attendance -- including Nicole Ritchie and Joel Madden -- brought their children. A White House pool reporter also counted Jeffrey Tambor, Alyson Hannigan and No Doubt member Tony Kanal as in attendance.
The gathering at the later event at Meyer's house was a veritable cross-section of Hollywood's power structure. Moguls like WB TV president Peter Roth, HBO VP James Costos, Netflix executive Ted Srandos, DreamWorks Animation's CMO Anne Globe and bigwigs from CAA and ICM were spotted among the crowd, as was comedienne Chelsea Handler.
"I am deeply honored and moved to be here," Obama said at the event. "I always am. Coming to Los Angeles is always a refreshing experience because the love and support and the sophistication around the issues and the passion always gives both me and Barack an important boost. I want to start by thanking Barry and Wendy not just for their very smart and in-depth and gracious introductions, but for the role that they play not just in politics but in the world, in life."
THR reports tickets for the Stefani fundraiser were $2,500 (for a family of four) and that about 400 people attended. The Meyer event tickets were also $2,500, and those desiring a photo with the first lady paid $5,000.
Here's a particularly lush description of the evening's conclusion from the White House pool:
The mood is casual, with at least one guest sitting in the grass while listening to FLOTUS, and others, including some elderly guests, perched on chairs. The sun begins to set as FLOTUS nears the end of her remarks. At the end of her remarks, FLOTUS blows kisses to the crowd, then exits out the side of the house, past a row of rose bushes bearing yellow and peach blossoms. On their way out, guests are handed clear cellophane bags containing large white meringue cookies.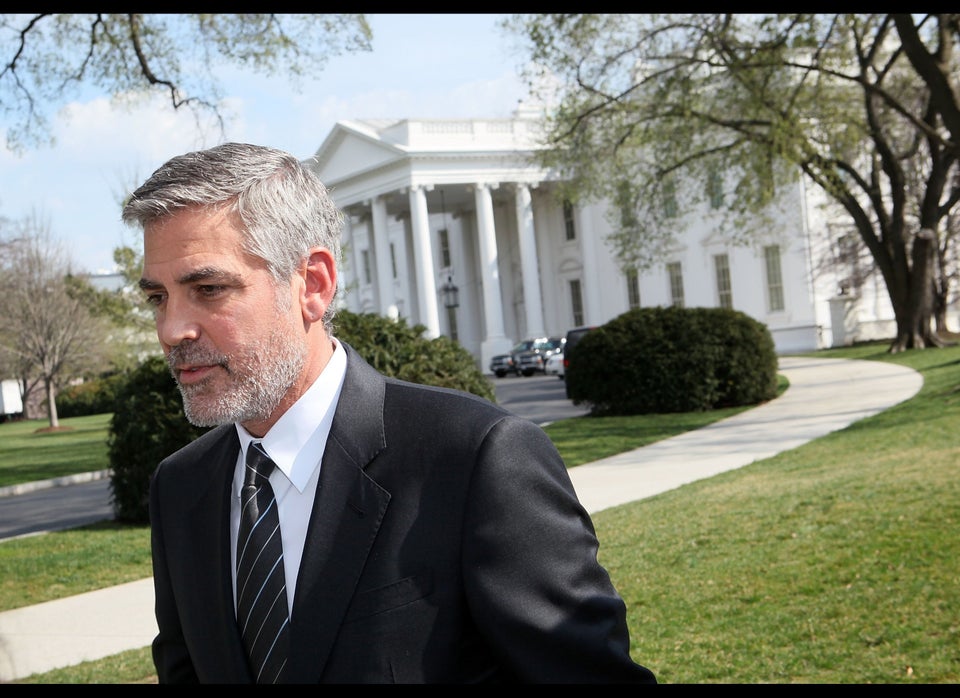 Obama With Celebrities
Popular in the Community