During a conversation about whether the ska-influenced pop star and her country crooner boyfriend, Blake Shelton, had any overlap in their music taste, Stefani decided to steer the conversation in an awkward direction. Instead, she offered up a mortifying story about a woman Shelton used to be romantically involved with.
Kimmel had noted that ska music probably wasn't super accessible in Oklahoma, where the now 41-year-old Shelton grew up. The former No Doubt singer responded by suggesting that there may have been some people in Shelton's life who were at least familiar with her old band's brand.
"He did tell me that he dated a girl for like, three months," Stefani said. "That had my face all plastered over her whole bedroom. So that's kind of weird, right?"
In response, Kimmel offered up a fun prank to pull on Shelton.
"Find out what she looks like and plaster her face all over your bedroom," the host quipped.
And Stefani responded a little like this: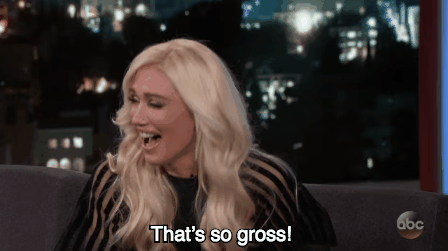 While the story is entertaining, Stefani sharing it might have been a bit odd, considering the 48-year-old singer has been famous since the 1990s and she has amassed tons of obsessed fans.
Especially since earlier in the segment, Stefani admitted to being a huge fan of the ska band Madness when she was younger. So much so, she actually cried when she found out that its lead singer, Graham "Suggs" McPherson, got married in 1981.
That's a little weird too, Gwen.
REAL LIFE. REAL NEWS. REAL VOICES.
Help us tell more of the stories that matter from voices that too often remain unheard.