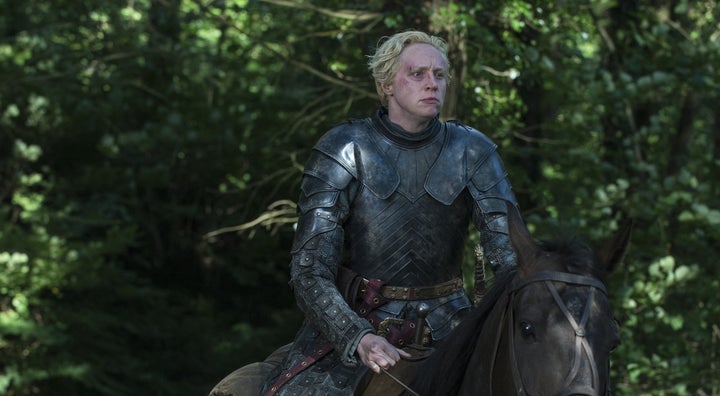 Gwendoline Christie is a total badass. That much has been clear since her character Brienne of Tarth -- a towering warrior sworn first to Renly Baratheon and then to Catelyn Stark -- debuted on the second season of "Game of Thrones." Evidence of her star's ascendance in Hollywood came when she was cast in both the final installment of "The Hunger Games" movie series, "Mockingjay -- Part II" and J.J. Abrams' new "Star Wars" movie, "The Force Awakens."
Details about her role in "The Force Awakens" have been few and far between -- until now. This week, Christie opened up about her part in an interview with Variety, and it sounds pretty awesome. 
We already knew that Christie will be playing a character named Captain Phasma. And we got a tantalizing glimpse of her chrometastic, full-body suit and cape -- sort of like a shinier version of Darth Vader's from the original trilogy -- in the second teaser trailer for the new movie. 
In the Variety interview, Christie reveals that she'll both voice the character of Captain Phasma and inhabit the suit -- separating the character from Darth Vader, who was voiced by James Earl Jones and physically acted by David Prowse. 
You might think that it would be tough to pull off a nuanced performance while wearing a bulky suit that obscures even the actor's face, but Christie said it's been "a really interesting acting challenge." 
"It becomes about the way in which you hold your hand, the way in which you walk, where your weight lies and what you want that to mean, and I wanted to give the character identity," Christie said. "I thought it was interesting to make something about the character identifiably female in a non-superficial way, and I hope that comes across."
Christie added that she had found the role of Captain Phasma liberating in ways that parallel her experience of playing Brienne of Tarth. Both characters, she noted, pay little heed to being conventionally attractive, allowing her to focus on aspects of her performance beyond beauty. That shouldn't be rare in Hollywood, but for women, it really is.
Christie also had some good things to say about "Game of Thrones." But when it comes to the big mysteries about that show -- whether, for example, she'll get to do anything next season more exciting than watch for a candle in a tower -- she sadly stayed mum. 
PHOTO GALLERY
12 Times The Women Of 'Game Of Thrones' Were Super Fierce
Calling all HuffPost superfans!
Sign up for membership to become a founding member and help shape HuffPost's next chapter