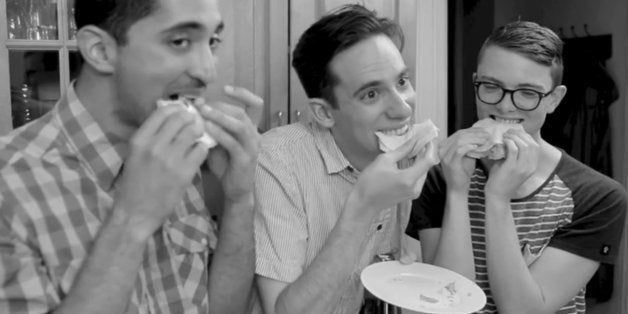 This week on Gwist! Joel and the gang demonstrate some delicious safety tips! The Steam Room boys list all the gay things you can do and still be straight! The Rubin panel talks Queen Latifah's refusal to discuss her sexuality! And Randy Rainbow wows the judges at his audition for American Idol!
Too Many Cocks In The Kitchen - Broke Foodie
Joel and friends present a thrilling instructional video that shows you how to play it safe in the kitchen, and make a delicious quesadilla while you're at it!
No Homo - Steam Room Stories
The guys prove how totally straight they are by swapping tales of their ... oddly gay pasts?
Queen Latifah Refuses To Discuss Whether She's Gay | The Rubin Report
The panel discusses Queen Latifah's reluctance to address her sexuality, even with a new daytime talk show on the way that promises to show a whole new side of the actress.

"American Idol" Audition -- The Randy Rainbow Show
Randy serenades the judges with his glorious, glorious voice, and leaves Nicki speechless.