Actor Sebastian Stan, who played Bucky Barnes/Winter Soldier in "Captain America" and the Avengers movies, called out Paltrow ― who played Pepper Potts― after she failed to recognize him for an astounding third time.
Stan pointed out the actress' faux pas in a simple, yet searing way on Instagram after attending his first couture show at Paris Fashion Week.
"Also glad I got to reintroduce myself to @gwynethpaltrow for the third time. We are in the same film..." he wrote, adding a shrugging emoji that said it all.
While Paltrow didn't respond to the Instagram ― which Stan tagged her in! ― his followers loved the caption.
"Hahaha 4 is the magic numb," one fan wrote. Another pointed out, "I mean, she didn't even remember what movie she's in..." referencing the recent moment in which Paltrow didn't remember she was in 2017's "Spider-Man: Homecoming."
The actress slipped up while appearing on Netflix's "The Chef Show" with Jon Favreau, who stars in the Marvel Cinematic Universe along with producing and directing several "Avengers" and "Iron Man" films.
Paltrow asked Favreau about his new Netflix show, which he said he started doing while the two were filming "Spider-Man."
"Yeah, well, we were in 'Spider-Man' together," Favreau said. "Remember we were on 'Spider-Man'?"
She did not.
"We weren't in 'Spider-Man,'" Paltrow said, never looking up from her kitchen task, while adding, "I was in 'Avengers.'"
Favreau was persistent and described their scene together.
"That was 'Spider-Man'?!" Paltrow finally exclaimed. "Oh, my God!"
Apparently, the actress didn't even remember Spider-Man himself, actor Tom Holland, who recalled the public incident in an interview with Popsugar in June.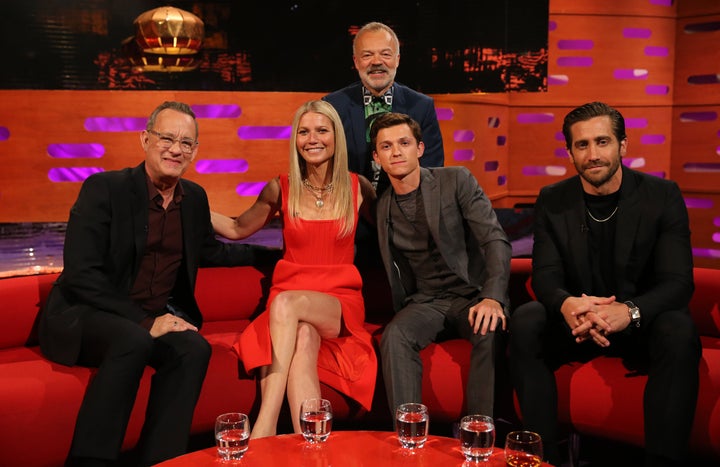 "I mean I've only worked with Gwyneth one time ― on 'Spider-Man: Homecoming,'" which she doesn't remember," he said, laughing. "Still to this day breaks my heart."
He said that Paltrow even publicly acknowledged that she doesn't remember his name.
"One time when we were shooting ... "Avengers: Endgame" she was in her blue suit and I was in my Spider-Man suit and she came up and she asked me for a photo with me and Robert [Downey Jr.]," he said. "And then I think she posted it and she said, 'Robert Downey Jr., myself and this guy.' I was just 'the guy.' It was cute. It was cute."
Popular in the Community