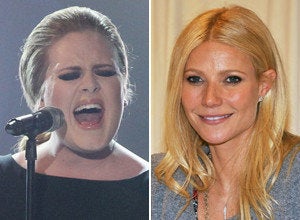 Gwyneth Paltrow heads back to "Glee" this Tuesday, facing perhaps her greatest challenge yet.
The actress and newly ambitious singer returns to the show as Holly Holliday, sex ed teacher and love interest of Matthew Morrison's Mr. Schuester. Paltrow has tackled original songs (in her film, "Country Strong) and classic covers (including Joan Jett's version of "Do You Wanna Touch Me?" and Stevie Nicks' "Landslide"), but this week, she'll be working to put her spin on a song from the Billboard Music Chart's current champion.
Paltrow covers Adele's "Turning Tables," a soulful song that's helped launch the singer's album, "21," to number one for four of the past five weeks. Can Paltrow pull it off? Listen and compare the two below.
Paltrow (LISTEN)
:
Adele (LISTEN):