The Goop founder has returned to the ski slopes without incident, unless you count angering her 14-year-old daughter, Apple Martin, by posting a selfie without her approval.
Paltrow shared a snap from a ski getaway of the look-alike mother and daughter sitting on a chairlift Sunday, adding the "🍎⛷❤️" emojis in the caption.
A fresh-faced Paltrow beams in the photo next to her daughter, who's sporting some reflective ski goggles and looking less than enthused about the photo-op.
The teenager apparently wasn't too thrilled about being featured on Paltrow's Instagram, which boasts over 5 million followers, and left a hilariously direct message for her mother in the comments.
"Mom we have discussed this. You may not post anything without my consent," Apple wrote.
Paltrow didn't seem too fazed by the public retort, however, noting that "you can't even see your face!" in her response.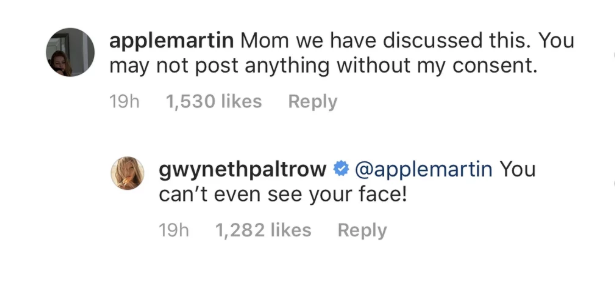 The photo did have some fans, with Paltrow's friends like Jennifer Garner, Kelly Rowland and more complimenting the two.
"Sweet XXX," Garner wrote in the comments, with Rowland adding, "Hey Lovely Gwen! Look at your gorgeous Apple!"
Paltrow's daughter, whom she shares with ex-husband and Coldplay frontman Chris Martin, has made increasingly regular appearances on the actress' social media.
The "Iron Man" star posted a tribute to Apple in honor of National Daughters Day last year that seemingly was given the OK by her daughter.
"Happy #nationaldaughtersday Apple Martin, it's like i conjured you from a dream, you make my life," Paltrow wrote.
Popular in the Community