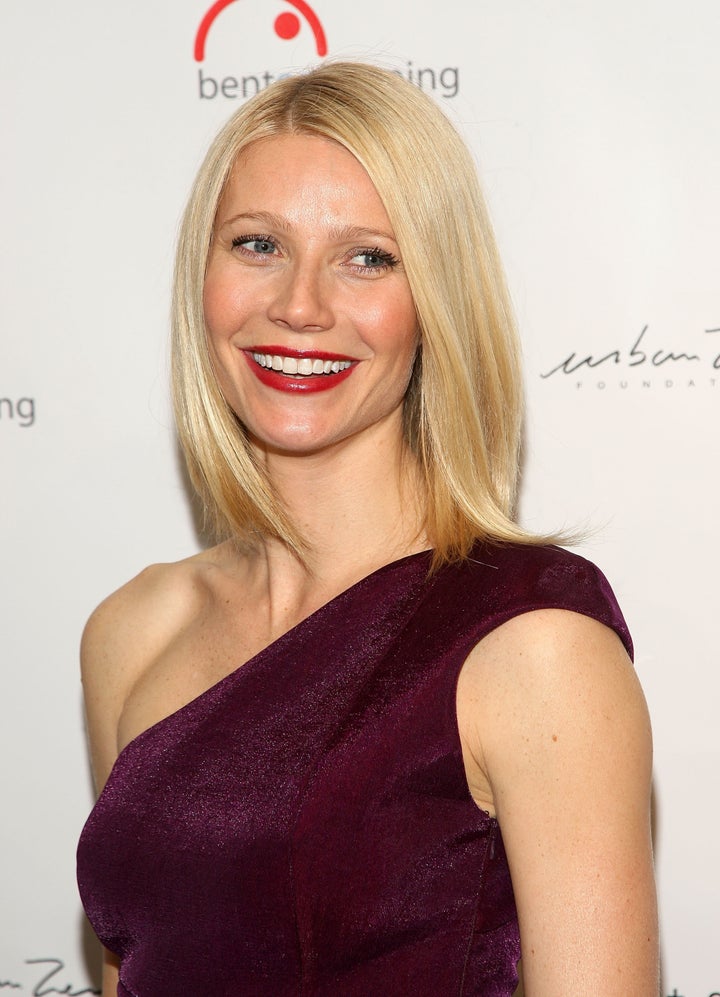 At a charity event in New York she hosted for Bent On Learning, Paltrow told People:
"I think the people who are criticizing it or criticizing the idea of it, don't really get it, because if they did, they would like it..."

Paltrow said she believes some of the barbs simply stem from the fact that she's doing something new and different. "I think that people like people to stay in their 'box' - they like people to stay how they are comfortable seeing them."

Paltrow says she decided to launch the Web site, which carries the tagline, "Nourish The Inner Aspect," "because I felt like I had a lot of really useful information that I was privileged enough to get, because I have this amazing, super, fortunate life."
This week's newsletter contained Paltrow's favorite hotels and restaurants in Paris. (Scroll to read as they are not on Goop.com yet)
Here are photos of Paltrow and some of her friends at Wednesday night's event:
Places to Eat

l'Ami Louis
32, rue du Vertbois
3e
+33 1 48 87 77 48

There are two schools of thought regarding l'Ami Louis: one is that it is an overpriced place for tourists and the other is that it is one of the best, most venerable bistros in Paris. I am firmly in the school of the latter. It is small and wood paneled with an ancient oven and a sicko wine list. Every time I go, I see a former French president or the like, and I leave so full that I walk back to the hotel.

Le Voltaire
27, Quai Voltaire
7e
+33 1 42 61 17 49

Le Voltaire is a lovely place on the river with a lighter type of French fare (grapefruit and avocado salad). It is one of my favorite spots to go for lunch.

Market
15, Avenue Matignon
8e
+33 1 56 43 40 90
www.jean-georges.com

From superchef Jean-Georges, this restaurant serves Asian/nouvelle French cuisine done wonderfully and served in a clean, contemporary space.

Kinugawa
9, rue du Mont-Thabor
1e
+33 1 42 60 65 07
http://kinugawa-hanawa.com

After a couple of days in Paris when I need to lay off the butter and goose fat, I head to Kinugawa for a Japanese lunch. After a lovely bowl of miso soup, some beautiful sashimi and a seaweed salad, I am ready to partake in all things French once more.

T'CHA La Maison de Thé
6, rue du Pont de Lodi
6e
+33 1 43 29 61 31

This is a little teahouse off the beaten track in the sixth arrondissement. It is a great place for a light lunch or a perfect cup of sencha.

Da Mimmo
39, Boulevard Magenta
10e
+33 1 42 06 44 47
www.damimmo.fr

I was told about Da Mimmo a few years ago by one of my coolest, most in-the-know friends. It is rustic Italian, super simple, super good. There is a massive display of the day's fresh antipasti in the center of the room and that's the best part of the dinner. No tourists here.

Le Duc
243 Boulevard Raspail
14e
+33 1 43 20 96 30
http://leduc.abemadi.com

Don't let the nautically themed room put you off. The seafood is fresh and wonderful.

Mariage Frères
13, rue des Grands-Augustins
6e
+33 1 40 51 82 50
www.mariagefreres.com

I absolutely adore this tearoom and shop. It's perfect for afternoon tea and beautiful objects for the home. Don't miss the famous Mariage Frères candles (the Darjeeling one is my fave).

Cinq-Mars
51, rue Verneuil
7e
+33 1 45 44 69 13

This place is the cozy, affordable, locals-only restaurant you always search for but never find when traveling. The food is simple but well prepared and it's a nice break from the big, loud brasseries.

Joséphine Chez Dumonet
117, rue du Cherche-Midi
6e
+33 1 45 48 52 40

This old-school bistro is one of my favorite places. The room is quite plain and unimpressive if you are looking to be dazzled but it has a wonderful feeling and it is very authentic. I love the duck confit...and watching all of the regulars.

Restaurant Hélène Darroze
4, rue d'Assas
6e
+33 1 42 22 00 11
www.helenedarroze.com

Hélène Darroze is one of the few women to ever be awarded two Michelin stars. And these stars are well deserved. The food is terrific. And the room is quiet, calm and elegant.

Brasserie Balzac
49, rue des Ecoles
5e
+33 1 43 54 13 67

Balzac is a great old brasserie with excellent service (the waiters have been there forever but are not pissed off, they retain a dry sense of humor). The food is good, classic brasserie fare and it's a great spot for Sunday lunch or late dinner.

Rose Bakery
30, rue Debelleyme
3e
+33 1 49 96 54 01

My friend Elena just got back from Paris and she had the most delicious meal at Rose Bakery. They have organic produce, fresh tarts, quiches and a sweet waitstaff.

Lina's Café
22, rue des Saints-Peres
7e
+33 1 40 20 42 78
www.linascafe.fr

Lina's is a chain but you wouldn't know it, biting into their famous turkey club. Fresh and delicious, it's the perfect inexpensive meal to have while walking through the streets of Paris.

Places to Stay
Ritz Paris
15 Place Vendôme
1e
+33 1 43 16 30 30
www.ritzparis.com

Although I occasionally try the "new" spot or an old-new spot, I always keep coming back to the Ritz. The place is just beautiful and the service is pretty flawless for France. Yes, it costs an arm and a leg, but it's worth it.

Hotel Montalembert
3, rue de Montalembert
7e
+33 1 45 49 68 68
www.montalembert.com

This hotel is very small (as are the rooms) but it is clean and modern and tucked away in a great area off Boulevard Saint-Germain. You don't feel like a tourist in the way you do when you stay at one of the grande dame hotels. When I shot a film in Paris, my dad stayed here with our black Labrador for weeks - it was our home away from home. They were incredibly gracious and welcoming. Room 81 has a view of the Eiffel Tower.

Hôtel Particulier Montmartre
23, Avenue Junot
Pavillon D
8e
+33 1 53 41 81 40
http://hotel-particulier-montmartre.com/fr

This once grand mansion turned five-room chic hotel was recommended to me by a discerning travel journalist. He had just gone to the opening and said it was really special and worth checking out. Each room is distinctly decorated by various artists. I've never stayed in Montmartre, but I love the idea of being in that area of Paris.

Hotel Saint Vincent
5 rue du Pré aux Clercs
7e
+33 1 42 61 01 51
www.hotelsaintvincentparis.com

Another spot in Saint Germain, this small boutique hotel is a great deal in an otherwise overpriced area. I have friends that have stayed here and rave about the intimate, clean rooms and ideal location.

Popular in the Community