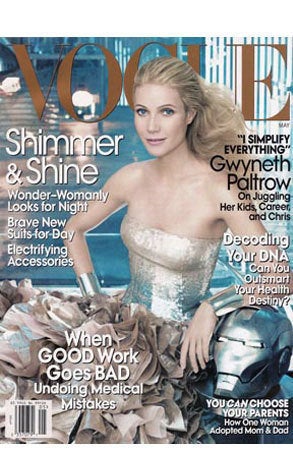 Gwyneth Paltrow is on the cover of the May issue of Vogue, and inside she reveals she battled post-partum depression after having her second child Moses in 2006. Us and E! got early looks.
"You know, I had postnatal depression after [my second child] Moses," Gwyn says. "I didn't know I had it until after it was over. I just didn't know what was wrong with me...I felt really out of my body. I felt really disconnected. I felt really down; I felt pessimistic."
She suspects her depression stemmed from cutting down on her usual treatments like acupuncture.
Paltrow also revealed that Madonna's trainer Tracy Anderson was hers first, and that she introduced Tracey to Madonna. "I still haven't learned my lesson about not sharing my people with Madonna, because she steals them away forever."
The three have been spotted leaving workouts together at Madonna's home gym three times this week.
Paltrow the style icon also tells Vogue that she's pared her daily wardrobe down to a few items like minidresses and tights, a pair of jeans, two coats and a couple of different-style boots in the winter. "It's like I want to eliminate all of the fuss. I don't have time anymore to sit there and be like, What should I wear? What goes with this?"
Popular in the Community