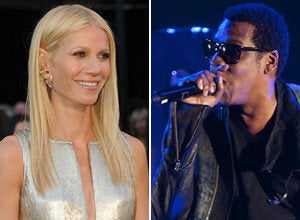 Superstar entertainers, food connoisseurs, ascending media moguls. Jay-Z and Gwyneth Paltrow have more in common than you might think.
Paltrow interviewed the rapper and business mogul for her GOOP, getting a brief inside look at his new website, Life + Style, as well as some insight into his different tastes and passions. She had one burning question of particular import:
"You are the coolest man on Earth, how the f did you get like that?" Paltrow inquired. Jay-Z, of course, had a fittingly cool answer.
"I'm around great women, starting with my mom. Women keep men cool. The hotter the chick the cooler the guy... that sounds like a really bad rap line! " he said.
As for his tastes, Jay gave a rundown of some of his favorites:
Food: Batali (he's like a rock star)
Music: MARLEY (the perfect blend of love and gangster)
Art: BASQUIAT (where music and art met and fell in love)
Style: MARC JACOBS (he takes the Bronx experience like 40 below boots and bubble gooses and puts it on the runway)
*Disclaimer: I know it's one goose 2 geese..
Sports: Muhammad ALI (enough said)
And my favorite spot to be leisurely is wherever family, friends, good food and wine are.
REAL LIFE. REAL NEWS. REAL VOICES.
Help us tell more of the stories that matter from voices that too often remain unheard.