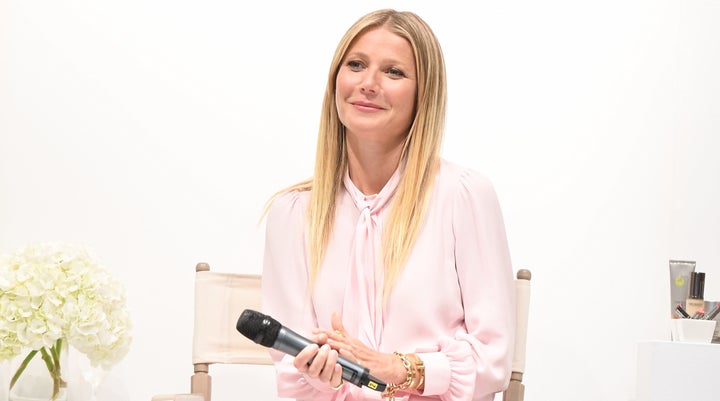 Being a woman in business isn't always easy ― just ask Gwyneth Paltrow. 
The actress and co-founder of lifestyle brand Goop recently sat down with Lena Dunham and Jenni Konner to discuss what it was like creating her own business. Unsurprisingly, Paltrow says she's experienced a fair share of sexism.
Dunham pointed out that men are often encouraged to expand beyond their careers and create new initiatives and projects. 
"Ashton Kutcher was on 'That '70s Show' and now he gets to start 57,000 restaurants and be an investor in Twitter and no one says anything," Dunham said. "And you're this Oscar-winning person who's been told, 'Who told you that you could do this?' I wonder if you've experienced this sort of misogyny as an entrepreneur."
"The 'stay in your own lane' vibe," Paltrow responded.
Konner added that she and Dunham had a similar experience when they created Lenny Letter, adding that: "People say, 'Well, how are you going to do a TV show and a movie and Lenny and …' I just don't think anyone's asking J.J. Abrams that."
Paltrow agreed, telling Konner and Dunham that as a woman in any industry it can be difficult to break out of "your lane." And at the very least, you are likely to face some pushback when you try your hand at something new ― and succeed: 
They're not asking Ryan Murphy that, and he has more irons in the fire than anyone. Everybody wants you in the caricature of you if you're a woman. You're supposed to be this and I'm supposed to be that. If you start to cast that off, it makes people very uncomfortable, especially if they're projecting a lot onto you and they identify with you.

It's threatening to men to have women who are capable of doing so many things and doing them well. I don't think it's consciously threatening and I don't think it's all men, but it really challenges the status quo and how people relate to us. Because I was the first one of this generation to do this kind of thing, I got a lot of shit for it. I sort of welcomed it. Now I'm like, this is why I'm on earth. This is part of my journey, and I'm here to be this person, and that's OK.
She added that she was "genuinely surprised at the vitriol" she received after creating Goop. 
"I mean, honestly, I sent this nothing issue from my kitchen that had a recipe and two things in it, or maybe it was just a recipe," Paltrow said. "I don't even remember. It had nothing in it, and the New York Times wrote maybe a four-page article. It's unbelievable. The response was totally bananas."
Thankfully, Paltrow says she's transitioned from fretting over bad press to simply not caring what her critics have to say. "I'm very unapologetic about it. I really believe in what I'm doing, and I really love what we're doing, and I love the product we sell."
Sounds like a good attitude to us. 
REAL LIFE. REAL NEWS. REAL VOICES.
Help us tell more of the stories that matter from voices that too often remain unheard.
BEFORE YOU GO
PHOTO GALLERY
24 Times Sexism Was Very Very Real In 2015