Gwyneth Paltrow testified in Park City, Utah, on Friday after being sued by a retired optometrist who claimed she crashed into him at the Deer Valley Resort in 2016 and skied away. Paltrow denied causing the accident — and said she thought it was sexual assault.
"That was a quick thought that went through my head when I was trying to reconcile what was happening," she said, E! News reported. "Two skis came between my skis, forcing my legs apart, and then there was a body pressing against me and… a very strange grunting noise."
Paltrow clarified during her testimony that she wasn't accusing Terry Sanderson, the 76-year-old plaintiff, of sexual assault.
"My brain was trying to make sense of what was happening," she continued. "I thought, 'Is this a practical joke? Is someone… doing something perverted? This is really, really strange.' So my mind was going very, very quickly, and I was trying to ascertain what was happening."
Sanderson filed the civil lawsuit in 2019 and alleged in his complaint that Paltrow left him with "a brain injury, four broken ribs and other injuries" in addition to "severe psychological problems including fear, anxiety and depression" as a result of the alleged ski collision.
Sanderson is currently seeking $300,000 after amending his initial request for $3.1 million, according to NBC News. Paltrow has since countersued for "symbolic damages in the amount of $1" and payment of her legal fees "to defend this meritless claim."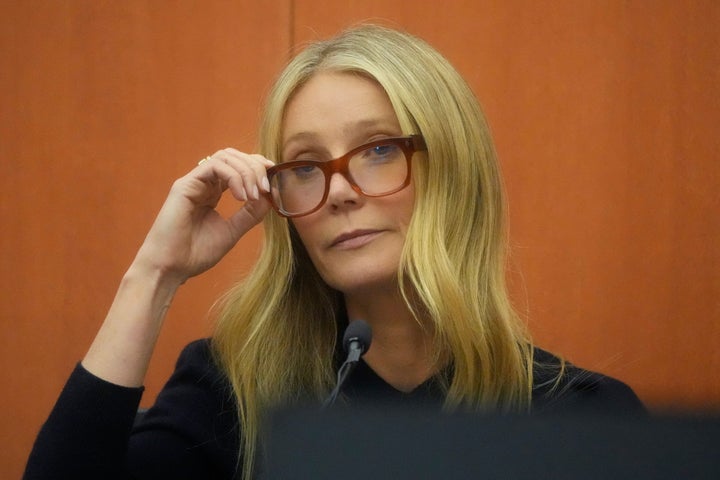 "She was enjoying skiing with her family on vacation in Utah when Plaintiff — who was uphill from Ms. Paltrow — plowed into her back," the countersuit claimed. "She sustained a full 'body blow.' Ms. Paltrow was angry with Plaintiff and said so. Plaintiff apologized."
Paltrow was reportedly on vacation with her husband, Brad Falchuk, whom she married in 2018, when the collision occurred. The Goop founder testified it was a significant trip as it "was the first time Brad and I were introducing our kids… to see if we could blend families."
The lifestyle mogul claimed Sanderson said he was OK before she skied away and that her children, Apple and Moses, stayed behind with their ski instructor to ensure as much. However, Sanderson's daughter testified Friday that the crash irrevocably altered his personality.
"I really do, I feel very sorry for him," Paltrow testified Friday. "It seems like he's had a really difficult life, but I did not cause the accident, so I cannot be at fault for anything that subsequently happened to him."
Popular in the Community