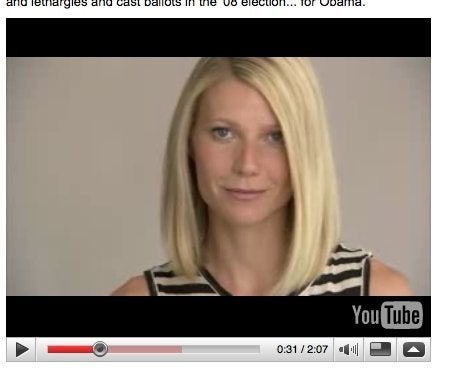 It's that time of year when Gwyneth bemoans her holiday overindulgence and sets out to reverse the damage. As usual she's sharing her detox program through her newsletter, GOOP, so that everyone can suffer along with her.
This year Gwyneth recommends a juice fast from her friend's health food store Organic Avenue.
For all of us resolution detoxers who want to start the year anew, I have asked Doug Evans and Denise Mari, co-founders of New York City's fantastic Organic Avenue to contribute his knowledge. I discovered Organic Avenue a few years ago through a girlfriend who was about to do one of their fasts, and I joined her on the 5 day program. The result was pretty amazing and the juices and smoothies (esp. the coconut mylk and the cacao smoothie) were so delicious that I imbibe them whenever I'm in NYC. They make a cleanse easy with different degrees of gnarlyness and home delivery if you are in manhattan. If you aren't, like me, Denise Mari, the juice guru has given us some recipes for a DIY fast.
The recipes can be found here. In addition to juices you are allowed some raw vegetables at night, as "ruffage" aids your body in its nightly sweep. In case this isn't the cleanse for you, let's take a look back at the detox programs Gwyneth has suggested over the past year.
During the first week of January 2009, Gwyneth recommended an elimination diet, complete with herbal laxatives to accelerate sluggish bowel movements.
I need to lose a few pounds of holiday excess, Anyone else? I like to do fasts and detoxes a couple of times during the year, the most hardcore one being the Master Cleanse I did last spring. It was not what you would characterize as pretty. Or easy. It did work, however.
Unfortunately GOOP never covered the Master Cleanse, which involves consuming a mixture of cayenne pepper, water, lemon, and maple syrup for days at a time. In August Gwyneth embarked on a 21-day smoothie and salad cleanse developed by her detox specialist, Dr. Alejandro Junger.
I feel pure and happy and much lighter (I dropped the extra pounds that I had gained during a majorly fun and delicious "relax and enjoy life phase" about a month ago.
Which of Gwyneth's detox programs will you be using to rid yourself of holiday weight gain?
Calling all HuffPost superfans!
Sign up for membership to become a founding member and help shape HuffPost's next chapter