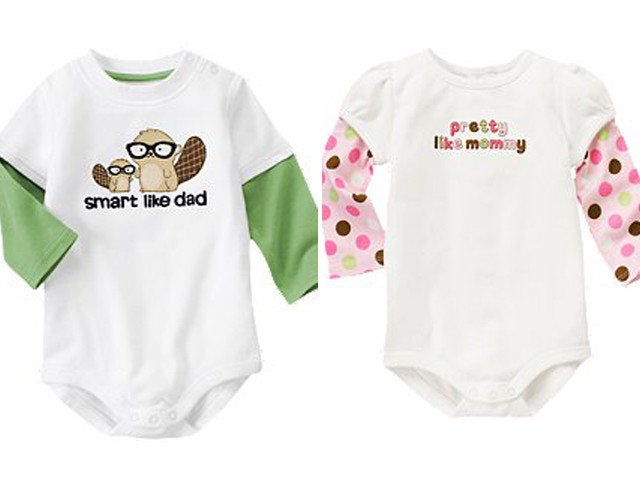 It happened again. Another store has been selling offensive, gender-specific (and not-that-funny) children's clothing.
First JCPenney, then Forever21 and now Gymboree, the iconic children's clothing retailer has come under fire for selling onesies emblazoned with "Smart Like Dad" for boys, and "Pretty Like Mommy" for girls. There were no "Smart Like Mommy" outfits in sight, although the company has previously sold "Handsome Like Daddy" onesies.
Once photos of the items hit the blogosphere, moms were up in arms over the messages they were sending to children -- and other parents. (It seems that Gymboree may have pulled the items from its website as they are nowhere to be found as of this morning, although a Google search turns up plenty of dead links.) One blogger, Ashley, author of The Mommy Diary expressed her frustrations:
Media bombards children and adults with overwhelming messages that women should be beautiful, while men should be smart and powerful. These messages limit children's ideas of what is possible in the world and can have damaging effects on their self-esteem, their choice of school courses ... and their career possibilities. And while infants can't read, other children certainly can.
These sort of sentiments led to two separate petitions, on MomRising.org and Change.org. Both groups ask Gymboree to remove the items and stop selling clothing that promotes "retro gender roles" once and for all.
Blogger Zoe Archer, even sent a letter of complaint directly to the company. She says that she received the following response earlier this week:
Hello,

Thank you for your email.

Gymboree is all about celebrating childhood. We're passionate about supporting the development of happy, healthy kids and this is at the heart of everything we do.

We apologize to anyone who was offended by our 'Pretty Like Mommy' bodysuit. This item was part of a collection offering a matching 'Handsome Like Daddy' bodysuit. While we do have a newborn collection for boys themed 'Smart Little Guy,' it's all about the playful beaver icon and his cleverness.

We believe that all children are sweet, smart and full of potential and appreciate your feedback letting us know that you feel the same way.

Sincerely,

Kaytie
Gymboree Customer Service
The discussion over how our society stereotypes boys and girls is anything but new. While Gymboree is the latest company to print shirts with these sort of messages, they are messages our children might hear very often. HuffPost blogger Lisa Bloom wrote this past June about our collective instinct to compliment little girls on their looks, rather than their brains: "Teaching girls that their appearance is the first thing you notice tells them that their looks are more important than anything."
And recent research shows that this is exactly how many girls -- of all ages -- feel. A 2009 study showed that almost 50 percent of 3- to 6-year-old girls worry about being fat and that one-third of them would change something about their appearances. Other research indicates that up to 25 percent of young women would rather be hot than smart. And just this past October, a study told us that women who wear makeup appear more competent in the workplace.
Do you think that these onesies cross the line and send a bad message to children about gender roles? Or is the blogosphere blowing this one out of proportion?