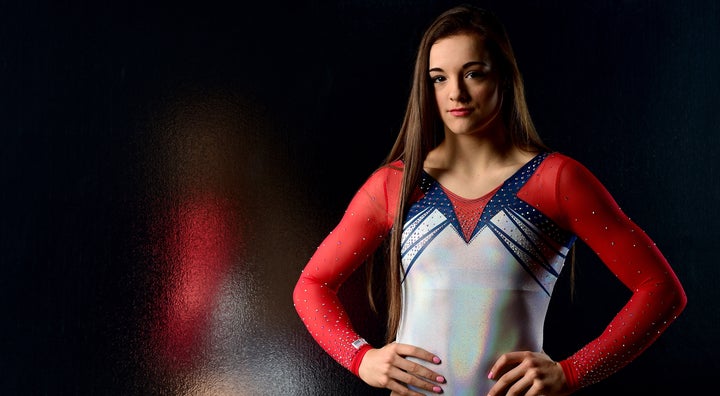 Gymnast Maggie Nichols alleged Tuesday that she was among the young women sexually abused by former USA Gymnastics and Michigan State University doctor Larry Nassar.
In a statement released by Nichols' attorney, the former elite gymnast alleged that Nassar sexually abused her "numerous times," starting when she was 15 years old.
"Recently, three of my friends and former National Team members who medaled at the 2012 Olympics have bravely stepped forward to proclaim they were sexually assaulted by USA Gymnastics Team physician Dr. Larry Nassar," Nichols said in the statement, obtained by Time magazine. "Today I join them."
Nichols said she was the first victim to alert USA Gymnastics of Nassar's abuse in 2015, which subsequently led to his arrest in 2016. She wrote that she was discussing Nassar's treatment with a teammate during practice one day when a coach overheard.
"I had never told my coach about these treatments," Nichols said. "After hearing our conversation she asked me more questions about it and said it doesn't seem right ... so she did the right thing and reported this abuse to the USA Gymnastics staff."
Nassar has been accused of serial sexual abuse by over 125 young women, including elite gymnasts Aly Raisman, Gabby Douglas and McKayla Maroney. All of the victims claim that Nassar abused them during routine medical exams; some say they were as young as 12 at the time of the alleged abuse.
Nichols began competing as a top-tier gymnast when she was 13 and made the U.S. Women's National team at 14. She retired in 2016 after failing to make the 2016 Olympic team due to injury.
"Up until now, I was identified as Athlete A by USA gymnastics, the U.S. Olympic Committee and Michigan State University," she said. "I want everyone to know that he did not do this to Athlete A, he did it to Maggie Nichols."
The alleged abuse began in 2015 when Nichols joined the national team and began having back problems.
When I was 15 I started to have back problems while at a National Team Camp at the Karolyi Ranch. My back was really hurting me, I couldn't even really bend down, and I remember he took me into the training room, closed the door and closed the blinds. At the time I thought this was kind of weird but figured it must be okay. I thought he probably didn't want to distract the other girls and I trusted him.

I trusted what he was doing at first, but then he started touching me in places I really didn't think he should. He didn't have gloves on and he didn't tell me what he was doing. There was no one else in the room and I accepted what he was doing because I was told by adults that he was the best doctor and he could help relieve my pain.
Nichols also said that during the time the alleged sexual abuse took place, Nassar contacted her on Facebook and complimented on her looks.
"I was only 15 and I just thought he was trying to be nice to me," she said. "Now I believe this was part of the grooming process I recently learned about."
She plans to submit her statement to an Ingham County, Michigan, court during sentencing for Nassar on Jan. 16, ESPN reports. Victims will be allowed to read impact statements on that date.
"His job was to care for our health and treat our injuries. Instead, he violated our innocence."
Nichols said that neither USA Gymnastics nor the U.S. Olympic Committee provided a "safe environment" for her and her teammates. She also said that Michigan State University "ignored complaints against Larry Nassar ... going back 20 years." If the school had acted on these complaints, Nichols wrote, she "would never have been abused by him."
"We were subjected to Dr. Nassar at every National Team Camp, which occurred monthly at the Karolyi Ranch [in Huntsville, Texas]. His job was to care for our health and treat our injuries," Nichols said. "Instead, he violated our innocence."
Nassar's attorneys, Matthew Newburg and Shannon Smith, declined to comment to HuffPost.
MSU spokesperson Jason Cody told HuffPost that the university denies allegations that it covered up Nassar's behavior in any way.
"Any suggestion that the university covered up Nassar's horrific conduct is simply false. Nassar preyed on his victims, changing their lives in terrible ways," Cody said. "As [MSU] President Simon has said, MSU is truly sorry for the abuse all victims suffered, the pain it caused, and the pain it still causes."
A spokeswoman for USA Gymnastics also denied allegations that the organization covered up Nassar's behavior in a lengthy statement to HuffPost.
"Contrary to reported accusations, USA Gymnastics never attempted to hide Nassar's misconduct," the statement read, in part. It also laid out a timeline of the FBI's investigation into Nassar.
"The suggestion by plaintiff's counsel John Manly, who indicates that he is representing Maggie, that USA Gymnastics tried to silence athletes or keep the investigation secret to avoid headlines before the Rio Olympics and to protect Los Angeles' Olympic bid is entirely baseless. USA Gymnastics kept the matter confidential because of the FBI's directive not to interfere with the investigation."
The spokeswoman added that "USA Gymnastics is committed every day to ensuring our athletes are safe and further developing a culture of empowerment."
"The new CEO Kerry Perry is eager to meet and talk with Maggie and others who can help guide and lead these efforts," the statement read. "USA Gymnastics has and will continue to take specific and concrete steps to prevent future abuse by vigorously enforcing the USA Gymnastics Safe Sport Policy. We are focused on further developing a culture that has safe sport as a top priority throughout the organization."
This post has been updated to include statements from MSU and USA Gymnastics.
Popular in the Community