Maybe you've asked, "Why doesn't someone create an app that helps me connect with friends before I arrive at my destination?" Well, good news. Meet Gypsy Circle. [free, available in the App Store for iPhone/iPad]
No longer do you have to put embarrassing social pleas to Facebook: "Anyone going to be in LA August 12th-17th?" With Gypsy, you can "arrive connected."

How it works:
Input your travel plans and Gypsy will show both your friends that live in the area as well as those with upcoming visits. Push-notifications help avoid missed-connections.

The good:
The app is smooth with an elevated, handsome design. Navigation is clear and simple: four "buttons" that let you access settings, add friends, enter your travel plans, and start chats. Free international messaging doesn't hurt, either.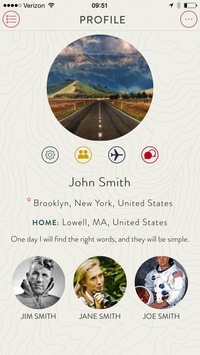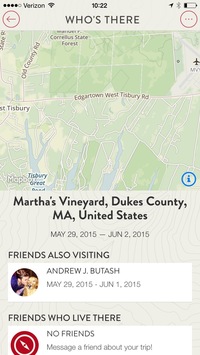 The bad:
Unlike Apple's Messages, chats read from the bottom up, a feature that may throw off users, if only for a second or two.

Gypsy Circle just released an updated version with integrated contact lists June 26th, solving a shareability issue that kept user numbers low. According to CEO & Founder, Andrew Butash, future updates will "feature a 'Travel Feed' to see your friends' trips as well as a 'Home Feed' to show you who will be in your city within the next month. Down the road, Gypsy Circle will even include travel plans of friends-of-friends, so you can arrive connected anywhere in the world."

The bottom line:
Rick Stamberger, CEO of SmartBrief, Inc., offers, "Everyone gets the Gypsy Circle concept immediately and the response is always the same -- 'I'd definitely use it!' I think they're addressing an unmet need for an always connected world." In a time when we're reliant on the same technology that gave us freedom to keep us connected, Gypsy has the potential to be a dominant social network that conquers the thing most travel apps tend to ignore: social utility.
REAL LIFE. REAL NEWS. REAL VOICES.
Help us tell more of the stories that matter from voices that too often remain unheard.