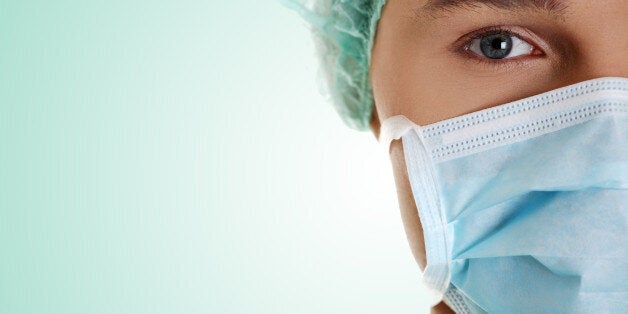 A flu outbreak targeting otherwise-healthy adults has medical experts pleading for the public to get vaccinated.
Hospital workers in Ann Arbor, Mich., say that hospitals have been swarmed with patients reporting flu-like symptoms -- symptoms dire enough for them to seek medical attention in emergency rooms or clinics. Over a dozen patients were reportedly in ICU at the University of Michigan Health System's hospitals after being transferred from other locations throughout the state last Friday. Most of the patients have been diagnosed with the H1N1 strain of flu.
"As of yesterday afternoon there were about a dozen people in our ICUs with suspected or confirmed flu, about the same number as on Friday," Kara Gavin, public relations representative for University of Michigan Health Center, told The Huffington Post on Tuesday morning. "We have also had an increase in number of people hospitalized in non-ICU hospital units over the last few days," she said, along with continued increases in ER traffic due to flu-like illness.
Three adults have already died from the virus, according to the Detroit Free Press, along with an infant in mid-Michigan.
What's worrying doctors most is that these critically patients are, for the most part, relatively young and were healthy before contracting the virus. The wave of sick patients led the hospital to temporarily issue visitor restrictions to protect healthy patients from unnecessary exposure to the virus.
Lena Napolitano, M.D., associate chair for critical care in the U-M Department of Surgery, said in a release that the rash of flu cases reminds her of when H1N1 swine flu first appeared in the United States four years ago, causing a worldwide pandemic.
"We are seeing the same thing we saw in 2009 and early 2010, with ICUs full of people in their 30s, 40s and 50s who need advanced life support for flu-related illness," Napolitano said.
Although it circulates in pigs, H1N1 is now a seasonal flu virus that affects humans. The symptoms of H1N1 are similar to those of ordinary influenza: fever of 100 degrees or over is common, as well as body aches, coughs, runny noses, nausea, vomiting or diarrhea, according to the Flu.gov website.
Though influenza is common, it can turn deadly. If you experience difficulty breathing, pain or pressure in your chest or abdomen, dizziness, confusion, or persistent symptoms, seek medical attention immediately.
Luckily, this strain of H1N1 is included in this year's flu vaccine. Doctors and nurses at U-M hope unvaccinated Michiganders will get the flu vaccine for themselves and their children immediately.
"It's not too late to vaccinate, there is plenty of vaccine available at drugstores and doctors' offices, and everyone over the age of 6 months should get the vaccine," Dr. Napolitano said.
Related
Popular in the Community