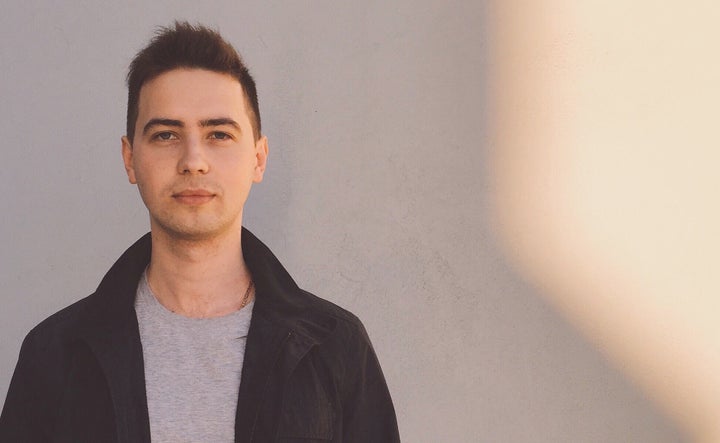 Denys Pakhaliuk is the CEO at Ramotion — UI/UX design and branding agency behind some of the hottest Silicon Valley startups. Former CG designer, Denys currently does business development and sales for his distributed product design firm.
I've connected with Denys back in 2013 as I was impressed and extremely inspired by his work. Today, I'm excited to talk to him about his habits and routines that led to extraordinary success.
What are the most influential habits in your life and why?
Set priorities for each day. Even though some of them may look like simple tasks, when I look at the list, I immediately focus. I use a simple to-do app called Clear and sometimes replace it with a pen and paper. The moment when you close the task by crossing out the line makes you feel rewarded. And having the list helps you be more focused instead of keeping it in your head.
Thinking positively. As entrepreneur, it means focusing on the present moment and don't think and worry about things that may never happen. When you run a business, you think a lot about the future and since it is something new and unpredictable, you tend to worry about it even though the 80% of all the scenarios from your head will never happen.
Check the industry news. Every day I check the biggest tech blogs and online magazines. The industry is super fast, and we have to be on track with all the latest trends and news, especially here in Silicon Valley. I should know what Apple or Google is about to release. What is the news in AR/VR world? Check who raised money among our previous startup clients, etc.
Build connections. Like any other industry, design industry run by people. The more high-quality connections you have, the more people know about your agency. If you build the relationship with the people, you'll always be at the top of their mind when they need your help. Eventually, it leads to more work and it is not just a random project from someone who found you at Google Search and never heard of your team before, but it is a person that trust you. Trust is #1 thing in client-agency relationship.
How do you set goals and manage time?
In my experience, what really works is setting a big goal, then divide it into smaller pieces until they are relatively easy to assign and done by you or someone else in your team. Then add these tasks to your weekly/daily plan and always prioritize. I'm not the best example of perfect time manager, but I'm slowly getting to 9to5 by assigning some repeated tasks to my team and going more and more toward strategy level. It may seem easy, but in a small agency, each team member is sometimes doing multiple roles.
How are you modeling your life?
I used to be extremely passionate by very hard work with 10hrs+/day hustle. Today, I'm more and more convinced that a successful and happy life is when after 6 pm you are home with your family. My model today is to learn to say 'No' to a lot of things and focus on a very few the most important ones. It is about saying 'No' to project inquiries that don't match our qualification criteria, to repeated tasks that don't bring enough value and profit. It is about focusing on the most important current clients and building relationship with them instead of pitching new ones. By asking questions 'Is this good enough?' 'Is this right?' you focus better.
Can you describe your work process and thinking behind it?
Again it is about prioritizing, then breaking down the tasks into smaller logical pieces and putting them into your team plans. The priorities arise when something needs improvements. If we experience a lack of experts, then we focus on HR. If we don't have enough new business inquiries, we find ways to build a stronger online marketing campaign. Ultimately, everything goes towards more profit and happy clients and team members.
What do you eat for breakfast?
I eat cottage cheese or oatmeal with some fresh fruits. Or sometimes I just cook an omelet. In any case, I try to eat something pretty 'light.' It is good for the morning time when your body wakes up slowly. And the fresh fruits and berries have essential vitamins and minerals to stay healthy.
How do you train your body and mind?
I go to gym 3 times a week at noon. It is a perfect break in the middle of the workday. I'm super productive in morning time and to keep the high level, I need this break. I used to do some heavy lifting, but the last couple of years I ended up doing a lite version of cross-fit with 3 sets for different groups of muscles + 30 min cardio (running). And I'm definitely going to start doing yoga soon too.
How do you meet and connect with people?
I try to network both online and offline. For online I use Twitter, this is actually my favorite social network, I believe it is super underestimated by most of the people especially in the tech industry. I participate in some discussions, and read a lot what the industry leaders tweet and discuss. I follow some famous Silicon Valley VCs, designers and developers.
I also go to local SF Bay Area meetups. It is one of the best ways to meet great new people. However, I have to admit, I've been doing this much less than I have to lately. The real in-person meeting is the best way to connect. As any other industry, the design agency world is all about knowing the right people and being at the top of their mind when they need help with product design.
What are your sleeping rituals?
Visualizing and imagining that my personal goals are already achieved. It is not about imagining that I got some great client, or something like this, but it is about much bigger things that are almost impossible to achieve within the limits of one life. The most important thing is listening to how do you feel when you visualize it. You feel comfortable or you can't believe it is possible? The ultimate goal is to get it 'into the layer of your world' if you will. It is about allowing yourself to own all these things in you mind first and then let the universe know that you ready for this. It may sound like some esoteric thing, but it works for me and I'm doing this almost every night before I go to sleep.
Eye exercises. I do eye exercises before I go to bed and after I wake up. I've developed nearsightedness during the last 7 years. But since the beginning of spring 2017 I do a mix of eye exercises including highly debated Bates method and the ones recommended by all optometrist. As with my agency, I measure the results and move forward towards 20/20 vision. This may take months but I'm optimistic and getting some good progress.
What are your investing habits?
Ramotion's been known in the industry as a design-only agency. However, we have a couple of development teams who work on our own projects. Some of them are in stealth mode, some go public under our brand. For me, the best way to invest is to keep doing something within the niche because you have the most experience in this area, it means you have much more chances to succeed. In my opinion, it is better than switching to something completely new.
What books, people, experiences shaped your thinking?
I mostly read professional books and just to name a few: The Lean Startup by Eric Ries and Rework by Jason Fried. The first one shapes the right understanding of the approach to building a new product/business and Rework is about building business. I'd highly recommend both to every small business owner. Among people I'm inspired by Elon Musk and his bold thinking and vision. 8 years ago, iPhone 3G changed my life and I think Steve Jobs is definitely among those who also shaped my thinking today. When I read about these people, I understand that we live in a great time when everything is possible. And if you want it so bad, you can get it, you just have to make the choice.
Subscribe to Life Designed, a free lifestyle design newsletter where I share how to get up at 5 am, earn more, travel the world and live on your terms.
Related
Popular in the Community