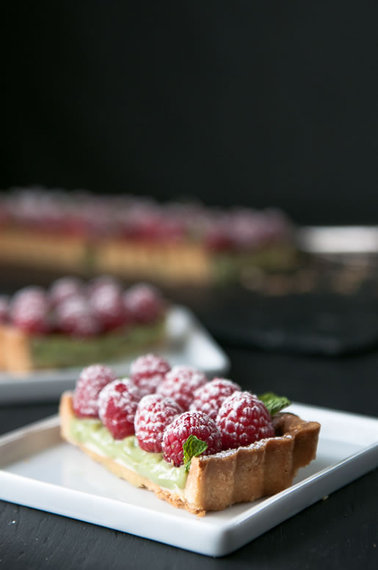 We acquire habits throughout our lives -- some are conscious, while others are subconscious, patterned into our mind and body.
I have a list of bad habits that I'm trying to get rid of or to re-program. One more recent addition to the list is Candy Crush, something I spend too much time playing.
I need to summon up more will power to fight the urge. (Oh, one more time... where is my iPad?)
On the good side, M and I have been traveling for the last several years to Asia to visit my family during the holiday season. This year we opted to postpone our travels and stay in New York instead. Until we skipped this year, I didn't realized how much I would miss it. Though we had a great time with friends this past holiday, I still wish we had spent time in Hong Kong with my family.
As Chinese New Year arrives, I yearn for those moments around the family dining table, savoring my favorite home-cooked traditional dishes, and enjoying being with my family. M and I will resume our regular habit once again for more memorable moments, adventures -- and a funny story or two.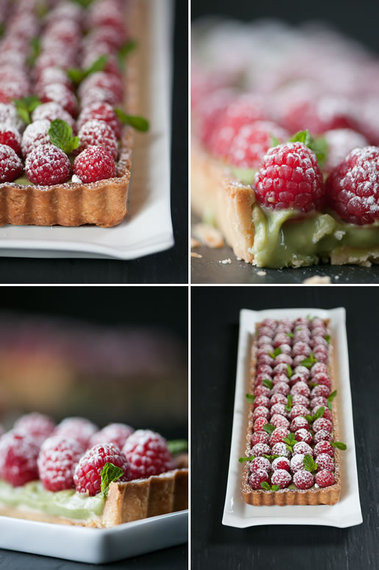 Matcha Raspberry Tart
yield one 9-inch tart or rectangular tart
Ingredients
1 large egg, room temperature
1 large egg yolk, room temperature
1/2 teaspoon pure vanilla extract
2 cups (10 ouches) all-purpose flour
16 tablespoons (8 ounces/2 sticks) unsalted butter, cut into 1/2-inch cubes, frozen
1/4 cup (1-3/4 ounces) granulated sugar
1/2 teaspoon fine sea salt
2 ounces white chocolate, finely chopped
Directions
1. Combine egg, egg yolk and vanilla in a small bowl, whisk to combine, set aside.
2. Place flour, sugar and salt in the bowl of a food processor, pulse until combined and aerated, about five 1-sec pulses. Add frozen butter and pulse until butter is the size of peas. Add egg mixture until combined. Test the dough by squeezing with your fingers, if it holds, it's done. (If you let dough come together into a ball, you have over worked the dough).
3. Divided dough onto two large piece of plastic wrap. Gather each dough into a 6-inch disc by pulling up sides of plastic wrap and press lightly with your knuckles. Wrap dough with the plastic wrap, and refrigerate until cold but malleable, about 45 minutes.
Note: you'll only use one of the two discs, refrigerate (up to 2 days) or freeze (up to 6 months) the 2nd disc.
4. Roll dough on lightly floured surface into a slightly larger than 16 x 6-inch rectangle (13-inch circle for 9-inch tart pan) and transfer to tart pan. Press dough into corners and sides of pan, being careful not to stretch dough. Trim overhang of dough with small pairing knife. Prick bottom of dough all over with tines of fork. Wrap in plastic and freeze for 20 minutes.
5. Adjust the oven rack to middle position and heat oven to 375 degrees F. Remove tart shell from freezer, line with parchment and filled with pie weights. Bake until tart crust looks dry and lightly colored, about 20 minutes. Remove weights and paper, continue to bake until golden brown, about another 15-20 minutes longer.
6. Transfer tart shell to wire rack, sprinkle white chocolate on the bottom of tart shell, let sit for one minute. Using a small off-set spatula, spread white chocolate evenly. Let cool completely, about 45 minutes.
Ingredients
4 large egg yolks
1/2 cup (3-1/2 ounces) granulated sugar
1/4 cup (1 ounces) cornstarch
2 teaspoons matcha powder
Pinch of fine sea salt
2 cups whole milk
1/2 teaspoon pure vanilla extract
3 tablespoons (1-1/2 ounces) unsalted butter, cold, cut into 3 pieces
Directions
1. In a 4-cup measuring cup, whisk together egg yolks, sugar, cornstarch, matcha, salt and 1/2-cup of whole milk, set aside.
2. In a medium saucepan, bring remaining 1-1/2 cup of whole milk to a simmer over medium-high heat. Gradually pour hot milk into matcha-egg mixture, whisk constantly until combined. Pour mixture over a fine-mesh strainer back into the saucepan.
3. Bring mixture to a boil over medium heat, whisk constantly. Boil for 10 seconds (center of pan), mixture should be thick with pudding-like consistency. Remove from heat. Add vanilla and cold butter, whisk until fully incorporated and smooth. Transfer pastry cream to a bowl, place plastic wrap directly on the surface and chill in refrigerator, about 2 hours.
Pre-baked tart shell
Matcha Pastry Cream
2 pint fresh raspberries
1 tablespoon confectioners' sugar (optional)
Directions
1. Remove tart shell from tart pan and place on serving platter. Fill tart with matcha pastry cream (you might have extra for snacking). Top pastry cream with raspberries in a decorative pattern. Dust with confectioners' sugar (if use). Serve.
Note
1. If you are making the tart ahead of time, dust the tart with confectioners' sugar right before you serve.
2. Tart best served the same day. You can make ahead for up to 2 days, refrigerate each component separately and assemble when you are ready to serve.