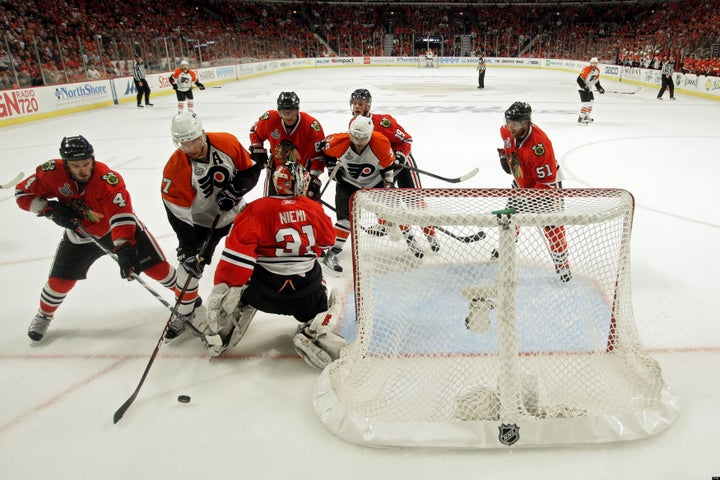 You have to hand it to Canadiens' GM Pierre Gauthier; he's not afraid to make bold and possibly unpopular moves if he feels they will improve his hockey team. Trading Jaroslav Halak, the goalie who just led the underdog Canadiens to the Eastern Conference Finals, certainly qualifies as one hell of a calculated gamble.
Today, Halak is an ex-Canadien. Gauthier shipped the rights to Halak to the St. Louis Blues in exchange for two prospects, 21-year-old Lars Eller, a former first round pick of the Blues (13th overall) who spent most of this season in the AHL and RW Ian Schultz, 20.
The trade certainly changes expectations in St. Louis for John Davidson's club. The Blues, who missed the playoffs last season, will certainly be expected to qualify this year with Halak between the pipes and their rebuilding program probably took a large step forward with the acquisition of Halak who is just entering his prime at 25.
Canadiens' management was faced with a difficult dilemma in goal: both Halak and Carey Price were restricted free agents and since the team had very little room to maneuver under the salary cap, Gauthier had to trade one of them.
The gamble the Canadiens are taking is this: that Price, who will turn 23 this summer, has more long term upside than Halak. Gauthier appears to believe that Halak is probably as good as he's going to get while Price still has the potential to grow and will develop into an elite NHL netminder. This also means that Halak's trade value may never be higher, so Gauthier moved him while the market was hot.
Price has long been considered the Golden Boy of the Montreal organization. He was selected fifth overall in the 2005 Entry Draft and it's very rare for a goalie to be selected that high. He made his NHL debut in 2007-08 and made an immediate impact, going 24-12-3 with a solid 2.56 GAA and a .920 save percentage. He played pretty well in Montreal's opening round playoff win over Boston that year, but fell apart in the second round when the Flyers easily got past the Habs.
In 2008-09, Price really floundered in the playoffs, going 0-4 with an .878 save percentage and an ugly 4.11 GAA as the Bruins easily swept the Habs in four straight.
Questions began to arise as to whether Price could handle the pressure of being a goalie in Montreal, where there is very close scrutiny on all players, especially goaltenders. Some off-ice incidents also led to questions about his dedication.
While Price was struggling to find himself this season, Halak really came on and took over the starting goaltending position based on his superior play. Price finished with a 13-20-5 record for Montreal this season while Halak went 26-13-5. Halak's save percentage was better (.924 to .912) and his GAA was as well (2.40 to 2.77). Halak had five shutouts while Price had none.
But it was in the playoffs where Halak really set himself apart. The Canadiens were the 8th seed in the Eastern Conference and Halak took them past the team with the league's best record, the Washington Capitals, and the defending Stanley Cup champion Pittsburgh Penguins. That means he faced three of the NHL's most talented offensive weapons in Alexander Ovechkin, Sidney Crosby and Evgeni Malkin and sent them all home for the summer.
Halak's play in the opening round against Washington was particularly impressive. Three times, the Caps took more than 40 shots in a game against the Canadiens and in large part due to Halak's heroics; the Habs won all three games. His play led to comparisons with Hall of Famers Patrick Roy and Ken Dryden and pictures of stop signs with the word "HALAK" where "STOP" would usually be seemed to flood the Bell Centre and the profiles of Canadiens' fans throughout the Internet.
But now, Halak heads to St. Louis. At least Gauthier had the good sense to send Halak not only out of the Northeast Division but out of the Eastern Conference. Assuming he stays in St. Louis, the only time Halak could face his ex-teammates in the playoffs would be in the Stanley Cup Finals.
But the issue remains can Price handle the intense pressure that goes along with being the number one goalie in Montreal, where they take hockey only slightly less seriously than life or death (usually, anyway)?
Gauthier is counting on the answer being yes. If he's right, the Habs will be set in goal for the foreseeable future with Price. If he's wrong, both he and Price could be looking for a job in a short time.