Summer is upon us, which for many means lots of hours in the car. For better or worse, the road trip is big part of the summer experience, and now there's even more reason to make that next trip in an electric vehicle (EV). As more EV charging stations are popping up at hotels and restaurants, along highway routes, and at destination spots across the country -- and as a growing number of longer range, nicely priced EVs are hitting the market -- it's thankfully becoming more convenient and more economical to drive green while you're hitting the open road.
Zion National Park in Utah hosts a charging station at their appropriately named Zion National Park Lodge, as do many of the national parks looking to reduce air pollution for tourists that want to make it to these natural treasures in an environmentally conscious way. Indeed, EVs are lower in greenhouse gas and particle pollution than conventional vehicles, even factoring in the pollution from the electricity used to charge them.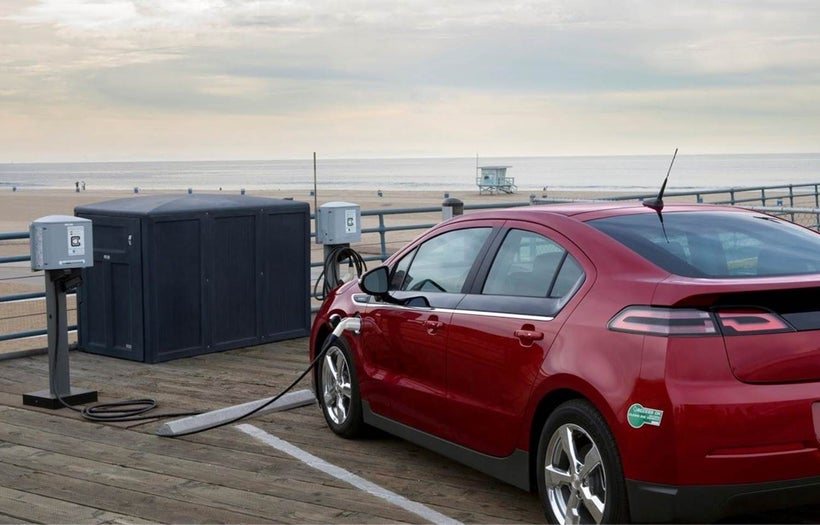 The Golden Gate National Recreation Area also has its own charging station, so users can have access while they explore California's renowned Golden Gate Bridge before driving over it in their fully charged EV. The Great Smoky Mountains are home to several charging stations in hotels and bed and breakfasts surrounding the mountains, including one at the Smoky Mountain Brewery -- you can get your car charged up while scarfing down a tasty meal and responsibly sampling some adult beverages. In the greater Buffalo area, the state of New York recently installed Envision Solar's EV ARC, a solar powered EV station, near the Reinstein Woods Nature Preserve. This is great for people stopping by Western New York who want to save the environment while visit the kinds of places they're actively saving.
This EV evolution isn't anything to hide. Increasingly, hotels and B&Bs, like The Orchard Inn located in Asheville, North Carolina, are actually touting their EV charging stations as a selling point for their businesses.
In New England, The Brewster House Bed and Breakfast, located in Freeport, Maine, allows their customers to charge at their location -- only a short distance from Wolfe's Neck State Park and several renowned lighthouses. In Napa Valley, the Inn on Randolph offers electric vehicle charging -- a perfect location for wine lovers (but seriously, don't drink and drive, please!). Even chain hotels are getting in on the environmentally friendly action. Marriott alone provides EV charging stations at more than 275 of its U.S. and Canada hotels. The only downside is that there might be some extra fees required to use them. Make sure to call ahead.
Charging your EV along highway routes is becoming increasingly popular. For example, the West Coast Green Highway makes it increasingly easy to charge up from California to Oregon to Washington. PlugShare is an app that allows you to differentiate which locations are residential, public, high-powered, or currently in use. ChargePoint offers a popular app for finding EV charging sites, too. There are several charging stops along the way from New York City to Long Island, including some near the Hamptons. From Boston to Cape Cod, there are EV charging stations near several of Cape Cod's beautiful beaches. The Woods Hole Oceanographic Institution is good stop before hopping on the ferry for Martha's Vineyard. A short drive from Atlanta, Athens is a terrific getaway for lovers of live music. The highly rated hotel Graduate Athens, has a charging station located right outside its spa. When traveling from Houston to Austin, a great place to charge up is right by Zilker Park where you can go swimming while you charge up. In the Midwest, you might want to charge up at Discovery World, a Science and Technology museum located right on Lake Michigan.
Despite the increasing availability of EV chargers, it is still important-- as with any vacation-- to plan the trip ahead of time. One of the most important things to take into consideration is the number of miles driven in between charging and how many miles of range your car has. Plug-in hybrid cars -- like the Chevy Volt, Ford C-MAX Energi, and Toyota Prime -- run on electricity for 20-50 miles and then on gasoline from their back-up gasoline-powered engine. There is no "range anxiety" in these cars, meaning that the battery is not going to run out of charge and strand you in the middle of nowhere in between recharging stations.
For full-battery electric cars that only rely on electric battery power -- like the Nissan Leaf, Volkswagen e-Golf, and BMW i3 (the all-electric version) -- it takes some extra planning because they can travel about 60-120 miles between charges. Some of these EVs are capable of using the fast chargers, while others are not, which makes for additional considerations, such as longer charge times. With longer range EVs -- like the Tesla Models S and X and the new Chevy Bolt -- drivers can travel more than 200 miles between charges.
To find the perfect EV for your lifestyle -- and your vacation -- check out Sierra Club's online EV guide. The pick a plug-in quiz can help you find the EV with the right size, price and range for you.
Sierra Club intern Alexandra Dobell contributed to this article.
Calling all HuffPost superfans!
Sign up for membership to become a founding member and help shape HuffPost's next chapter
This post was published on the now-closed HuffPost Contributor platform. Contributors control their own work and posted freely to our site. If you need to flag this entry as abusive,
send us an email
.