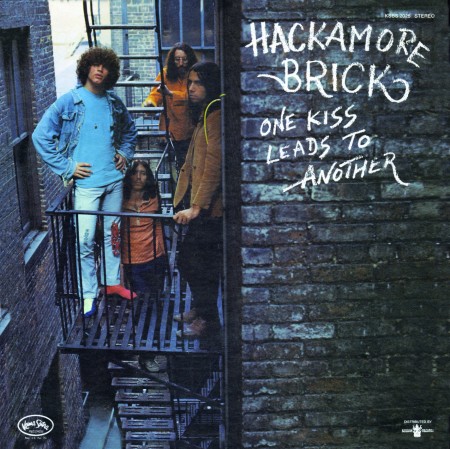 Look at the website All Music's artist-biography page for Hackamore Brick, which released one album in 1970, and it's pretty impressive for a band too obscure to even be called "cult":
"Hackamore Brick are one of the great missing links in the late-'60s New York music scene. In some circles, the Brooklyn-spawned quartet is considered notable as the first band known to cite the Velvet Underground as a source of inspiration; all four members were part of the Velvet Underground Appreciation Society and one can, indeed, hear their influence throughout the music on...One Kiss Leads to Another, cut for Buddah Records' Kama Sutra imprint, no less."
"We don't know where that came from," says Tommy Moonlight, the group's co-lead singer and -writer as well as co-keyboard player and guitarist, today. He explains that none of the band's four members - him; Chick (Charles) Newman, the other co-leader; bassist Bob Roman, drummer Robbie Biegel - was ever in the VU Appreciation Society.
"I had heard the record with the banana on it -- Bob had that record," he explains. "We don't count it as one of our influences."
Yet, one listen to One Kiss confirms that, at least at times, Hackamore Brick did indeed sound like the Velvets. All Music got it right when it said that "Lou Reed's singing style is in evidence throughout Chick Newman's flat intonation, but other attributes here range further, eerily anticipating the minimalist charm of Jonathan Richman, while some of the material, such as the Bob Roman/Tommy Moonlight-authored 'Peace Has Come,' makes one think of an embryonic Television."
So what does all this matter now? Well, first, tracing the manner by which Velvet Underground's alternative vision of rock 'n' roll came to permeate pop culture is serious business - the stuff of college courses and scholarly books. And second, because 43 years after One Kiss's uneventful release and quick departure, it has finally gotten a reissue by Real Gone Music. Not just on CD, but also on vinyl. And there is interest among music cognoscenti: Moonlight and Newman, with support musicians, performed the album live, as Hackamore Brick, for a late-July broadcast on taste-making radio station WFMU-FM.
All this has brought the 60-something Moonlight (a stage name he still prefers to use) and Newman into the daylight, so to speak, to talk (via telephone) about the band and its influences. Moonlight lives in Long Beach, in New York's Nassau County, while Newman is in Brooklyn while his hurricane-damaged Rockaway home is repaired.
And Moonlight also wants to clear something else up. "I don't think I'm Lou Reed," he says. "You're not," replies Newman. Somehow, the rumor got started that Reed - between his departure from Velvet Underground in 1970 and his first solo album in 1972 - recorded One Kiss under the "Tommy Moonlight" moniker.
That rumor was floated in Creem magazine, Moonlight says, a couple years after Hackamore Brick's album had disappeared. It gained a certain credence because the band's producer, Richard Robinson, also produced Reed's solo debut." (As an aside, this writer remembers meeting a Velvet Underground Appreciation Society member in Denver in the early 1990s who swore that "Tommy Moonlight is Lou Reed.")
The two music lovers met as City College of New York students in the late 1960s when Newman was playing Farfisa organ in an existing band. With Biegel, they first formed Ice and then (with Roman added) Hackamore Brick. A "hackamore" is a type of headgear for horses. "We both had interest in thoroughbred horses, knew what a hackamore was, put it together with 'brick' and to this day I don't know what it means," Moonlight confesses. (He also confesses to an offbeat sense of humor.)
The album, by the way, is very good. Without prominent lead guitar, the group uses keyboards and rhythm guitar to get a driving, minimalist sound for the original songs, sometimes droll and sometimes earnest. The vocals are delivered by either Moonlight or Newman in a deadpan, conversationalist manner that is mixed down in production. Some of the songs, like "Zip Gun Woman" and "Oh! Those Sweet Bananas," have a cheeky irreverence. Others, like "Reachin'" and "Peace Has Come," are touching in their yearning directness and youthful anxiety.
Moonlight's riff-insistent "Radio," for instance, is a close cousin to Reed's "Rock 'n' Roll" and Richman's "Roadrunner" - the three are almost a secular Holy Trinity. But it's also a perverse put-on that owes a bit to J. Frank Wilson's "Last Kiss." A drag-racing couple, trying to hear their dedication on Top 40 radio, finally does just as the girl falls out of the car giving a competing driver the finger. She hears it as she lay dying.
As a result of its attributes, the album has the kind of gutsy street cred that was -- and still is -- a refreshing parallel vision to the virtuosity (some might say the bombast) of the Beatles, the Who, Led Zeppelin or other supergroups of the time. It would certainly seem to owe a debt to the Velvets' third album, and one might indeed call it pre-punk.
Really, Moonlight says, Hackamore Brick's key influence was the many New York folkies turning to singer-songwriter-rock in the wake of Bob Dylan's success. And there was a countercultural influence, too - photos in the CD booklet show that the guys were longhaired hippies. (Biegel, in particular, with his thick curly hair and cool blue outfit -- jean jacket, patched blue jeans and blue T-shirt -- really stands out on the album cover, shot on the fire escape of photographer Joel Brodsky's studio.)
"Pretty much all the guys walking around Brooklyn at time looked like we did," Moonlight says. "At that time, there were a whole lot of folk singers who decided to do rock, and they didn't play electric guitar the way the British did. That was a New York sound to us more than a Velvet Underground sound."
According to Newman, Hackamore Brick immediately got some gigs -- at a Staten Island club called the Ritz, at Brooklyn's Prospect Park, and at Bellevue Hospital's psychiatric wing. (He insists the last mention is not a joke.)
Band members also had a contract with Koppelman Rubin, a powerhouse New York record-production company, but were hampered because Biegel -- a minor at the time -- couldn't sign so they lost a key member. They did make some recordings that so far remain unreleased.
With Biegel back in the band, they went shopping for a label in 1970. They tried Kama Sutra, which had been very successful in the mid-1960s with New York folk-rockers Lovin' Spoonful. By 1970, it had a reputation (with its mate Buddah, which pioneered late-1960s bubble-gum music with hits like Ohio Express' "Yummy Yummy Yummy" and "Chewy Chewy") as a singles label in an album-rock world. To try to change that, it hired Robinson as a producer. He had been a New York rock writer.
"We brought three songs to a reception guy," Newman says. "He liked it, and I guess he showed it to (label head Neal) Bogart, and he brought it over to Robinson. He liked it."
With a label interested, Moonlight and Newman worked hard on songs -- mostly individually, but they shared credit on "Zip Gun Woman" and Moonlight provided music to Roman's lovely lyrics on "Peace Has Come." They recorded in late spring, got the album out later that year, and played a weeklong showcase at the Bitter End.
The idea to make the vocals naturalistic and somewhat off-handed seems to have been both Robinson's and Hackamore Brick's. "We had an idea to have the vocals mixed down a little bit, which to this day I think was a mistake," Moonlight says. "The flatness of it could have been Richard. We just didn't want the vocals to be way up over the music."
Hackamore Brick redid versions of "Radio" and "I Watched You Rhumba" with clearer vocals for a single. Those and a version of the Coasters' "Searchin'" are bonuses on the newly issued CD.
That winter, Hackamore Brick departed for an extended gig in the Virgin Islands as the album headed toward oblivion, despite some good reviews. In 1971 they started to record a second one, but fought with the label over the choice of a studio. And Robinson had departed for RCA, where he would work with Reed.
"We wanted to go somewhere else," Moonlight explains. "We thought maybe we'd get a deal with RCA, so we walked out of that contract." But Robinson soon departed RCA and the band, without a label contact, broke up. That was 1972, Newman recalls, but Hackamore Brick first recorded some new songs meant for a second disc. They have never been released.
The story gets a bit hard to follow after that, but the essential points are that Newman and Moonlight never stopped making music in the New York area, together with a group, as a duo, or separately. At some points, they used the Hackamore Brick name. Other times they played as Moonlight, Stars, or Blue Yonder.
They got some inkling that their album might have made an impression in the mid-1970s. At CBGB gig, Andy "Adny" Shernoff and Scott Kempner of the Dictators, a similarly irreverent band that had started up in 1973, came to encourage them.
"We didn't know them then, but they were in the audience requesting songs and we couldn't imagine how anyone would know our songs," Moonlight says. But nothing much else happened. They did record more songs, also never released, in Austin in the 1980s.
The four Hackamore Brick members last played together in 1981 at a reunion of sorts in a studio. Roman now lives in Maine and Biegel in Florida -- both have pursued music. For awhile, Moonlight and Newman supported their musical ventures with secondary jobs; eventually the music became secondary to the day jobs -- Newman as an antiques seller; Moonlight in retail.
"We've been friends throughout, but musically we weren't doing a hell of a lot together for awhile," Newman explains. "We'd see each other socially and play for our friends. Around mid-2000, we started getting together again."
In 2006, the duo played a wedding as Hackamore Brick. Buoyed by the response, in 2009 they released a six-song CD of recent recordings called Long Way Home (available at www.hackamorebrick.com) and decided to promote it with some shows in the Lower East Side. By then word had spread that One Kiss was a "lost rock gem" to attract an audience
"It was just Tommy and me and we advertised it as Hackamore Brick," Newman says. "Much to our surprise, we got quite a few Hackamore Brick fans, some writers and DJs. We got choked up a bit."
The plan now is to play some more gigs as Hackamore Brick, either as a duo or with support on bass and drums, to capitalize on the reissue. And they want to finally release some of those Hackamore Brick recordings made but then shelved for decades. As for a full-scale reunion, perhaps at an "unsung heroes" festival like Ponderosa Stomp? "If things develop and people are interested, we can see what Bobby and Rob are up to," Moonlight says. "They are far away."
But Moonlight is impressed Hackamore Brick has gotten this far. "I used to say the orginal 17 people who bought our record were the only people paying attention. But I was proved wrong."
(This is an edited/excerpted version of a story that first appeared Sept. 17 at the www.blurtonline.com Website.)
(Photo is of the band's 1970 album)
Support HuffPost
The Stakes Have Never Been Higher
Related
Popular in the Community