He's also a shape-shifting lizard, according to an electronic road sign on Interstate 30 in the Dallas area, near the Cockrell Hill Road exit.
Early this morning, someone hacked the sign, so that it commented on Trump's reptilian secret, not traffic.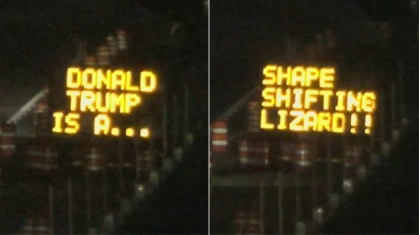 Trump wasn't the only politician who appeared on a hacked road sign. A short distance away was a sign changed to read, "Bernie for President."
Officials for the Texas Department of Transportation (TxDOT) told NBC Dallas-Fort Worth that the hacked signs belong to a contractor. They thought the signs had been turned off and locked before the holiday weekend.
The "shape-shifting lizard" post was actually the second time the road sign had been altered. On Memorial Day, the sign offered this message: "Party Hardy, Y'all."
A third road sign was hacked Tuesday with another message: "Work is canceled. Go back home."
At least one of the signs was turned off by 6:30 a.m., according to NBC Dallas-Fort Worth.
The sign changes may have been meant as a prank, but the DOT isn't laughing.
"It's not something that's taken lightly be any means," LaFontaine told the station.
Tampering with an electronic road sign is a third-degree felony punishable by up to 10 years in prison, he said.
One final note: Trump may change his positions frequently, but there is no evidence he is a shape-shifting lizard.
Calling all HuffPost superfans!
Sign up for membership to become a founding member and help shape HuffPost's next chapter
BEFORE YOU GO