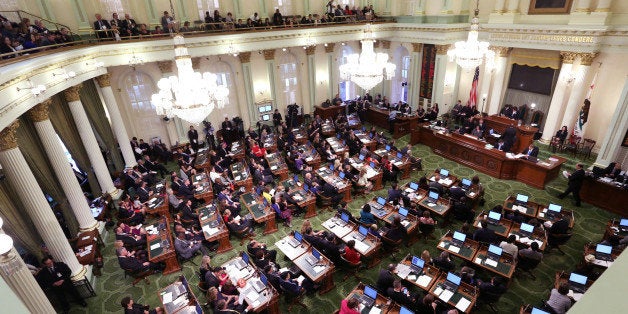 Can you imagine walking into your public library looking for a specific book only to discover that nothing is organized and there is no Dewey Decimal system to help you locate it? Or firing up your laptop to find something online, but every search engine -- Google, Bing, Yahoo -- have all been shut down?
While these scenarios sound like they are straight out of an episode of the Twilight Zone, this is what it's like for any Californian who wants to participate in the legislative process in Sacramento. While the information exists, it is virtually impossible to find.
The California State Legislature does not produce transcripts or minutes from its public hearings. The majority of meetings in Sacramento are recorded via video or audio. But, the public has no way to search who said what. This means that you either have to attend every hearing to know what was said or spend countless hours watching or listening through hearings that have nothing to do with your issue.
We didn't want to just talk about the problem. We wanted to actually build something to help make it better. Together with engineering and political science students at Cal Poly's Institute of Advanced Technology and Public Policy (IATPP), we are developing a tool to modernize Sacramento. We are harnessing social media and video to open up the halls of government. And the name of this movement and the new platform for civic engagement is called: Digital Democracy.
Think of it as a searchable, sharable video engine for California government. It's like C-SPAN, Google, and Facebook for California politics all rolled into one.
Giving Advocates a Fighting Chance
This online tool for the digital age will give advocacy groups fighting for veterans, the homeless, and foster children, the ability to easily keep tabs on where lawmakers stand on issues important to them.
Take Jim Roberts for example. Jim runs the Family Care Network, a non-profit that helps foster children along California's Central Coast. Organizations like his do not have the funding to hire a lobbyist to advocate in Sacramento.
Instead, Jim has to drive five hours from San Luis Obispo to Sacramento to sit in on committee hearings. But with this new tool, Jim now has an opportunity to be part of the legislative process without leaving his office. Jim can find videos of hearings specifically related to foster care just by entering a few search terms. He can also use Digital Democracy to see where elected officials stand on foster care and use social media to mobilize those families to advocate for services essential to the well being of foster children.
This powerful tool is now right at his, and every Californians' fingertips.
Innovation Empowers Citizenship
The way citizens interact with their government needs an update for the 21st century. This is exactly why this new advocacy tool is so important.
If you are concerned about health care reform, for example, you can find every moment your issue is being talked about, whether by a legislator, lobbyist, or member of the public. Digital Democracy will help reporters and regular citizens connect the dots from a lobbyist, to a company, to a bill.
In a state that Snapchat, Google, Twitter, and Facebook all call home, our government is failing to provide citizens with basic online tools and resources. Search engines have been around since the mid '90s. YouTube just turned 10 years old. California tech companies are obsessed with constantly improving their user experience. Shouldn't our government be doing the same?
That is why we are so excited about the new platform. Using technology, we can further the ideals of a government of the people, by the people, for the people.
We are building Digital Democracy for anyone who wants to have more of a say in how our hard earned tax dollars are spent. It's something both Democrats and Republicans can support. It's something that Northern Californians and Southern Californians can agree upon. This first-of-its-kind, online tool harnesses the power of video and social media to open up the halls of government and empower everyday citizens like never before.
*This article first appeared in the OC Register.
Popular in the Community