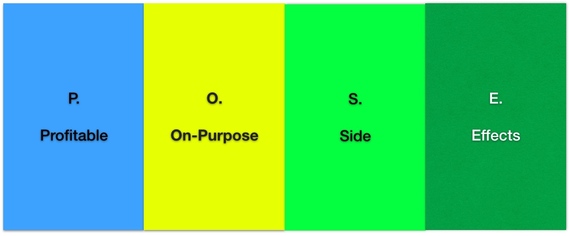 Google is a prime example of a business model that I term as the P.O.S.E (Profitable On-Purpose Side Effects) WIN-Win-Win model
The model is simple - you serve the needs of your core customers for free or almost for free. The core customer's activity creates a side-effect that can be harnessed to create value for another set of customers that are willing to pay. The more you keep your core customers happy, the better the side-effects and more value for the paying customers.
In case of Google, the company offers search for free for their core customers. The side-effect is that while core customers search, they also reveal their intent to want or do something. Edwards is a Google product that harnesses the value of this side-effect by displaying paid advertisements from paying customers matching the search keywords to be relevant to the core customer.
This is a P.O.S.E WIN-Win-Win business model
The company wins as it is generating revenues from this arrangement.
The core customer wins because they are paying next to nothing for a valuable service
The paying customer wins as the side-effect from the interaction between the company's offering and core customers is valuable to them.
While Google is the most well-known, there are a number of companies that have creatively employed the triple-win business model by harnessing profitable, on-purpose side effects (P.O.S.E) to unlock value.
1. Zenefits
Founded in 2013, Zenefits disrupted the HR industry especially in the SMB space. Zenefits offers a cloud-based service to help companies automate HR activities. This helps small companies that cannot afford to have a big HR staff. Price for the service? FREE!
Since health insurance, payroll (integrations with several payroll providers) are managed through the service, Zenefits makes money by acting as a broker on record. Everyone in the ecosystem (SMB customers who get the service for free, partner companies who get referrals, Benefits who makes a cut because of the referrals) are happy.
2. Spiceworks
Spiceworks provides free software for IT professionals to manage inventory and operate a help desk within their organizations.
Well, there is no catch. Technology advertisers want to inform IT pros like you about products and services that help you with your job. We work with advertisers to run relevant ads in the side bar for products that you could find useful. The money we receive from these ads allows us to provide the application at no charge to IT pros around the world.
Why did we work so hard to find a way to make Spiceworks free? Because we don't believe IT pros in small- and medium-businesses should have to pay for technology to manage technology. You should use your precious budgets on buying hardware, software and services that help your businesses grow.
With over 3,000 technology brands paying to promote their products and/or get feedback.
As you can see, the core audience (IT Professionals) get something valuable for free. Their engagement provides a "Adwords kind of" opportunity for Spiceworks to capitalize on.
3. Venmo
Venmo is a growing smartphone service that will help you transfer money to another Venmo account holder with the click of a button. As you would have already guessed, the service is completely free.
How does Venmo make money?
They charge businesses (less than what credit card companies charge) to accept payments using the service. Merchants are happy to play the game as they see more people getting habituated to pay via Venmo.
4. Murfie
Murfie helps music fans to upload their music collections (from their CDs) to the web and get a web and smartphone interface to those collections. Murfie charges $19.99 one-time fee to upload the collections to the web (from one CD or thousands of CDs) and the usage of the service is free forever.
How does Murfie make money?
As customers upload their music, each customer becomes part of their liquid music store on the web. Customers can buy or sell music with other customers with a single-click and Murfie takes a cut from each transaction.
The first WIN is for the music fans who get to use their service for free.
The second Win for the subset of their customers who can transact with a single-lick.
The third win is for Murfie who takes a cut from these transactions.
Final Comments
Hacking the business model is way more powerful than a compelling sales and marketing strategy. The above companies represent a small sample of companies that are innovating their way to the top by hacking the business model.
In the above cases, striking a good P.O.S.E. helped a lot.
Calling all HuffPost superfans!
Sign up for membership to become a founding member and help shape HuffPost's next chapter