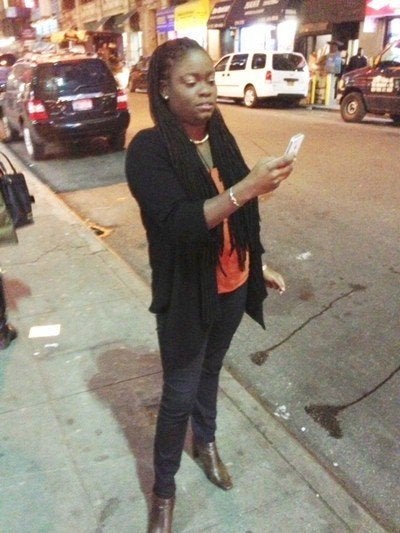 By Jess Wisloski, DNAinfo Weekend Editor
NEW YORK CITY — A Bedford-Stuyvesant woman who was arrested after taping a stop-and-frisk in her neighborhood is suing the NYPD, saying the police violated her civil rights, according to court documents. 
Hadiyah Charles was walking home on Clifton Place June 5, 2012 when she was alarmed to see police searching three young men she knew, who protested that they had just been fixing a bicycle and had done nothing wrong, according to a federal lawsuit filed by the New York Civil Liberties Union Monday.
Charles said she asked the officers what was going on, and when they brushed her off, she started filming on her cellphone. The officers repeatedly asked her to back up and one of them shoved Charles, according to the lawsuit.
When Charles said she wanted to file a complaint, she was arrested, held for 90 minutes and given a summons for disorderly conduct, which was later dismissed, the lawsuit states.
Charles said an officer at the 79th Precinct told her, "This is what happens when you get involved." 
The police officers violated Charles's civil rights under the First and Fourth Amendments, which protect freedom of expression and freedom from unreasonable search and seizure, the NYCLU said.
"Those boys could have been my brother or my cousins. If I was a man, it could have been me," said Charles, a health policy advocate, who has been honored as a "champion of change" in President Barack Obama's Winning the Future Across America effort.
"The police humiliated them for no good reason, and then they humiliated me for taking notice," Charles continued in a statement. 
The suit names the City of New York, NYPD Commissioner Raymond Kelly and the three officers who were involved.
The same two-block stretch where Charles was arrested saw 60 street stops of civilians in 2011, and her neighborhood of Bed-Stuy saw 14,000 stops that year, the NYCLU reported. Since 2002, stop-and-frisks have soared from just over 97,000 to nearly 700,000 in 2011, DNAinfo.com New York has reported, even though the searches, which do not require a warrant, have done little to reduce shootings.
"New Yorkers have a constitutional right to film police activity in public," NYCLU Executive Director Donna Lieberman said in a statement. "This right is especially important in neighborhoods of color, like Bedford-Stuyvesant, that are the epicenters of the NYPD's stop-and-frisk practices."
The NYPD did not immediately comment Monday evening.
A spokeswoman for the city's Law Department said in an email, "We will review the lawsuit when we receive a formal copy."
Calling all HuffPost superfans!
Sign up for membership to become a founding member and help shape HuffPost's next chapter
BEFORE YOU GO