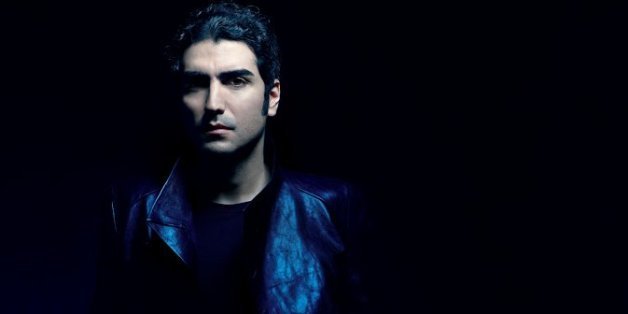 For nearly 800 years, the mystical Sufi poet Rumi's profound and empowering wisdom has inspired countless seekers, both within the Sufi tradition and beyond, with his timeless message of peace, personal transformation and inner wisdom. Following Rumi's timeless words and his own love of the mystical poet, the Iranian composer, vocalist and instrumentalist Hafez Nazeri is bringing the poet's timeless philosophy to both Eastern and Western audiences through a large-scale musical project inspired by Sufi wisdom.
Released last month by Sony Classical, Nazeri's album Untold is the first installment of the musician's ongoing Rumi Symphony Project, his long-running effort to "cross cultural boundaries through a new, universal blending of Eastern and Western classical music." The ambitious new album features 38 Grammy award-winning musicians, and took nearly 5,000 studio hours in five countries to complete -- and debuted at No. 1 on Billboard's Traditional Classical Albums chart.
"Untold is not just an album, it's all of my ideas in one single recording," Nazeri tells The Huffington Post. "It's the result of nearly 13 years of my life."
The seeds of Nazeri's magnum opus were planted early in life. His own father, the celebrated Persian vocalist Shahram Nazeri (who contributed vocals to Untold), was the first musician to ever set Rumi's poetry to music. Nazeri followed in his father's footsteps from an early age, growing up in a household full of Rumi's poetry and Sufi philosophy and letting those influences inspire his work.
"I've grown up in a house where Rumi played a significant role," says Nazeri. "I come from a Kurdish family, and my father and family had loved Rumi and practiced Sufism for many years. Rumi was a very significant part of my life since I was three years old."
Nazeri was exposed to many different types of music through his father, and grew up teaching classical music to his fathers' students. He was deeply moved from an early age by Iranian music of the 14th and 15th century, and of course, by the words of Rumi.
Rumi's philosophy shows us the path to reach God inside each of ourselves, Nazeri explains, helping us "to find the true nature of our existence and being by awakening our consciousness." Rumi's poetry also focuses on an inner journey to finding love -- as the poet once famously wrote, "Your task is not to seek for love, but merely to seek and find all the barriers within yourself that you have built against it."
Rumi is the most-quoted and cross-culturally celebrated representative of Sufism -- the mystical dimension of Islam that focuses on inner experience and personal transformation over ritual, tradition and dogma -- which emphasizes the power of music and views creative expression and aesthetic experience as a path to awakening the spirit.
Armed with a love of Rumi's poetry and years of musical training, Nazeri moved from Tehran to New York, and has played sold-out shows across the U.S., including a critically acclaimed performance at Carnegie Hall in 2009. Inspired by his new surroundings, he began to weave more Western themes and composition elements into his work.
Having developed a unique style of harmony and orchestration, Nazeri's work is characterized by a melding traditional Iranian music with the complexity of modern Western classical music into a new and undefined genre of music. "This product is no longer Western nor Eastern -- it is a balance of them both," says Nazeri.
Creating a musical product that balances these opposing inspirations has been his biggest creative challenge, says Nazeri. But his goal with the Rumi Symphony Project and his career as a whole transcends the creative -- after witnessing years of political conflict in his home country, Nazeri hopes that his musical melding of East and West will help to ease tensions between Iran and the West.
"Our country has contributed to the evolution of philosophy, music and literature for many many hundreds of years in a very impactful way," says Nazeri. "But it has also been misinterpreted by the world through a lack of communication.... I hope that one day I will have the honor to represent the reality of my beautiful country and culture through the resonance of my music."
With a growing presence in the U.S., Nazeri is doing just that. The virtuoso joined forces with Deepak Chopra last year, who was inspired by his project and became a supporter. Chopra translated Rumi's poems for Nazeri's recording and wrote an introduction to Untold. Later this year, Chopra will join Nazeri for a Los Angeles concert to celebrate Rumi's universal message of peace, love and unity.
"We are living at a time where there is no map anymore and no boundaries," says Nazeri. "We are all becoming part of the same map through the Internet and social media. We really have to be more understanding of one another and music can have a really big role in doing that."
Related
Popular in the Community