Miri Ben-Ari -- who has collaborated with artists like Kanye West, Jay Z and Alicia Keys -- plays the violin. She has worked with artists in all genres of music, from soul to jazz, to hiphop and R&B, pop and dance music. She doesn't just produce beautiful music: She also won a Grammy and was honored at the White House by the president and first lady. She focuses on and her essence is, a deep commitment to equality and freedom, and she combines it with a conviction that music can heal the world. Her mission to educate is born of her personal history. Ben-Ari said in an interview that it was on her 12th birthday that she found out the horrible truth about the Holocaust -- this after years of silence from her family.
My grandparents never spoke about the Holocaust except just one time, when I was 12 years old interviewing them for my school's family tree project. Their painful stories, among those of many others, made me realize that people, under certain circumstances, are capable of turning into inhumane monsters.
Ben-Ari is still haunted by a story her grandmother told her about a girl who lived in her grandmother's hometown in Poland. "She told me about a young girl who played the violin just like me, but the Nazis then cut her hands off," Ben-Ari said. "Sometimes, I think that is why I play the violin -- for that little girl."
I heard a beautiful song by Miri and knew I wanted to paint her. Then I heard her story and knew I had to paint her.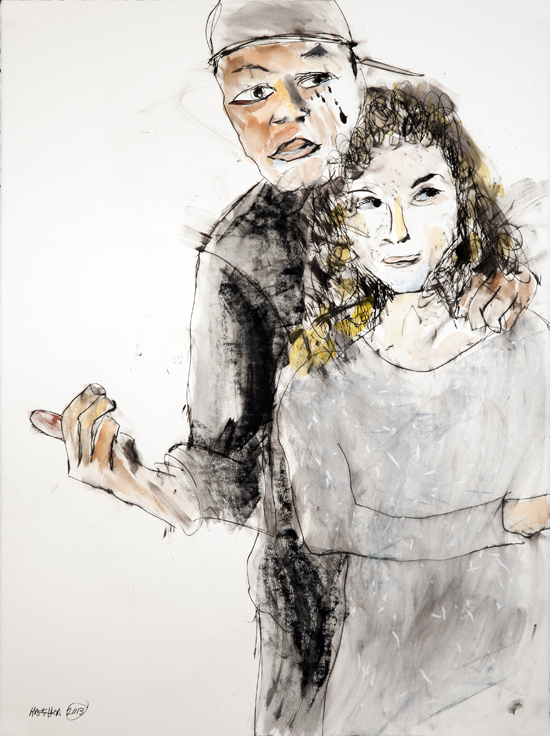 In this day and age a musician is the subject of countless publicity photos taken by skilled photographers who answer to strict commercial demands. In Miri's case, their aim is to publicize her amazing blend of classical violin and hip-hop. She can give a hip-hop beat a classical spin that takes it to another dimension at once powerful and on a new frequency. It's not that the music leaves the street, it doesn't, it's not that it doesn't still move your body, it does, and it does in a deeply sensual and visceral way. The photographer is all about that -- the product, all about the glamorous side. Painting is a historical act. You don't shoot a painting: You build a painting stroke by stroke, and the sitter participates even if s/he doesn't know it or acknowledge it. In a way being a painter today is Shakespearean in the sense Delmore Schwartz expressed it:
Welcome strangers, but study daily things,
Knowing that heaven and hell surround us,
But this, this which we say before we're sorry,
This which we live behind our unseen faces,
Is neither dream, nor childhood, neither
Myth, nor landscape, final, nor finished,
For we are incomplete and know no future,
And we are howling or dancing out our souls
In beating syllables before the curtain:
We are Shakespearean, we are strangers.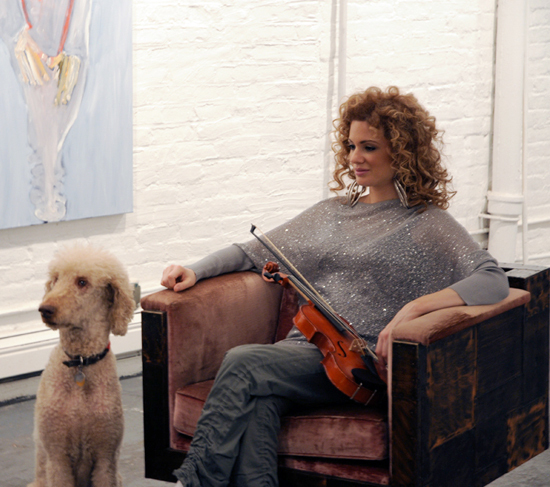 I want to feel the subjects' history and paint their inner complexity and mystery, and perhaps even the confusion a person has in the face of a disturbing past and portraying the drama of who they are. Miri Ben-Ari walked into my studio, sat down and allowed me to see her that way, to paint her, to paint my feelings about her grandmother who shared the horror of my own parents. I tried to paint Miri Ben-Ari as I felt her trying to heal the world with beauty, music and a commitment to education! Thank you Miri Ben-Ari, I hope you change the world, you already have!
At present, Miri Ben-Ari is a Global Brand Ambassador for Harman Kardon, and Goodwill Ambassador of Music for the United Nations Associations of Brazil.
Calling all HuffPost superfans!
Sign up for membership to become a founding member and help shape HuffPost's next chapter