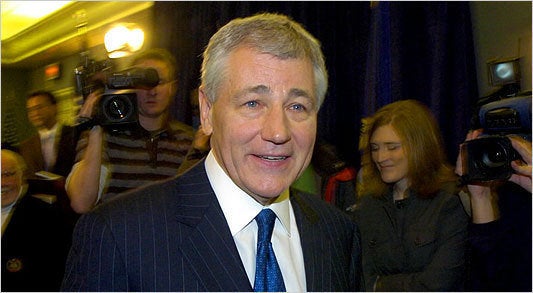 Two months before he leaves office, Sen. Chuck Hagel is increasingly unrestrained by political niceties.
Appearing at a forum at the Johns Hopkins School of Advances International Studies, the outgoing Nebraska Republican leveled harsh criticism at his own party, the lack of intellectual curiosity among some of his colleagues, the Bush administration's handling of nearly every aspect of governance and -- perhaps most bitingly -- the conservative radio voices that often dictate the GOP agenda.
"We are educated by the great entertainers like Rush Limbaugh," said Hagel, sarcastically referencing the talk radio host who once called him "Senator Betrayus." "You know, I wish Rush Limbaugh and others like that would run for office. They have so much to contribute and so much leadership and they have an answer for everything. And they would be elected overwhelmingly," he offered. "[The truth is] they try to rip everyone down and make fools of everybody but they don't have any answers."
It wasn't all an exercise in unloading pent-up frustrations. Hagel offered praise for Robert Gates -- creating the impression that he would like the current Pentagon chief to remain at the post once President-elect Barack Obama takes office. He also deflected questions about whether he would serve in the Obama administration or what he thought of the possibility of Hillary Clinton at Secretary of State. Moreover, Hagel offered what amounted to an hour-long plea for the next administration and Congress to reconfigure the way it works together and within the international framework when it comes to foreign affairs.
"Eighty-seven percent of the American people said America is going in the wrong direction," said Hagel. "You don't need to know another number about anything, and so the election was pretty predictable: the American people don't like what is going on... they want us to start doing what leaders are expected to do, address the problems, find some consensus to governing. Get along. There will be disagreements, sure... but in the end we can't hold ourselves captives to this raw, partisan, political paralysis."
But the truly memorable bits came when -- unrestrained by formalities -- he deployed a sharp tongue while riffing on the GOP. Reflecting on the Bush administration, Hagel, one of the earliest critics of the Iraq war, held back few punches.
"Yes, there have been some differences and some pretty significant ones in [the Republican Party]. But when you ask the question: 'Has [our approach] worked? I don't think many people will say it has worked," he said, adding later: "God knows I would never question the quality of our elected officials, that's why I'm so popular with many of them."
The main thrust of his critiques was aimed not at any individual specifically, but at a closed-off mindset that he believed had taken hold of Republican politics and, consequently, the GOP's approach to foreign policy. "Engagement is not appeasement," he said. "Diplomacy is not retreat. Somehow too many in this town and in this country have disconnected all of that."
Later in the question-and-answer session, he offered an example to illustrate this quip, gently mocking those officials and voters who, for one reason or another, had problems with things from France or people who were Muslim.
"There is always going to be a certain know-nothing element to democracy," said Hagel. "That is their choice. But in a world that is so vitally interconnected, it does help if you try to understand the other side... Ask them: 'What is it that scares you about the French so much?'"
There were, additionally, some compliments to spare. Hagel, on several occasions, lauded the work and approach of Gates, who he said had taken the right ethos to the job at Defense. Finally, he offered a sincerely funny line about Warren Buffet, the heralded financier, Oracle from Omaha and (seemingly) one individual to have weathered the current financial market meltdown.
There is news today that [Obama] is in serious negotiations with Warren Buffet for Buffet to buy the entire United States government," Hagel joked in the opening of his speech. "I applaud that. I am seeking the job of buffet's driver. He is the only one who has money. Obviously we think highly of warren and we take great pride that he is a cornhusker."
Popular in the Community