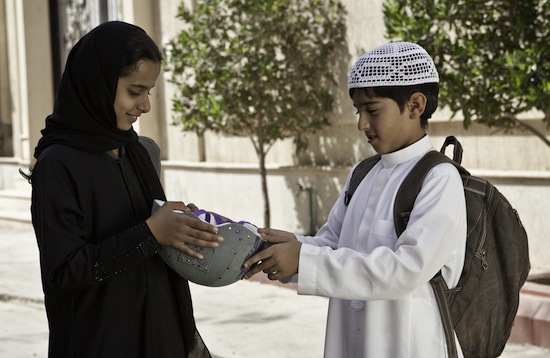 Groundbreaking is definitely an overrated word these days. Yet there are some instances when nothing else will do. Haifaa Al Mansour's Wadjda for example, is a film that demands the multiple use of this word. It is an unprecedented first film shot in Saudi Arabia, by a Saudi female filmmaker. It is also a simple human tale of a girl yearning for a green bicycle, yet when one delves deeper, the film uncovers a world of women -- strong, independent women who know what they want yet still have to navigate the intricate rules of Saudi society to be accepted.
For a daughter who grew up with a single mother, Wadjda hits all the emotional buttons. I may have walked in looking worthy of a gala presentation at the Dubai International Film Festival this past Wednesday, but I definitely walked out with mascara smudged down my cheeks and still half sobbing from the ending.
The film is being distributed in the US by Sony Pictures Classics and has already opened theatrically in Europe. Interviewing Wadjda creator Al Mansour was one of the main reasons I wanted to be at this year's DIFF and in person, she does not disappoint. Petite, intelligent and so gloriously humble, I sat with the talented groundbreaking filmmaker for a talk I will never forget.
E. Nina Rothe: How did you come up with this story as your first feature? Why Wadjda?
Haifaa Al Mansour: I wanted to make a story about the world I grew up in, and about myself and about my relatives, my friends...
ENR: Are you a little bit of Wadjda?
Al Mansour: She is a little bit more feisty, I'm more shy than her. But yes, whenever you write a character there is a little piece of you in what you write. But she's a little more, she's funnier.
ENR: What was is like to have your Middle East premiere at the Dubai International Film Festival?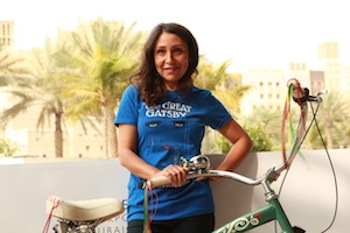 Al Mansour: Yesterday was a big moment for me, because we've premiered everywhere in the world, and this was the first time premiering in the ME and it is coming home. It's like you are coming back to show your parents, you want people to be proud. I don't know how they would react to the film and it's a film about them, so I was very nervous and I was so happy how people received it.
ENR: The reception was so touching.
Al Mansour: Yeah, it was very touching. Saudis came up to me after the screening, some came only for the day to watch the film.
ENR: My taxi driver last night told me they caused a traffic jam in Dubai, all the Saudi cars.
Al Mansour: And I felt so honored and so proud that they made that effort just to watch the film. In Saudi it's very important to create this kind of debate and it's very important to have this excitement about a film, and about things like that. It makes people more relaxed and it makes people embrace life and be happier. And I think that is what film should do and it's a big moment for me to be here in Dubai. Also Dubai is very similar to us.
ENR: I got that from the film.
Al Mansour: Tribes overlap, we have lots of relatives who are half here, half there so it's basically the same fabric, demographically. It was a big night for me, I'm so happy and so relieved they liked the film.
ENR: Did you know you would become this ambassador of Saudi culture to the world? Your film shows that we all bleed the same, have the same basic needs. Were you conscious of this?
Al Mansour: I wanted to make a story, put a human face of course, and stay away from oil, politics and all that. And make a story about real people, people that I know. I didn't want to be an ambassador, like that, no I didn't think that much. I wanted to make a real authentic story and make it local as much as possible but with global themes, so it could travel as much as possible, to outside audiences. I'm so glad it worked that way, put a human face on the culture and showed people. Because we are, as I said, very shy and we don't come forward, in this part of the world.
ENR: How did you come up with your female protagonist, the girl playing Wadjda?
Al Mansour: Her name is Waad Mohammed. It was hard to find her. But what we did in Saudi was to capitalize on the system that is already there. And maybe those systems are not scientific, but there are lots of production companies, they do lots of Eid festivals -- Eid is like our Christmas -- and Janadriyah where they perform. Waad was one of them and one of the production companies suggested her. So she came in and we were so happy because she came in wearing jeans and sneakers, with her curly hair and listening to Justin Bieber. She doesn't speak English but she is part of this youth global culture somehow and that is one of the things we wanted to show in the film.
ENR: What were the challenges of filming in Saudi, and what were some of the things made easier by being a Saudi filmmaker there?
Al Mansour: Easier that we were able to get the permission to film there and we were able to know the streets. It's a local production with some German expertise. The challenge was not cinematic. It's difficult for people to accept, for example, a woman in the street, so I had to be in a van and direct. But overall it's such a rewarding experience for me, to be able to work in the streets of Riyadh -- my father is from that town and I grew up in the East Coast of Saudi -- for me to go back to my roots was really cool. I don't like to think about difficulties and even if the country is segregated and I was in the van, I feel that every shoot in the world has difficulties someway or another.
ENR: Culturally, film is not a very well accepted medium. How did you overcome that?
Al Mansour: Yes and no. Again, I wanted to build on the system already there in Saudi and also I worked closely with the Dubai International Film Festival which is a recognized international organization in the region. It's an endorsement which makes it easier for filmmakers like me to make films. They embraced the film from the beginning, they had the Interchange Torino FilmLab, I was part of that and it happened in Dubai, they have Dubai Film Connection, and ours is a small production so we had lots of financing. And towards the end, we needed money for post-production and they gave us Enjaaz for that, and Abu Dhabi also came in. It's very important to be part of organizations in the region and work with them and have them be part of your journey. I'm so grateful for DIFF, they gave us also a wonderful premiere, that official push from someone is really needed because it makes people understand that it is for them, it's not working against them, it makes them proud and represents them.
ENR: You have been hailed for your wonderfully strong female characters in the film, and basically Wadjda is a film about women. Was that also a conscious decision, because you yourself are a strong woman?
Al Mansour: I wanted to portray what I know. I also tried to include males and not make them bad, or something. I wanted to create a more realistic version of things, of course it's a female story because I wanted to tell a story about a female world and in Saudi it's very different. Men in one place, women in another, it's hard to mix that much.
ENR: Finally, can you think of three words that describe you?
Al Mansour: Three words, I don't know! It's a very difficult question! I feel like determined, mother and wife. My husband is great.
All images courtesy of the Dubai International Film Festival, used with permission
Popular in the Community