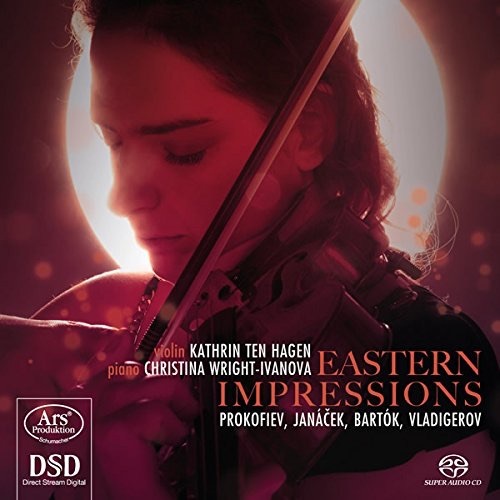 Kathrin ten Hagen, Christina Wright-Ivanova, Eastern Impressions: Music for violin and piano by Prokofiev, Janacek, Bartok and Pancho Vladigerov, 2014, Ars CD
In the first 27 seconds of the opening movement of Prokofiev's Violin Sonata Op. 94bis, the young virtuoso Kathrin ten Hagen displays an astounding propensity for staying with notes throughout a phrase; combined with her wide range of inflection, nuance and color, with which she shades every note in every phrase, the result is art at its most intimate levels which also scales well when size is called for, and attitude, as at the beginning of the final movement, Allegro con brio. The Boston-based Wright-Ivanova is an ideal partner, in step at every measure with her easy command and colorful sound palette; their coupling in the second movement Scherzo is totally delicious, while their simplicity in the movement's brief interludes is oddly thrilling.
Like 10 Hagen, Wright-Ivanova shows throughout that while she can handle sheer virtuosity with no problems, she also loves to tackle bunches of notes. Though Janacek's only Violin Sonata was written three decades earlier -- it was started before WWI in fact-it inhabits an entirely different world, entirely characteristic of the composer's ultimate inability to create a unique style with his enormously original musical imagination; ten Hagen, however, catches the composer's exultation in this conundrum and follows his every impulse initially with great delicacy, then in headlong passages of passion and speed, and in doing so takes her 2008 Pierre Dalphin without complaint to its limits.
The recording was made at the Immanuelskirche, a former Lutheran Church in Wuppertal, near Düsseldorf, now become a concert hall; built in 1869, it has just the right soaring proportions and minimalist walls to give free rein to the instruments' and the music's full range without having to force the sound. Daniel Knaack has provided valuable liner notes in the form of a dialogue about language and history and music between he and the two musicians, with one or two technical tips and tricks along the way.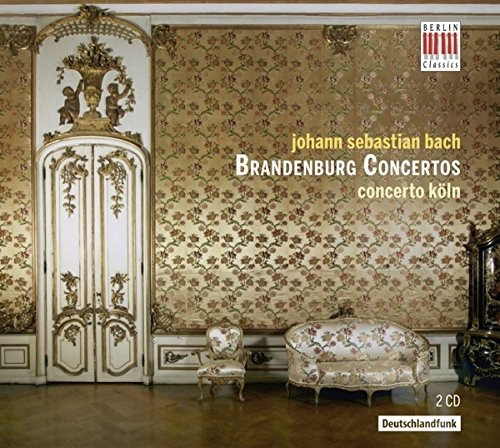 Concerto Köln, Bach: Brandenburg Concertos, 2014, Berlin Classics 2 CDs
There is something to be said about Bach as an outright hedonist, and these infectious new performances by Concerto Köln throw a series of inimitable, adorable, delightful and seductive spins on the familiar but never old Brandenburg Concertos. Obviously looking forward to celebrating their 25th anniversary in 2015, the Concerto used a very low tuning pitch of a1=392 and sent bassoonist Lorenzo Alpert into the field to use the latest research in matters of sound and instrumentation to find the answers to age-old questions including: Which continuo instruments should be used in the various Concertos? What kind of trumpet is called for in the Second? What was meant by "Fiauti d'Echo" in the Fourth Concerto? Which viola da gambas did Bach have in mind for the Sixth? For the "Fiauti d'Echo" called for in No. 4, Concerto Köln use a newly constructed double flute that was "possibly known to Bach." They also use different harpsichords for each Concerto, and make good use of the violone. For the rest you'll have to hear the set yourself. It is a brilliant achievement highlighted but by no means limited to solo turns by violinists Markus Hoffmann and Mayumi Hirasaki, cellist Werner Matzke (embellishing the continuo part in entirely new ways), harpsichordist Gerald Hambitzer (gripping in the cadenza of Number Five), trumpeter Hannes Rux (valiant in Number Two), recorder and Echo Flute player Cordula Breuer (breathtakingly beautiful throughout) and horn players Erwin Wieringa and Renée Allen in what turns out to be a rollicking Number One. The recording was a co-production with the music branch of German Broadcasting (Deutschlandfunk) and was made at their chamber music hall in Köln. Its dry analytical quality and precise balance allows the sheer beauty of the individual sounds to collaboratively, musicians and engineers, to create that perfectly imperfect experience of hearing while visualizing Bach's precisely imprecise blueprints come to life.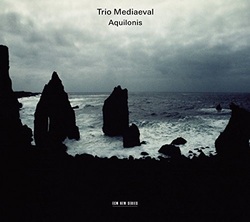 Trio Mediaeval, Aquilonis, 2014, ECM New Series CD
Anna Maria Friman, Linn Andrea Fuglseth, Berit Opheim, the three Scandinavian musicians who make up Trio Mediaeval offer up a collection of polyphony from medieval to modern titled after the North Wind. The repertoire ranges from Iceland to Italy, "from north to south like the Aquilonis wind," the marketing department's flowery prose says. That means arrangements of Icelandic chant from the Middle Ages, 12th-century Italian sacred pieces and 15th-century English carols The modern composers are Anders Jormin, William Brooks and Andrew Smith. Very spiritual at a time when remote pure climes seem like a good idea for recharging during downtime.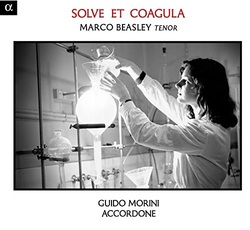 Marco Beasley, Accordone, Guido Morini, Solve Et Coagula, 2014, Alpha CD
This new recording from the leading edge team of the miraculous Italian tenor Marco Beasley, Guido Morini and Accordone pays tribute to the mysterious 18th century Neapolitan Prince Raimondo di Sangro. A soldier, scientist, poet, alchemist and freemason, Ray also provided the palace and chapel that played a role in the murder committed by Gesualdo. The dramatic framework concocted for this CD is called Solve et Coagula, an alchemist's maxim meaning "dissolve and coagulate." Since the chapel still houses artistic and scientific works "both beautiful and mysterious," Morini and Beasley made them the dramatic framework for a "dramma per musica," featuring the intoxicating rhythms of tarantellas, and the meditative power of ostinati and fugues. Tenor Beasley and his crew really make the most extraordinary, drop dead gorgeous sounds on this CD.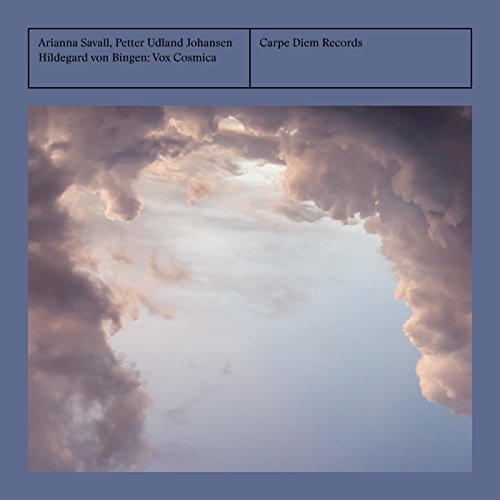 Arianna Savall and Hirundo Maris, Vox Cosmica: Music by Hildegard von Bingen and Petter Udland Johansen, 20014, Carpe Diem CD
Once again, Hildegard von Bingen's vision has inspired a recording of transfiguring beauty in the form of alternating musical responses newly composed by Petter Udland Johansen. As you can also see, mixing very old and very new repertoire is becoming an increasingly popular marketing device. The name of the ensemble, Hirundo Maris, is Latin for "sea swallow" and, like that bird's flight, singer and harpist Savall's quintet-self described as "part early music ensemble, part folk group"-drifts on musical currents between Norway and Catalonia, and adds its own songs, often created, as they might also say, on the wing. The stunning audiophile sound makes this even more of a delight, capturing the band's bright, glistening, timbral blend, capped by Savall's ice-cream clear, radiant voice.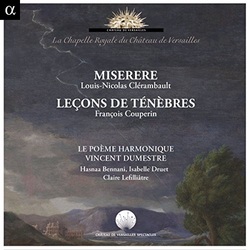 Le Poème Harmonique, Clérambault: Miserere, Couperin: Leçons de Ténèbres, 2014, Alpha CD
Le Poème Harmonique, which has already recorded some of the greatest works of the 17th-century French sacred repertoire, adds to Alpha's Versailles Collection with François Couperin's Leçons de Ténèbres plus Louis-Nicolas Clérambault's obscure Miserere. Written for the Holy Week liturgies of 1714, at the Abbey of Longchamp, Couperin's Leçons take up the Old Testament text from the Lamentations of Jeremiah, wherein the prophet deplores the destruction of Jerusalem by the Babylonians. In the Catholic tradition, they symbolize the solitude of Christ, abandoned by his apostles. Simultaneously grand and intimate.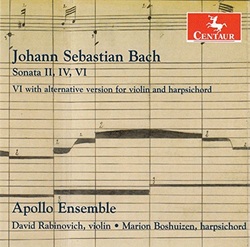 David Rabinovich, Bach Violin Sonatas, 2014, Centaur CD
Founded in 1992, the Apollo Ensemble of Amsterdam, under its artistic leader David Rabinovich, who often serves as concertmaster for Ton Koopman's Amsterdam Baroque Orchestra, has emerged as one of Europe's leading authentic period instrument Baroque chamber music groups. Built around a core of key players, the Ensemble expands as needed, even to orchestral size when necessary, and has developed an outstanding reputation for its recovery and reinterpretation of Baroque Jewish music. This Centaur release features the Ensemble and harpsichordist Marion Boshuizen in three of Bach's Sonatas for violin and harpsichord, including the alternate version of Sonata VI. The playing is intelligent in such an spiritual way that the combination of Bach's lyrical impulses with his architectural designs is emotionally overwhelming. And very beautiful music, too.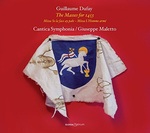 Cantica Symphonia, Guillaume Dufay: The Masses for 1453, 2014, Glossa CD
For their fourth Glossa Dufay recording, and for the first time on CD, Cantica Symphonia present two of Dufay's most important polyphonic works, the Missa Se la face ay pale and the Missa L'Homme armé, both early adopters of popular songs for their cantus firmus: Dufay's own chanson for the first mass and the anonymous popular tune, "The Armed Man," for the second. Cantica Symphonia's performances use slide trumpets, sackbuts, fiddles and the organ alongside the vocal forces. The accompanying booklet provides unusually absorbing scholarly analysis and detail. It really is like being beamed back into another century.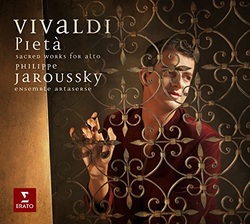 Philippe Jaroussky, Ensemble Artaserse, Pietà: Sacred music by Vivaldi, 2014, Erato CD
Philippe Jaroussky and Ensemble Artaserse, the chamber orchestra he founded in 2005, turn to the poignant meditation on grief that is the Stabat Mater in Vivaldi's 1712 setting, along with a selection of the Red Priest's solo motets and sacred works lightened by less solemn fare: Clarae stellae scintillate is an uplifting, light-filled motet in praise of Mary, and the sweet-toned "Domine Deus" from the Gloria RV589 has an almost pastoral lilt. Thrills abound in the "Alleluia" of Longe mala, umbrae, terrores RV629. "After several recordings dedicated to lesser-known repertoire from composers such as J.C. Bach, Caldara and Porpora," Jaroussky explained, "I felt not only a musical need but also a physical yearning to return to Vivaldi."
La Reverdie, Laudarium: Songs of Popular Devotion from 14th Century Italy, Arcana 2 CDs
The lauda, a musical-poetic genre first developed at the time of Saint Francis of Assisi, perhaps by him, is historically the oldest expression of Italian popular musical culture from the Middle Ages. In this double CD set the young Italian early music ensemble laReverdie presents a an anthology of Italian monophonic laude from the two principal sources of this repertoire: The manuscripts of Cortona (ca. 1270) and Florence (ca. 1320), centered on main themes common to both: The cult of the Virgin Mary and the devotion of the Saints. Along with recorded performances of many pieces from the Florence manuscript never before recorded, this set includes a presentation booklet with detailed introductory essays illustrating the methods of musicological research involved in the reconstruction of this repertoire, as well as its continuing social, historical, cultural and religious significance, upon which laReverdie has founded its interpretative approach. The music making is exquisite as one would expect from a young Italian early music ensemble that in 2010 at the Ravenna Festival, together with Gérard Dépardieu, presented a specially created program of music together with selected readings from the Confessions of St. Augustine in the Basilica of Santa Apollinare in Classe.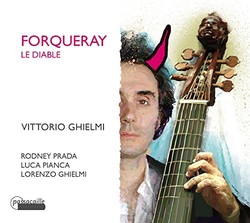 Vittorio Ghielmi, Lorenzo Ghielmi, Luca Pianca, Rodney Prada, Forqueray: Le Diable, The complete pièces de violes of the Forqueray family, Vol. 1 , Passacaille CD
Although it has become more commonplace than ever to assume that music for the cello began with Bach, and with some justification, listening to this disc is a reminder of how rich the repertoire for the 7-string viol was. Perhaps the miracle of Bach's Suites was that he created such beauty with such an inferior instrument. The music here by Antoine Forqueray (1672-1745) and his son Jean-Baptiste Antoine (1699-1782) is of a most exquisite, refined yet vital quality, delivered with a lovely energy and a surprising strength of underlying structure. The performances by gambists Vittorio Ghielmi and Rodney Prada, archlutenist Luca Pianca and harpsichordist Lorenzo Ghielmi (on a 1996 Detmar Hunger after a 1711 Lyonnaise original) offer one magnificent enhancement of the fretted viol's expressive possibilities: A simulated slur of breathtaking physical beauty and great dramatic impact.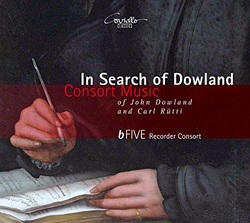 B-Five Recorder Consort, In Search of Dowland, Coviello Classics CD
This seductive concoction, intended as "a very special 450th birthday song for the master of melancholy John Dowland," comes by way of the Barcelona-based B-Five Recorder Consort. In their concerts, B-Five presents a whole arsenal of recorders, from the finger-sized sopranino recorder to the head-high great bass recorder. Creating a unity of sounds-a "consort"-between these different instruments is what the five musicians aim for. The result is a warm and homogeneous sound, allowing space for many different colors and surprising effects. The effect in this hybrid work, embedding new tracks by Swiss composer Carl Rütti into Dowland's famous Lachrimae collection, and in which the life story of the great Elizabethan master unfolds musically, is unsettling at first but comes to be an extremely haunting and addicting illumination of Dowland's genius.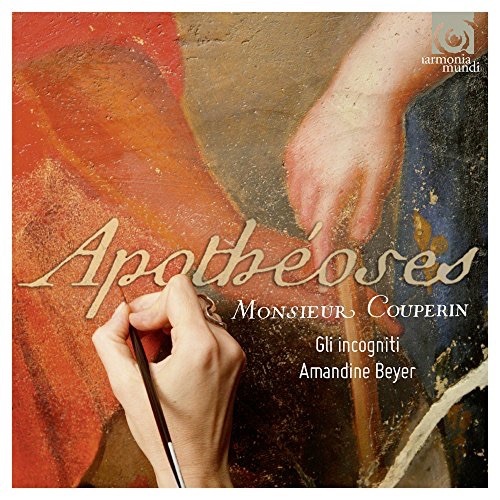 Amandine Beyer, Gli Incogniti, Couperin: Apothéoses, Harmonia Mundi CD
Amandine Beyer appropriately has chosen to make her Harmonia Mundi debut with music of great intimacy, the two Apothéoses François Couperin published in 1724 and 1725 in memory of Arcangelo Corelli and Jean-Baptiste Lully, partially in hopes of fusing the French and Italian styles. Couperin's music all has a formality that seems at odds with the freedom of Corelli, but must have sounded to Couperin comparatively free when compared to Lully. It takes a while to get into the universe Couperin is constructing, of memories and allusions and harmonies that he personally knew would stir the hearts of those who had known the two composers, or had heard their music. Very moving, very beautiful. The ensemble Gli Oncogniti took its name from the Accademia degli Incogniti, a musical society active in Venice (Italy) in the 1630s. The choice of name was motivated by the group's taste for the unknown in all its forms, an approach founded on the pleasure of a "union of tastes" (the "goûts réunis" dear to François Couperin); the group's primary goal, to be achieved through collective work, is "to convey to its listeners a committed and cohesive vision of the music it tackles." Very philosophical indeed; thankfully, the music itself is always a matter of instant delight and intimate beauty.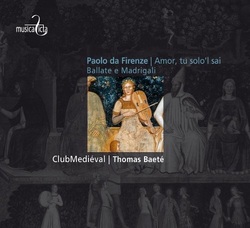 Club Mediéval Paolo da Firenze: Ballate e Madrigali, Musica Ficta CD
Paolo da Firenze (ca. 1355-1436) was also known as Paolo Tenorista, which implied he was a singer; although as can be seen in the iconic illustration of Paolo in the Squarcialupi Codex, he was obviously a Renaissance man, playing the fiddle as well. More than that, as Thomas Baeté's excellent liner notes point out, Paolo's music was at that hypersensitive interstice between stylized, late Gothic art and the simple, humanistic truths of the upcoming Renaissance. A large corpus of Paolo's music has survived through the ms. fonds italien 568 held in the Bibliothèque Nationale in Paris. Except for a Benedicamus and a Gaudeamus, all of his surviving works are polyphonic secular songs, madrigals and ballate, a corpus of around 60 pieces. Paolo is therefore among the Italian trecento composers who have left the largest surviving body of work; only Francesco Landini left more. Exquisitely performed by the eight members of Club Mediéval singing and playing upon a psaltery, vieles à archet and other ancient instruments, the intensity of Paolo's music comes across with the grainy reality of a Bergman film. "For us as contemporary performers," Baeté writes, "Paolo's lyricism plays subtly with the balance between impression and expression, between serving and being served by the music." Indeed.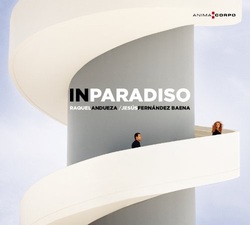 Raquel Andueza, Jesús Fernández Baena, In Paradiso: Sacred and secular music from the 17th century, Anima e Corpo CD
Here is an hour of music that is so totally seductively gorgeous that I warn you in advance of listening even once. To be honest, the music on this CD, sacred and secular music from the early Italian Baroque for soprano and basso continuo by usual suspects like Merula, Monteverdi, Sances, Ferrari and Mazzocchi, has been done many, many times but Andueza brings to the music a sultry charm and disarming tonal purity that makes you feel young all over again. And Fernández Baena's theorbo playing is exquisite! Besides, with ten tracks ranging from little anonymous delights like "Vana Bergamasca" and "Spagnoletto dishonorato" to a 15-minute soliloquy by Benedetto Ferrari on the ties that bind together love, pain, and virtue, and performed so spectacularly, what could go wrong? Raquel Andueza, who has worked with L'Arpeggiata, Gli Incogniti, B'Rock, La Tempestad, Al Ayre Español, Orquesta Barroca de Sevilla, El Concierto Español, Private Musicke, Conductus Ensemble, La Real Cámara, Hippocampus and Orphénica Lyra, among others, In 2010 created her own label, Anima e Corpo, and her first release, "Yo soy la locura," which in January 2011 won the "Festclásica 2011" award given by the Spanish Association of Classical Music Festivals. In 2010 she also founded her own ensemble, La Galanía.
REAL LIFE. REAL NEWS. REAL VOICES.
Help us tell more of the stories that matter from voices that too often remain unheard.