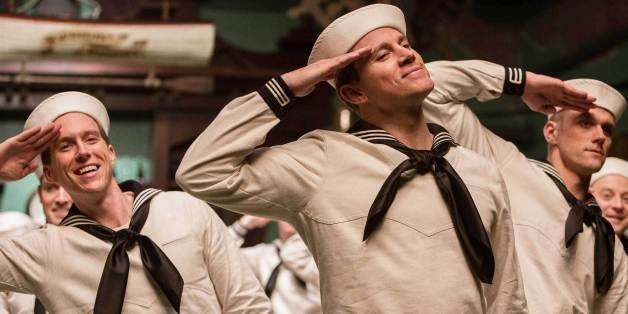 The Joel and Ethan Coen's movie spoof on Hollywood types, Hail, Caesar!, continues its kudo-quest through its third week of respectable, if not boffo, box office receipts. In fact, the movie finished its second week in theaters between The Revenant and Star Wars: The Force Awakens. And now the party games "Spot the Inside Coen Joke" and "Hail, Caesar Souvenirs" are viraling through the Awards Season screenings. If you know where to look for these Hollywood Easter Eggs in Hail, Caesar!,there are enough Tinseltown mash-ups to fill the Hollywood Bowl.

Josh Brolin's role as the studio's scandal-killing "fixer" Eddie Mannix is based on MGM's real-life studio fixer -- tough guy exec Eddie Mannix. E.J. Fleming's book, The Fixers: Eddie Mannix, Howard Strickling and the MGM Publicity Machine recalls the time in pre-TMZ Hollywood when Mannix would tag team with MGM publicity boss Howard Strickling to cover up, squash, and deep-six the rumors of various homicides, traffic fatalities, and moral dishonour involving valuable studio commodities. Depending on your source, the stories have been around for years about whether actor Clark Gable or writer/director John Huston allegedly struck and killed a pedestrian on Sunset Boulevard -- it's always on Sunset. If so, both men were quickly protected by the studios. Were the boys DUI? Who knows.

Scarlett Johansson's onscreen aquatic stardom is clearly based on MGM's swimming pool superstar Esther Williams. In Hail, Caesar! though, Johansson is unmarried and pregnant -- and out of luck. Scarlett is told by the studio to disappear for a while until she has her baby. This is a virtual reboot of the out-of-wedlock pregnancy hidden by Loretta Young in 1935 after an on location affair -- reportedly non-consensual -- with Clark Gable while filming Call of the Wild. After an extended period off-screen ( ...a hidden bungalow in Venice, California?) Young announced to gossip columnist Louella Parsons that she had adopted a new baby daughter, which in fact was her own. By Gable.

A precursor to the Coen's "Tinseltown Commie threat" theme, in 1947 actor Robert Taylor testified, at first reluctantly then loudly, before the House Committee on Un-American Activities against fellow travelers and Communists working in Hollywood studios. Here's the Coen connection... Robert Taylor - known at MGM as "The Man with the Perfect Profile" (Clooney as People Magazine's "Sexiest Man Alive" anyone?) would later star in MGM's pre-Ben-Hur Big Budget Bible Epic Quo Vadis playing a Roman General on a spiritual quest - a lot like George Clooney's starring role in the Coen's legendary Capitol Studio's religious blockbuster, Hail, Caesar! A Tale of The Christ - with its own echoes of MGM's Oscar-winning, Ben-Hur.
The Commie clutches even reach out for song-and-dance man, Channing Tatum (!) as pinko hoofer Burt Gurney. Tatum's style is reminiscent of the athletic and oh-so-masculine moves of Gene Kelly, MGM's popular dancing star. Kelly's wife, actress Betsy Blair, openly attended weekly Marxist study groups in the '40s and '50s and, sure enough, ended up on the Hollywood Blacklist. Incredibly, Blair returned from HUAC hearings to co-star opposite Ernest Borgnine in Oscar's Best Picture of 1955, Marty - but she almost lost the role due to her Commie-symp proclivities. Her husband Gene Kelly threatened on Betsy's behalf to pull out of the MGM musical It's Always Fair Weather. Tatum's dancing style (Magic Mike muscle memory?) also calls to mind all-American James Cagney's shipshape "Shanghai Lil" tap dance with Ruby Keeler in Footlight Parade. The lefty-leaning Cagney donated money to the anti-Fascist Spanish Republican Army, and voiced support for socialist candidate for Governor of California, Upton Sinclair. Cagney's strategy to avoid being tarred with the Commie brush was to star in the flag-waving Yankee Doodle Dandy. Hard to argue against that.

Behind the sister act of Hail, Caesar!'s dueling gossip queens is Tilda Swinton - brilliantly tagged by the Coen Bros to play both roles. Swinton's double dip is fearfully inspired by the intimidating and powerful competing Hollywood gossip columnists Hedda Hopper and Louella Parsons. Hopper, especially, was one of Hollywood's most vocal and rabid anti-Red baiters.

Frances McDormand's frame-fracking perfect portrayal of crusty film editor C. C. Calhoun pays homage to Oscar-winning "Mother Cutter" Verna Fields - who gave neophyte director Steven Spielberg a final version of Jaws -- or possibly Bonnie and Clyde editor Dede Allen -- or Anne V. Coates , who cut Lawrence of Arabia for director David Lean -- a film editor himself, after all.

Keeping it in the family, when Clooney's character complains to a Communist screenwriter about the time he had to shave Danny Kaye's back hair -- it's either a tale of Ruling Class Oppression or it could be one of his aunt Rosemary Clooney's war stories from the time she co-starred with Kaye in White Christmas.

Up-and-coming cowboy star "Hobie" Doyle as played by Alden Ehrenreich certainly has a career arc like actor Tim Holt -- who started out in dozens of B-picture horse operas and later graduated to working with Orson Welles in The Magnificent Ambersons. With his trusty steed "Whitey", Hobie's skill at lariat tricks and his pleasant singing voice points back to Will Rogers and Roy Rogers. The studio stage-manages a publicity "date" at the Hollywood Palladium with Latina starlet Carlotta Valdez -- played by Veronica Osorio - whose movie shtick is a throwback to "The Brazilian Bombshell" Carmen Miranda and her fruit-bedecked headdresses. Classic Hollywood scholars will recall actress Lupe Velez, "The Mexican Spitfire", and her torrid fling with budding cowboy actor Clayton Moore - who would go on to be pioneering television's breakout cowboy star when he rode Silver, the original "fiery horse with speed of light" as The Lone Ranger.

Hail, Caesar! really needs a rescreening to spot the ghosts of more Hollywood players and Tinseltown lore. Anybody have any Hail, Caesar Souvenirs to add?
Follow HuffPost Canada Blogs on Facebook