People die every day. It's one of those things... Those of us who are getting ancient (I am one) notice those passings more acutely. And amongst those who pass away, inevitably some are notable people. Folks whose achievements and contributions moved the needle of our world.
With the passing of the years I have grown accustomed to losing many friends in recent years - including quite a few who left a big impact on our planet. This is a brief appreciation of one such pal who died earlier this year.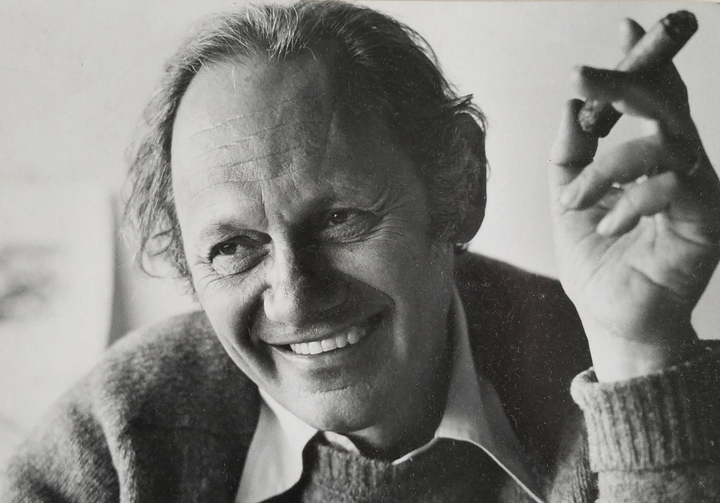 Music documentary-maker Murray Lerner
His Oscar-nominated 1967 film Festival! chronicled four crucial Newport Folk Festivals 1963-1966 that captured several big bangs of 1960s pop culture. Including Dylan going electric on stage for the first time and blues-rock pioneers Mike Bloomfield and Paul Butterfield studying at the feet of blues legends such as Son House and Mississippi John Hurt.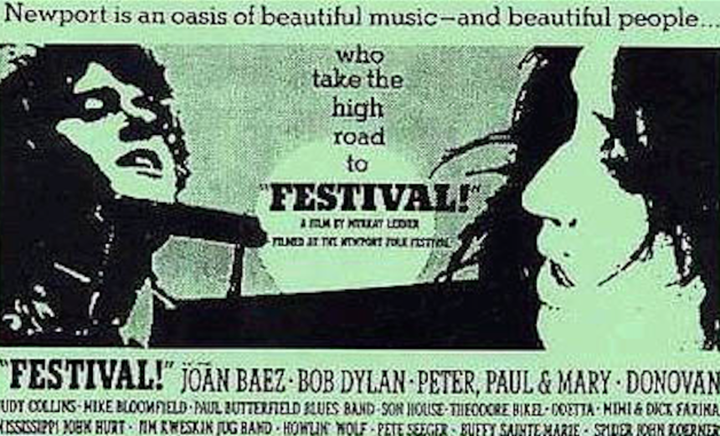 The very young Bloomfield and Butterfield had both been earnest blues devotees in the hard-scrabble blues clubs in their native Chicago for a few years preceding Newport 1965 - savoring such encounters with older musicians as they could engineer. But Lerner capturing them on crisp 16mm black & white celluloid in the presence of these grizzled blues masters forty and fifty years their senior in the Newport fields allows us to witness the passing of the candle...
In 1970 Murray filmed the entirety of that year's now legendary Isle of Wight rock festival that attracted over 600,000 fans - capturing the final major performances before their deaths of Jimi Hendrix and Jim Morrison. That work over the four-day festival included shooting the entire sets of multiple iconic artists. Performances that he subsequently turned into stand-alone films of icons such as The Who, Leonard Cohen, The Moody Blues, Jethro Tull, Joni Mitchell, Miles Davis, Jethro Tull, Rory Gallagher's Taste, Emerson, Lake & Palmer - and of course Jimi Hendrix and The Doors.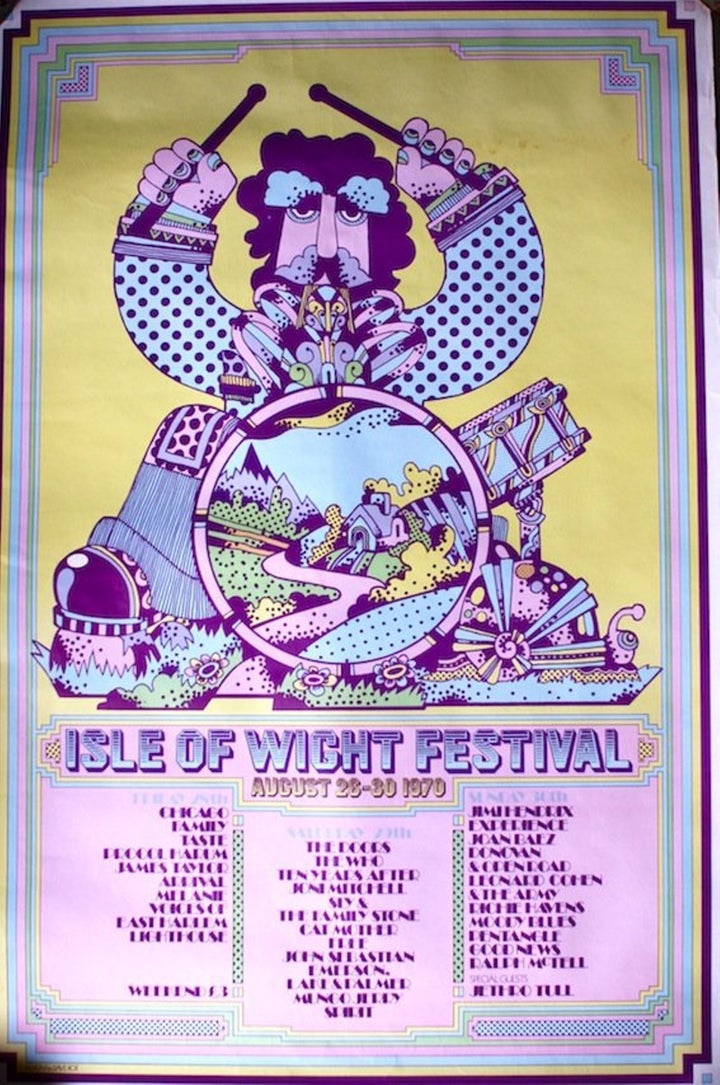 Like many of the performers at that 1970 festival, Murray felt ripped-off by the promoters, who didn't pay him for the herculean work of his seven roaming film crews. But the organizers - described by Rolling Stone's contemporary report of the festival as "sharp-toothed minnows swimming through a sea of lip-licking sharks" did not pay Murray his agreed costs and fee. When eight months later, in April 1971, they suddenly declared their company bankrupt and unable to pay him - this left Murray unpaid and vastly out-of-pocket. This did not entirely please a man born in Philadelphia and raised in New York! They had messed with the wrong Murray!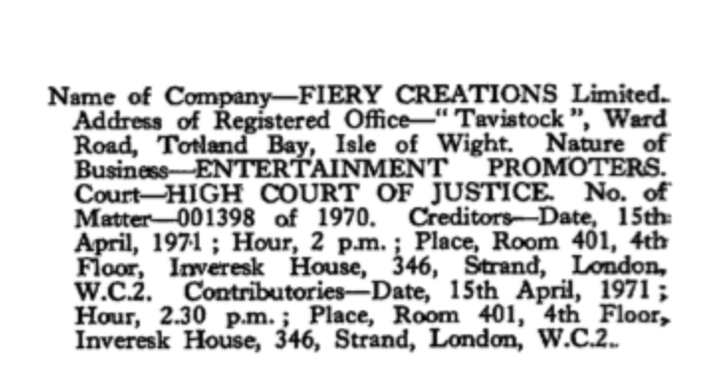 He persevered and took them through the English courts and eventually - four long years later - Murray was awarded outright ownership of all the festival footage as part of the judgement in his favor. Which is how and why he ended up owning 100% of the film and audio content he had shot at the festival.
Of course by 1974, hundreds of hours of film of a rock festival from four years earlier was not exactly in-demand. It was considered "old" and four years out-of-date in a world that demanded only "new". On the surface it seemed like a Pyrrhic victory. But Murray bided his time. He had no other option. And he used that time very wisely...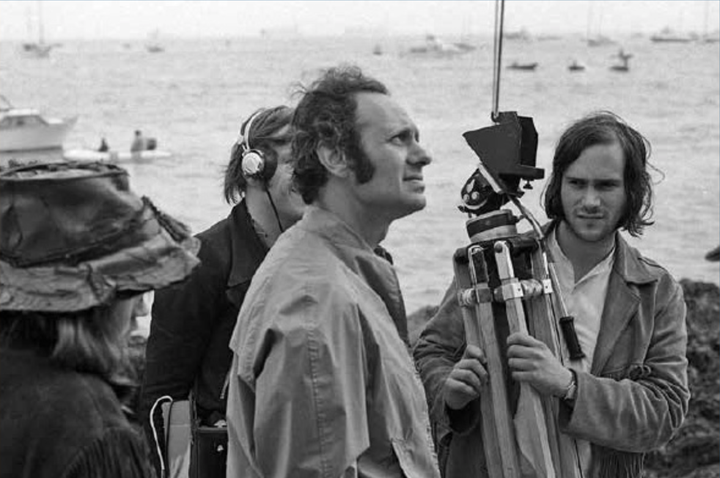 He catalogued and edited the hundreds of hours of film - fine-tuning it to perfection. His work and patience was rewarded. 26 years on the footage had quite rightly come to be regarded as a treasure trove of rock's most halcyon age. And Murray started to share the crown jewels in a series of films released first on VHS and LaserDisc, then DVD and subsequently BluRay.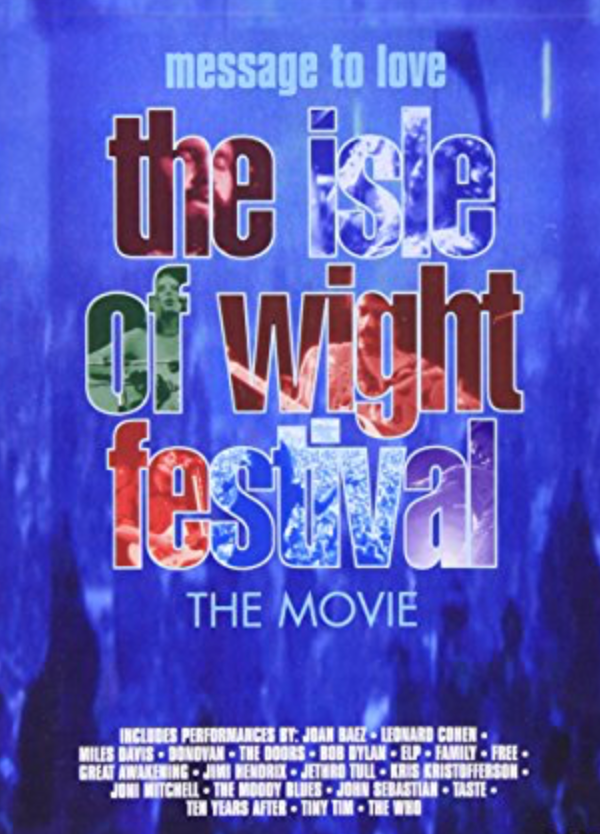 Among the most notable was Message To Love his full-length documentary of the festival showing a multitude of the acts - intercut with fascinating shards of the fans, the hustling promoters, the local by-standers. What emerged was a telling portrait of the end of the late 1960s hippie idealism. While the music soared, the people soured. And the Apollonian dream that had been filmed at Monterey (by Pennebaker) and at Woodstock (by Michael Wadleigh) was shown to have been betrayed into a Dionysian nightmare. What the Maysles Brothers captured at Altamont was the beginning of the end. Nine months after the satanic impregnation at the speedway in December 1969, Murray documented literally The End. (Sung by Jim Morrison).
In 1981 he won the Academy Award for his documentary From Mao To Mozart which documented the 1979 visit to communist China of violinist Isaac Stern. It was that film that first sent me in search of Murray. It was early 1985 and I was about to produce a film documenting the first-ever visit of a Western pop act to China - George Michael's Wham! And I wanted tips on how to film in that mysterious land. Murray agreed to meet.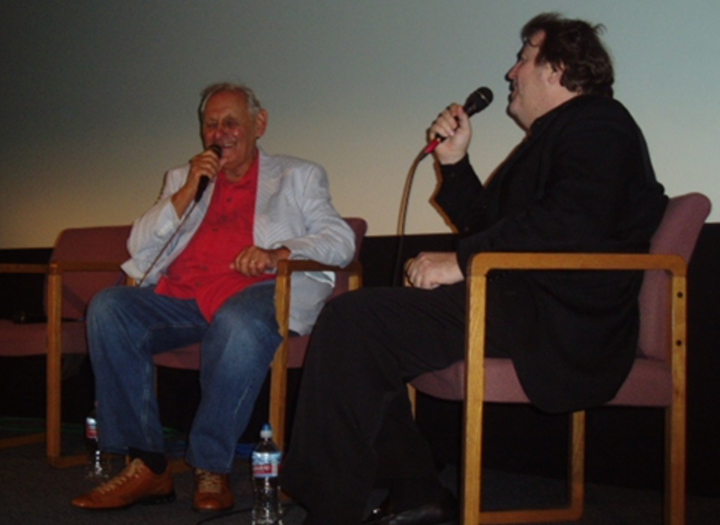 We met in his cluttered cutting rooms in Manhattan's Film Center. He turned out to be a wonderfully irascible, witty, passionate man. Knowledgeable yet with a constant thirst for more knowledge. And a relentless drive lubricated by a wry, sardonic wit. I was hustling him for inside info on filming in China. But he was hustling me just as hard to get himself the director gig for my upcoming film!
I'd already committed to my cherished hero Lindsay Anderson to direct my Wham! in China! documentary so that slot wasn't on offer. Not that it prevented Murray trying to talk me out of my commitment to Lindsay! But that laughter-filled bargaining session was the beginning of a truly beautiful friendship for the following 32 years...
At that time Murray was lamenting that he'd still not been able to sell his (at that point) 15-years-in-the-making film of the Isle of Wight festival. He challenged me - he ALWAYS challenged people! - to come up with a way.
He had taken especial delight in showing me the backstage footage of the promoters as they chortled over "challenges" with paying the artists they had booked. Including scenes of them literally "sorting" the box-office cash as it was shoveled to them in their backstage office!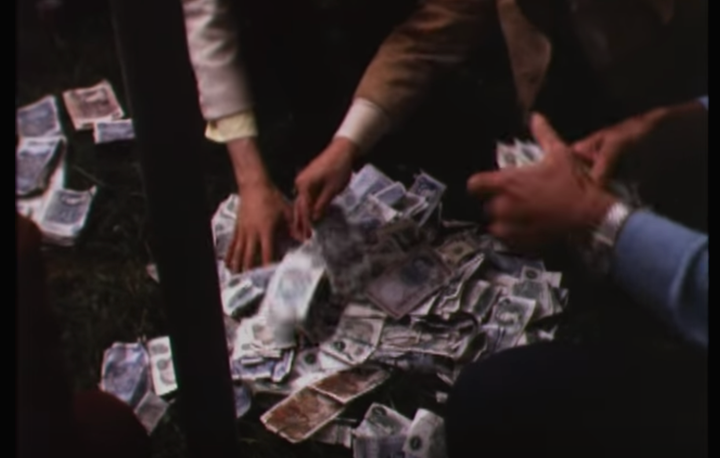 They had sanctioned Murray filming their behind-the-scenes shenanigans much as people heisting the Mona Lisa might be tempted to take selfies of their removal-in-action for a post-event private giggle.
There was also priceless footage of the festival's emcee (and co-producer) Rikki Farr screaming at the 600,000 fans-in-attendance that they were pigs who should all "go to hell!"
Obviously the promoters didn't intend to include the clip showing that priceless giveaway of how their crony really felt about the public in the film of the festival on which THEY - as owners - would of course have Final Cut.
As they were the owners of all the film footage, when Murray was filming embarrassing scenes they regarded him simply as their gun-for-hire who was shooting material that they might eventually put on their private gag reel.
But because they then stiffed the filmmaker - they got the ultimate come-uppance! The director they stiffed ended up owning all the footage showing their gleeful actions! And he was certainly not afraid to use it!
My proposed radical solution back in 1985 to the dilemma Murray faced was to take all the footage and edit it as if it had all been shot for a satirical caper feature film - made in faux docu style - about neophytes setting up a rock 'n' roll festival featuring the world's biggest acts. As if the Isle of Wight 1970 festival had actually been staged as part of the making of a Spinal Tap style comedy film! And as if Murray had managed to get all those huge artists (the Who, Doors, Jethro Tull et al) to play themselves in this fictional film! (Much as was seen when Aerosmith played themselves in Wayne's World 2 in 1993).
With a grand finale set by Jimi Hendrix!
An actual feature film starring all those artists performing at a specially-staged rock festival with 600,000 extras representing fans would have been the most expensive movie ever at that point - and that aspect of the scheme really tickled Murray's funny bone. (He and I always tried to rival each other at being economical with a penny...)
Murray was most amused by the whole idea and he had me mock-up some posters and ads for such an approach - which we both giggled over. But ultimately he was still - quite rightly - determined to create what he knew could and should be a masterful serious documentary about a crucial turning point in music and pop culture history. So the ultimate rock 'n' roll heist movie remained on the drawing board. A running gag between us for the next 32 years...
And Murray concentrated on juxtaposing the incredible music performances with the ugly breakdown of the hippie ideal that was happening behind the curtains backstage, and amongst some of the ungrateful fans.
Which is what we finally saw in Message To Love - released 26 years after the fact in 1996. But our friendship was sealed by that first amusing exercise in speculative re-imagining of his 1970 footage.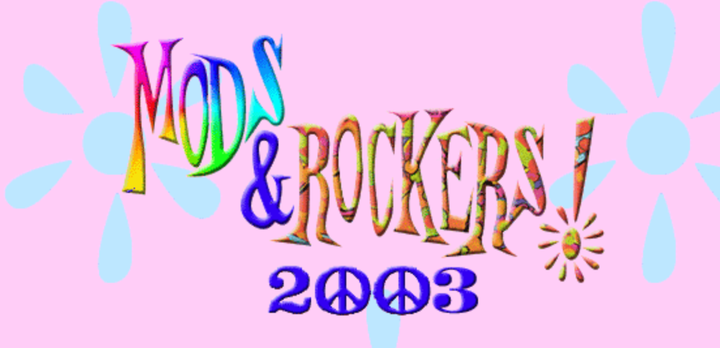 Over the years I had the pleasure of showing many of his superb films in the Mods & Rockers Film Festivals I co-founded and curated for the American Cinematheque in L.A. Murray was a wonderful anecdotist and shared fabulous stories with the audiences who flocked to see his films at the Egyptian and Aero Theatres in Los Angeles.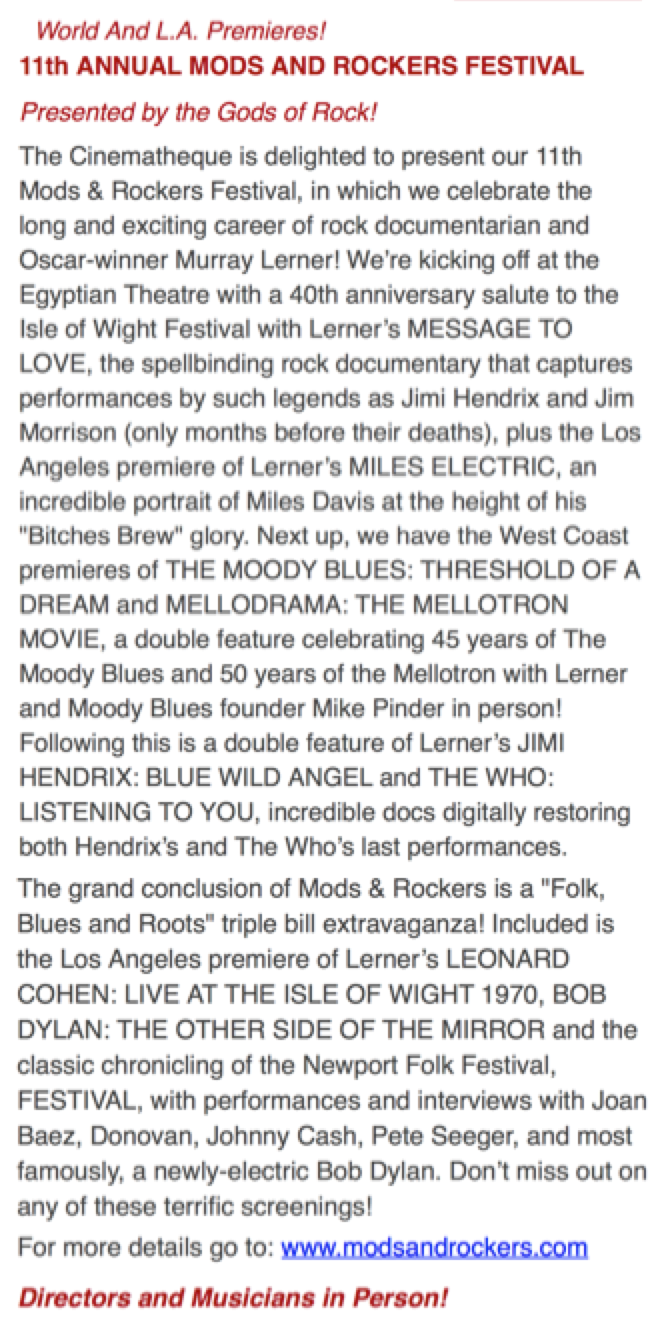 In 2010 - the last time he came to L.A. for a Cinematheque festival - we presented a full-on eight-film Murray Lerner retrospective - including on the festival's last night - the West Coast premiere of his brilliant film Leonard Cohen: Live at the Isle of Wight 1970. And a reprise screening of The Other Side Of The Mirror - which we'd premiered in L.A. in 2007. That film shows the evolution of Dylan through the prism of his three consecutive appearances at the Newport Folk Festival in 1963, 1964 and 1965.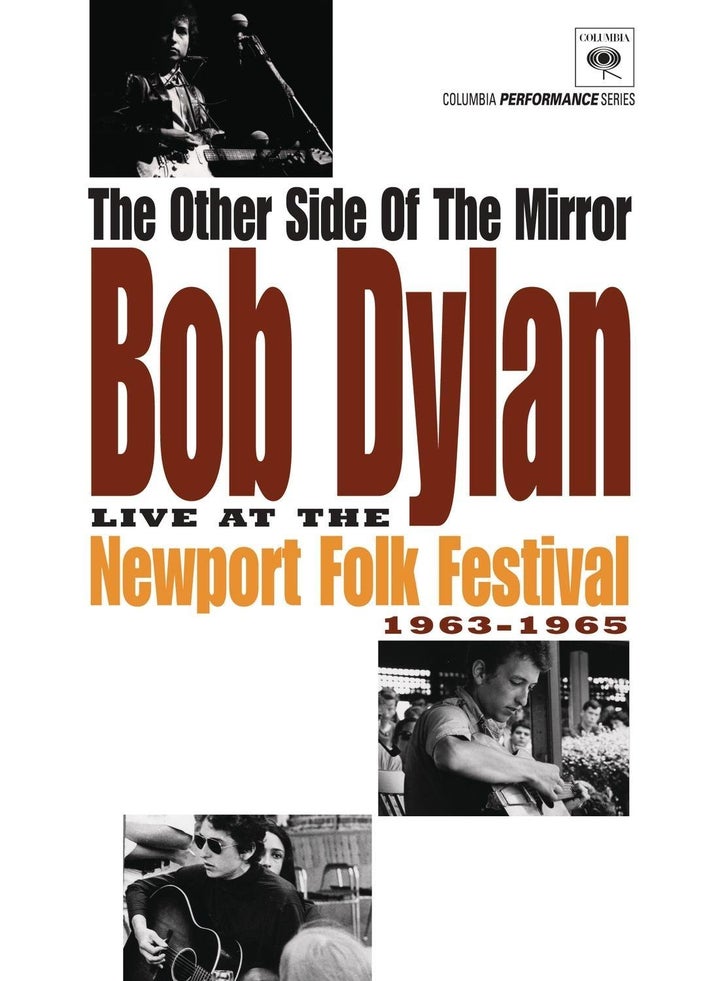 In '63 Dylan is scrawny-thin, purposeful yet still tentative... a larva with a guitar. In '64 he has matured to self-assurance and strength… a chrysalis biding his time. By '65 he has become a full-blown rock star exuding charismatic control of the audience. The leather-clad, Ray-Banned butterfly is ready to fly away from Newport and share his music with the wider world beyond the folk music village. Murray's film captures that entire metamorphosis. A crucially important rite-of-passage for the world as much as for Dylan.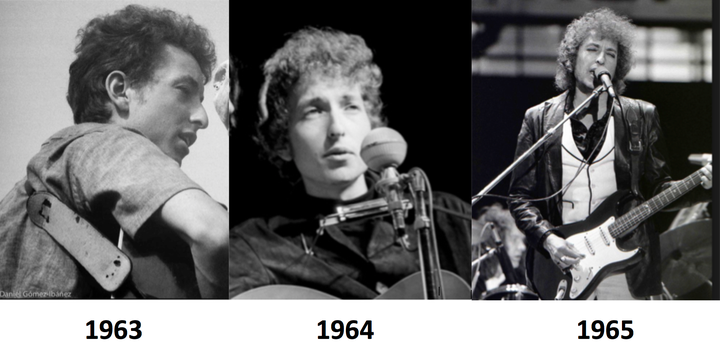 At the gala night Murray was a total delight. He participated in a between-films discussion offering wonderful insights and anecdotes. My pal Andrew Loog Oldham happened to be visiting L.A. that weekend and I had lured him to join us at the event. The nascent, pre-Stones, teenage Andrew had worked briefly as UK publicist for the very young (pre-Newport) Dylan and I managed to get Andrew to join Murray on stage for a short while to shine light on the equally young Dylan. I had also wrangled the attendance that night of legendary musician Barry Goldberg (who played keyboards for Dylan during his notorious 1965 Newport electric set) and he too was lured up on stage. The conversation and banter between the three of them was priceless. Gregory Weinkauf documented the evening admirably for HuffPost.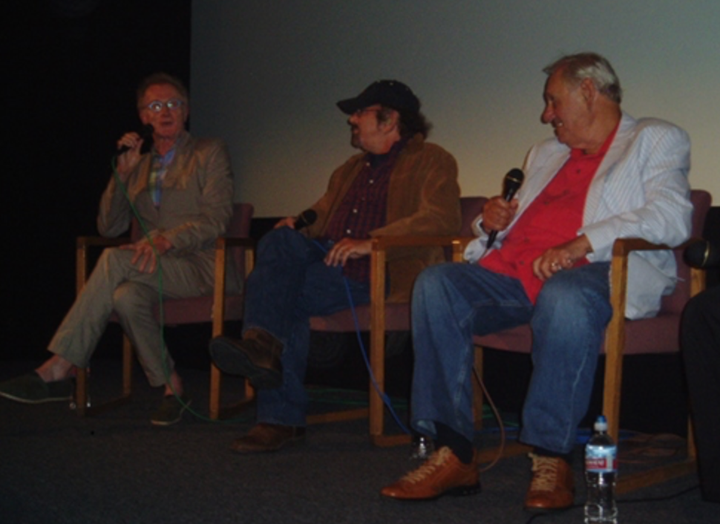 Shortly after Murray passed away in early September, the Criterion Collection released a brand-new digitally-restored edition of his 1967 Newport folk film Festival! And in 2018 Eagle Rock plans to release his 38-years-in-the-making film of Joni Mitchell's legendary Isle of Wight performance. So we will be blessed with Murray's legacy as long as there are people smart enough to seek out his films.
I've had the honor of friendship and working as film festival curator/moderator with all the greats of NY-based music documentary-makers: D.A. Pennebaker, both David & Albert Maysles - and Murray Lerner. All of them legitimately described as geniuses. All of them delightful impish characters. I've loved them all. But in my life… I loved Murray that little bit more.
There will undoubtedly be memorials and retrospectives held in his native New York and elsewhere. The American Cinematheque has already committed to holding a memorial in Hollywood. Until then we have his wonderful films on DVD and BluRay including the new edition of the sensational Festival!
I will miss his wonderful intellectual curiosity and his incisive gruff humor. That mischievous twinkle. And always those queries… "Lemme ask you a question…" he would invariably start. And we are all the beneficiaries of his brilliant enquiring mind…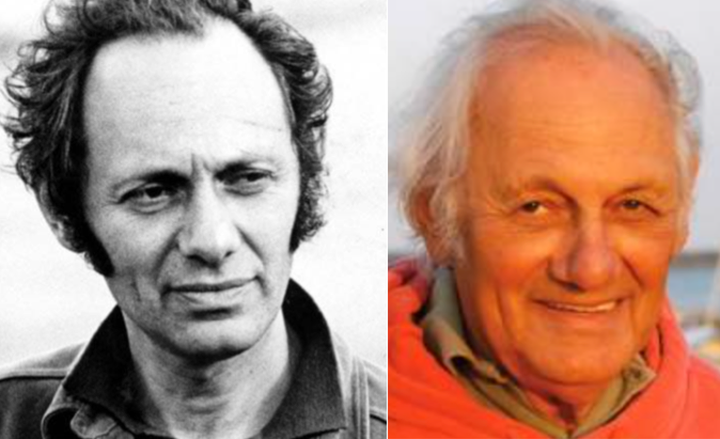 Related
Popular in the Community