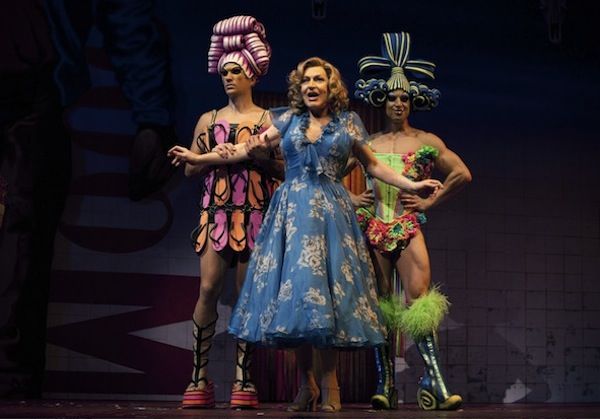 Just what makes the "Great American Musical"? If you're looking for an analytical piece written by a respected theater critic, you are reading the wrong writer. There may be dozens of theoretical essays written about it and probably as many technical classes taught at prestigious universities discussing the perfect proportions. For any of those, I am not your girl.
Instead, what I do best is write about what I love. In the case of a Broadway musical it's what immediately appeals to me as a human being, but also inspires my fashion sense, lullabies my inner need for beautiful music and indulges the incurable romantic in me. Watching Priscilla Queen of the Desert at the Palace Theater in NYC for the second time this past week made me believe the world can indeed be a better place, one where sequins, feathers and great men (albeit ones dressed as women) lead us on a journey towards love and acceptance. Now tell me, what is there not to love about that?!
Granted, Priscilla the musical manages to tap into a very personal formula for success: one part story I can connect to, one part performers who can make the little hairs on my arms stand up, one part catchy tunes I can hum all the way home after the show and one part incredible costumes and sets to make my imagination run wild -- turning me back into that kid on her first visit to a toy store.
Priscilla is based on the 1994 movie The Adventures of Priscilla Queen of the Desert, starring Hugo Weaving, Guy Pearce and Terence Stamp. On B'way, the show has just enjoyed its 200th performance and the producers celebrated this milestone by inviting some foreign media to a special presentation, topped by a meet & greet with members of the cast and flowing glasses of Prosecco. Surrounded by fantastical costumes, handsome men, talented women and infectious music, this definitely was my idea of a perfect evening.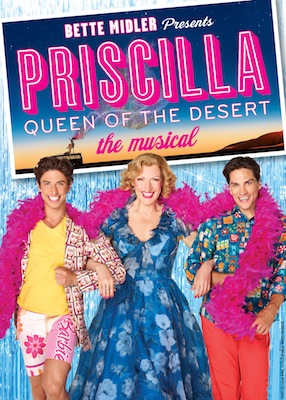 A bit of background on Priscilla Queen of the Desert on Broadway. This production boasts Tony Award winning costumes by Tim Chappel and Lizzy Gardiner (famous for wearing that iconic dress she made out of Amex Gold Cards to collect her Best Costumes Oscar for the film version of Priscilla). It also features Tony nominated performances by three gorgeous men and fantastic actors Will Swenson, Tony Sheldon and Nick Adams, music that includes 70s and 80s favorites like "It's Raining Men", "Go West", "Like a Virgin" and "I Will Survive" -- as well as my favorite song ever "Always on My Mind", sung deliciously soft by Swenson -- a golden ensemble cast made up of incredible performers and a scrumptiously fuchsia tour bus, topped by a giant Swarovski-encrusted pump that gives Christian Louboutin a run for his money.
The wonder of Priscilla has already touched several cities in Australia, where the show originated, as well as New Zealand, London's West End, Toronto, and since last spring, NYC. Tony Sheldon has been in the production from its beginning, playing the transsexual performer Bernadette, and admits to maintaining the svelte physique required to play the part by eating "no solid food since I took this job, five years ago". If you find a huge difference in Sheldon's character from Stamp's in the film version, this Broadway gal is based on a different real-life performer altogether, which explains why I enjoyed Bernadette so much. I learned this little known fact from actor C. David Johnson, who plays the lovable Bob.
Now, 500 costumes, 150 false eyelashes a month, over 100,000 Swarovski crystals, 72 wigs and 200 headdresses later, the show will also go on the road. With a US tour this winter, as well as the Italian version -- Priscilla, la Regina del Deserto -- slated for Milan in early 2012 and even a Brazilian edition in the works, Priscilla seems destined to conquer hearts everywhere, earning the title of "the little fuchsia bus that could" from yours truly. Just as an aside, a couple of days after my second encounter with the wonder of Priscilla, I couldn't resist a Haute Hippie fitted t-shirt I saw at Bloomies, boasting "Desert of my Heart" in big, bold letters, to be worn with colorful make-up and false eyelashes, of course. Which conveniently segues to the magic act of that come-on/come-off eye make-up used in the show, that left me so baffled the first time around. Just try to figure out how they do it since my lips, painted red and shiny, are sealed!
For the non-believers, I dare you to sit still through just one performance of Priscilla. In fact, I dare you to stop your toes from tapping and your hands from clapping long after "It's Raining Men", the opening number begins, performed by the outstanding, and really lovely in person, Divas -- Jacqueline B. Arnold, Anastacia McCleskey and Ashley Spencer. Never one for rowdy behavior, I woo-hoo'd, hollered and giggled throughout the two performances of Priscilla I have watched so far. And I can't wait to go again, to experience once more the warm positive energy this magical production provides its audience.
Ultimately, after the lights are turned off, the performers have gone home, the make up removed and the costumes stored, Priscilla's principles of trust in human kindness and tearing down intolerance with self worth are exactly what I want to remember in my day-to-day life.
Top photo of Will Swenson, Tony Sheldon and Nick Adams by © 2010 Joan Marcus, all images used with permission
Related
Popular in the Community