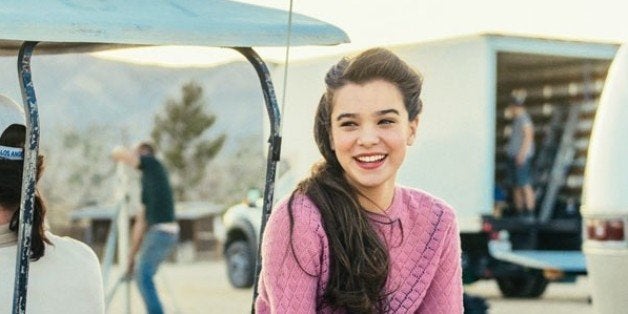 The main thing you need to know about Hailee Steinfeld is that she's just like you. No, really. You might actually be disappointed by the lack of pretension and diva tantrums you'd expect from a Hollywood starlet who went from landing a Kmart commercial at twelve to landing an Oscar nomination for her first film, "True Grit" (beating out a mere 15,000 girls for the part), and becoming the face of Miu Miu two years later. You might expect a Veruca Salt antic or two from someone who jets around the world, has designers chomping at the bit to dress her, and has Taylor Swift on speed dial. Because, let's face it, you never know what to expect when the meteoric rise of a child star blasts her into the surreal life before she's even able to drive herself to the mall. This is not the case for Hailee Steinfeld.
Maybe I'm just jaded or even primed to believe it's inevitable for an actress with burgeoning fame to evolve, or perhaps more likely unravel, into a Tinseltown terror as her limelight wattage increases. So when I show up at The Peninsula hotel in New York City to rendezvous with my old pal (disclaimer: I've known the actress for years), I wonder, Could this be the time when our girl next door takes a turn for the worse?
Hailee greets me with an immediate, giant grin and a family-style hug. Clad in J Brand skinny jeans, a crisp white button-down, and a Rag & Bone tweed jacket, she ushers me into her suite, kicking off her Chanel ballet flats as if they're Chuck Taylors and practically jumping onto the sitting area's oversize couch. She makes the midtown living room feel as casual as your parents' basement. My fears are instantly put to rest.
Perhaps it's because Hailee, who compares her acting career to her friends going to soccer practice, has never seemed like a child star to begin with. And if you were to put her in that category, she evokes more of a young Natalie Portman, Diane Lane, or Jodie Foster than a teen tabloid fixture. "Whether I'm a bit of an old soul or not, I am who I am, and that doesn't change, whether I'm with adults or with my friends," she declares in a sturdy, self-assured manner that exhibits just how easily she can go up against such silver-screen veterans as Keira Knightley in "Can a Song Save Your Life?" ("She is so sweet and humble—the same person you see in public. I really look up to that," Hailee says of the established actress) and Jeff Bridges in "True Grit." "When I'm in this adult world, I get to play dress-up and be a big girl and meet older people," says the star, who, on the other hand, likes to let loose with her friends on shopping trips, during impromptu Bruno Mars dance parties, and while cheering on her professional race-car-driver brother, Griffin Steinfeld, nineteen. "It's the best of both worlds."
That couldn't be a more appropriate sentiment for today, as Hailee devilishly suggests ordering our own personal room-service buffet of French fries and chocolate cupcakes just a few hours before she's due to present at the CFDA Fashion Awards in a stunning two-piece Suno outfit, which hangs on a picture frame in the hotel room and watches over us like some sort of sartorial chaperone. "I get nervous for pretty much everything I do," she says about tonight's event. And then quickly: "That makes me sound like a poodle!" She laughs, completely self-aware.
There's more! Read the complete interview in the October issue of Teen Vogue, on newsstands September 10. Can't wait? See a selection of photos from her cover shoot below.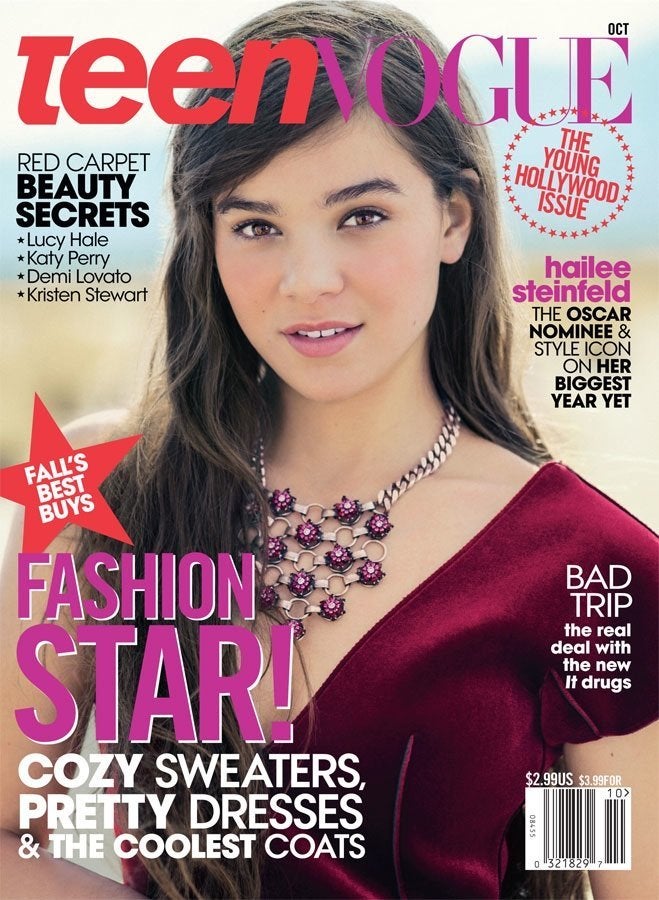 Hailee Steinfeld Teen Vogue October 2013 Shoot