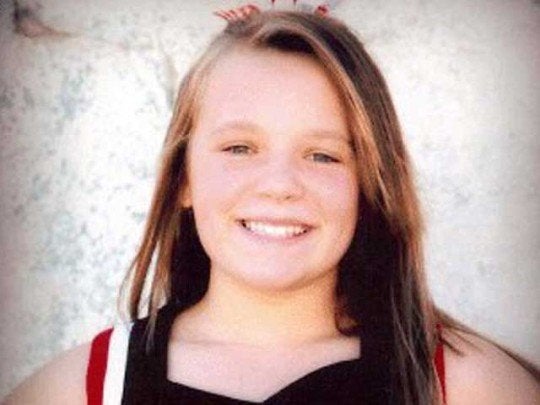 There has been much ado in the media this week about a possible breakthrough in the disappearance of Hailey Dunn, a 15-year-old Texas girl who vanished nearly two years ago. Authorities, however, said they don't believe they're close to locating the teen.
A woman held in an Ector County Courthouse holding cell prompted the media stir when she wrote a letter to family members about Dunn's disappearance. The woman claimed Dunn was kidnapped and held captive in January 2011, because her mom owed money to drug dealers in Odessa. The woman reportedly said Dunn was drugged and eventually died. The letter claims the girl's body was then dumped behind the Ector County Coliseum.
The revelation about the letter -- even though it was received by police some four months ago -- prompted a flurry of headlines suggesting a "possible breakthrough" as NewsWest9 put it.
Colorado City Police Chief Tinker Owens did not immediately return messages left by HuffPost. Asked about a break in the case, he told The Odessa American Newspaper on Tuesday that "there is no validity in this as far as law enforcement is concerned."
According to Newswest9.com, the author of the letter was being held on drug charges when she mailed it. The disposition of the woman's case was unclear.
Dunn, a cheerleader, was last seen in Colorado City just after Christmas Day in 2010. Colorado City is located about 70 miles west of Abilene, Texas, and has a population of about 4,000.
Dunn's mother, Billie Dunn, 34, reported her 13-year-old daughter missing on the morning of Dec. 28, 2010. The Colorado City Middle School student had been last seen the previous afternoon. Billie Dunn's then-boyfriend, Shawn Adkins, 25, told police that the teen was going to spend the night with a friend.
That friend later told police that she had no plans with Hailey Dunn to spend the night and was unaware that the girl was coming over. Billie Dunn later told police she had fought with her daughter before she went missing.
Colorado City police, along with the Texas Rangers, the Mitchell County Sheriff's Office and other law enforcement departments in the region, conducted several searches for Dunn, but found no sign of her.
Affidavits released after Dunn's disappearance indicate Adkins and Billie Dunn gave contradictory statements to investigators and both failed polygraph examinations.
The court documents also point out inconsistencies in statements Adkins gave to police regarding his job and whereabouts on Dec. 27, 2010. Adkins' statements contradicted information police obtained from his cell phone records, police said.
"Dunn indicated she and Adkins were both interested in the topic of the documents," the affidavit said. "Billie Dunn described the topics as a 'hobby.'"
View photos of Hailey Dunn.
PHOTO GALLERY
Hailey Dunn
The affidavit also said Adkins had remarked to a relative that hurting a teenager would be "like killing a deer."
In January 2011, Pete Kampfer, city manager of Colorado City, told The Huffington Post that Adkins was a person of interest in Hailey Dunn's disappearance.
"It's more and more of a focused investigation on criminal activity in a broader context," Kampfer said. "But I can't give you particulars about the investigation that would say why" Adkins is in the spotlight.
Asked at the time if Hailey Dunn's mother was considered a person of interest, Kampfer said, "If you saw the affidavit, you might infer that, but I can't tell you that. I was advised to say that there are 'persons of interest,' which is plural, to include Shawn Adkins."
Both Adkins and Dunn denied involvement in Hailey Dunn's disappearance. Neither have been charged with any offense connected to the teen's disappearance.
Billie Dunn was arrested last year for lying to police about Adkins' whereabouts. She was reportedly given a year's probation and then moved to Austin, Texas. The couple are no longer together, the Associated Press reported.
Calling all HuffPost superfans!
Sign up for membership to become a founding member and help shape HuffPost's next chapter
BEFORE YOU GO