**Scroll down for Pictures**
Hailey will soon learn that she is an important celebrity (her mugshut made Us) and may find the wisdom to erect some privacy barriers between her and her legions of fans, but in the meantime let's take a look at her Facebook profile.
Hailey's favorite quotes include such hidden gems as "Everything happens for a reason," and she recently updated her relationship status. She's in one. Her friends seem supportive!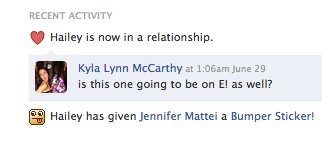 Her favorite TV show is 'Sex in the City,' natch. Here are some pictures of Hailey smoking cigarettes, partying, smoking pot and generally having an awesome time.
Popular in the Community