The deluge began around 3:30 a.m. Over the next few hours, fast-moving hailstones pummeled the area north of Amarillo, Tex., which had lately been sitting in mud and dust due to a lack of precipitation, according to the news organization. The hail mixed with the mud and dust to create four-foot high mounds that shut down a major highway for the next 18 hours.
The National Service Office in Amarillo posted a striking picture on Facebook of a local fireman standing between the mounds and the floodwaters, accumulating due to melting ice and heavy rain.
See the photo and raw footage of the flash floods below.

"I can assure you we do not have big rocks like that in West Texas," Scotten told msnbc.com. "Anytime you have hail accumulate 2 to 4 feet high and get over three inches of rain, no matter how it occurs, it's pretty incredible."
Brian Thomas, the sheriff for Potter County, concurred with Scotten, saying the hail mounds were erratic.
"This was just one of those weird storms that just sat here and came down extremely heavy in this one area," Thomas told KAMR-TV.
Luckily no injuries have been reported from the storm, the station reported.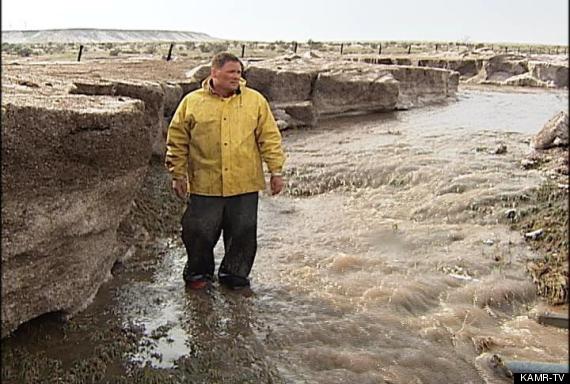 Related
Popular in the Community