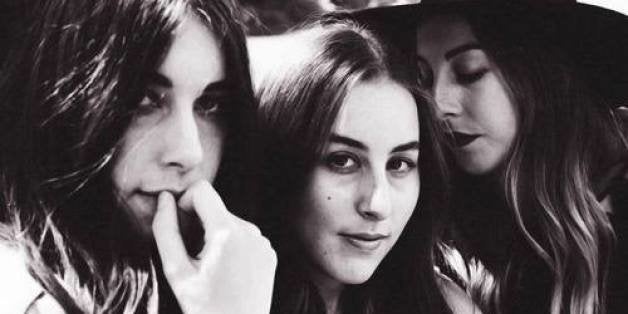 It's not easy to faze sister rock trio Haim, but giving them a spot on opening day of Coachella is enough to make them pause. "We are freaking out," Alana Haim, who at 22 is the youngest sister in the group, told The Huffington Post in a recent interview. Alana and her siblings, Este and Danielle, grew up in Los Angeles and are no strangers to the three-day festival in Indio, Calif., having attended as fans when they were teens.
The Huffington Post caught up with Alana to talk covering her body at Coachella, going medieval and why she's "shitting" herself. Highlights from our conversation below:
How psyched are you guys to play at Coachella for the first time, given the fact that you grew up in Los Angeles?
Alana Haim: It's just crazy. Just hearing that you were at our Troubadour show a year and a half ago -- we were probably getting ready to go to Coachella as fans at that point in our lives. We are the biggest Coachella fans. This is my seventh or eighth Coachella. It's the best festival and they really do get the best lineups. We didn't have money when we were teenagers to go to Coachella, so we would sneak in. I don't know if I should say it out loud because Goldenvoice might be like, "Fuck you, you're not playing anymore" [laughs]. We used to sneak in and run through bushes and find little nooks and crannies to squeeze through. And then they got the wristbands with the crazy security, and it's like, "All right, I guess we have to buy passes now." Well, thankfully, this year we get our passes for free!

All three of you have great style. Coachella is known for being a bit of a fashion mecca. How do you decide what you're going to wear on stage and is there pressure to look "cool" at Coachella?
Your first couple of Coachellas you, like, plan out all of your outfits but now we just know that you have to dress comfortably. I used to wear these cute little crop tops with things flying off of them and, like, fringe and stuff. And I quickly realized that all that shit restricts me from getting to the front of the stage.
This is a great Coachella tip: cover your body. Because if you're in the crowd, a lot of dudes don't wear shirts and they are sweaty and you're trying to crawl through people and you don't want that on your body. I learned it the hardest fucking way.
When we spoke about a year and a half ago, you all said that "The Wire" was your favorite song to play live. Is that still the case or do you have a new favorite?
"The Wire" is still such a fun one to play. We started tour rehearsal yesterday and it's is one of our oldest songs and it still hasn't gotten old to play. It's just fun and upbeat and it's taken on a life of its own now, since there have been so many different versions of it out there. Now I feel like when we play it, it feels right -- if I can quote "The Wire."
Who are you guys most excited to see at Coachella this year?
Oh my god -- Outkast. Game changer. The fact that it's on my day, on Friday, I'm actually shitting my pants. I don't know what I'm going to do. I'm kind of nervous that I'm going to die. Lorde is playing. She's fucking rad. We did a tour with her. Chvrches and Bastille are playing. All of our homies. All of the Brits are coming -- it's an invasion. They are taking over and I'm really excited. I've explained to Chvrches and Bastille how much fun Coachella is. I have conveyed that to them and they're really pumped.
I love your new album. It sounds less pop and a bit more classic rock to me. What direction do you feel your music is going? Or how do you think it's changed over the last few years?
I think we have just really grown up. This year, especially. Right before the record came out, we had only really released "Forever." We honestly had no idea what would happen and then they started playing it on the radio and everyone was asking where the record was. We kind of freaked out and things started moving so quickly. We couldn't catch our breaths for a really long time. We just had to stop everything and said we need to take our time and figure out what our first record is going to be. We had been a band for so long. I listen to "Days Are Gone" and I'm so proud. I let out a huge sigh of relief.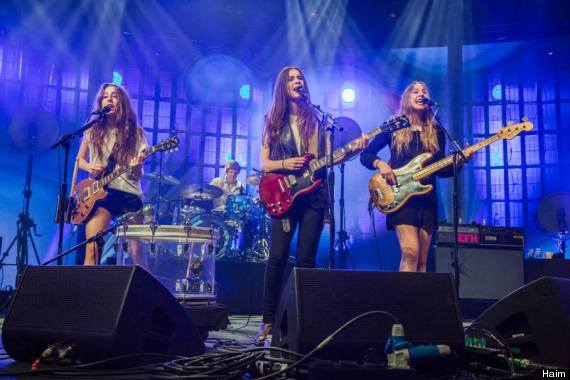 You recently asked people to please stop calling you a girl band -- that it's "medieval." Do you have any other pet peeves about how the media portrays you or any pet peeves about how you're perceived?
That's the biggest one. It's just still so weird to hear that people call us a girl band. It's not even insulting to me, I just think it's weird. It's weird that it exists. I was talking to a friend yesterday and she said she's so happy that girls have someone to look up to and we play all of our own instruments. But that should just be the norm. We have Warpaint at Coachella and they are incredible musicians. They are so killer. And there should just be more of us. It shouldn't be a kitschy thing or some weird niche. It should just be like, "Oh shit, they play music. Duh." Throughout time, girls have always played music. People just forget. We are here to remind them.
Calling all HuffPost superfans!
Sign up for membership to become a founding member and help shape HuffPost's next chapter
BEFORE YOU GO
PHOTO GALLERY
Best Coachella Style 2013