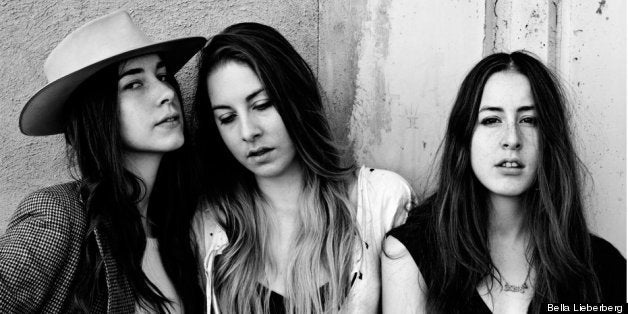 Ever since they could hold their heads up on their own, the trio of sisters, Este, 27, Danielle, 24, and Alana, 21, have been strumming, drumming and crooning their hearts out.
The kind of effortlessness and full-throttle passion with which the girls perform could only stem from having played a rotunda of instruments, including the tabalas, keys, guitar and bass, for most of their lives.
"Before I could really hold anything on my own my dad put drumsticks in my hands and sat me down at a set of drums," eldest sister, Este says, sitting in the shade on the golf course tucked away from the muddy Governors Ball crowd.
"There's a picture of me when I'm four barely reaching over a set of tabalas just banging away at them. Not much has changed," added youngest sister Alana.
Despite coming fresh off the first leg of Rihanna's European tour as the opening act and performing back to back shows at Brooklyn Bowl, Governors Ball and Monday night's David Letterman Show this week, the girls seem the furthest thing from exhausted.
Their sound is a fusion of Stevie Nicks, Janis Joplin and TLC; a trifecta of 80s pop, smooth R&B and quirky, yet commanding rock in the tradition of strong women that came before them.
For months, music critics and pop-rock aficionados have been buzzing about the sisters' upcoming debut album, making it no surprise they were deemed the "Sound of 2013" by the BBC, nominated for an NME award this year and named "Band to Watch in 2013" by Teen Vogue.
With their upcoming performance this weekend at Bonnaroo and a slew of festival stops before they hop back on tour with Rihanna, the girls tell me they're just trying to keep their attitudes easy breezy and ride the incredible journey.
"We did like a test run with Rihanna, only performing one show and it was insane. It was for the biggest audience we've ever performed for before, besides opening for Beyonce at Chime For Change. It was definitely very intimidating."
"But performing is the most fun thing for us. I think if we could we just tour for the rest of our lives we would," Este says.
As the debut of their first full-length album, on Columbia Records, readily approaches this fall, the girls are exuberant and humbled by their success thus far.
"We always expected to get booed if we left places like L.A.," said lead guitarist and singer Danielle, who previously performed on tour with The Strokes' Julian Casablancas and Jenny Lewis.
When they first started out Julian gave them the best advice they'd ever heard: Stop doing what you're doing.
"We were playing as many shows as we could, mostly for our friends. Julian told us to stop playing so many shows and it worked." Danielle said.
Their debut album, which follows the April 1 release of their widely acclaimed "Forever" EP will be a culmination of their popular singles like the up-beat "Don't Save Me" and the love-struck rock ballad "Falling."

"I think we've been writing this record our whole lives. It's a culmination of everything we've done. Since we were kids we've been very observant and always journaled," Este says. "So it's mostly about our observations, keeping everything in, stories we've heard; an amalgamation of everything we are."