It's been quite a week with the CFDA Awards and MTV Movie Awards -- both are always a style showdown of the bold, the (very) beautiful, and the best dressed. But it is also proof that the young Hollywood leading ladies in attendance, like Blake Lively and Emma Stone, know how to work their currency with clever style updates and seize the perfect moment to debut a new hair color. One week Blake's working golden blonde highlights to a movie premiere and the next she's spotted dining out with dark caramel tresses. And Emma wowed me with her bold move from ginge to bombshell blonde, and I love that she went back to her roots for the MTV Awards. So how do these starlets skip around the color wheel faster than you can say 'Bumble & Bumble'? It's all about careful color customization. You don't need to up-end your makeup bag completely; just invest in a face savers like a cream luminizer, some brow powder, and the right blush. Here are my tips: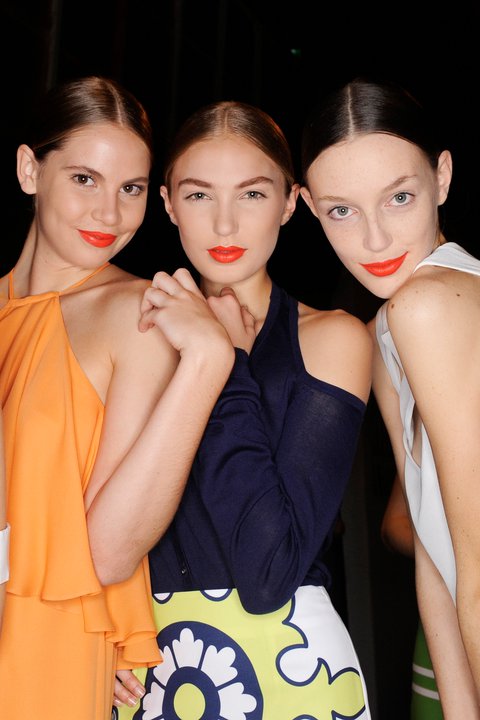 An example of strong brows, highlighting and bright lips with dark hair from the Karla Spetic show at Rosemount Australian Fashion Week
The Now Brow: If you're taking your hair from light to dark, definitely reassess your eyebrows. Darker hair desperately needs a solid framework around the eyes so go for an eyebrow pencil about half a shade darker. If you're not used to defining your brows then invest in a fool-proof brow powder for a softer look that's easier to apply than a pencil. Start at the end of the brow and work backwards towards the inner brow. Apply in a feathering motion and not directly on the skin. Color in the middle third, the arch would be a little more prominent, almost like you're putting a little hat on it. If you're lightening up your hair, you'll need to do the same for your brows. Brow bleaching has been a big runway trend but it's only for the brave. For less of a leap, lighten up your brows with a creamy concealer and an eye brow comb. Apply the concealer to your brow and then quickly comb over (so it doesn't get cakey) for an instant lightening effect.
Highlights: A new dark do calls for some soft highlights in your makeup palette. Gold and yellow undertones warm up the complexion and help to soften up your look. My Light Patrol Luminizer Palette has some great shades that can be used individually or blended together on the temples, inner corners or cupid's bow. If there's a lot of contrast between your natural skin tone and your new darker tone, you may want to consider a foundation with light-diffusing properties for some subtle definition.
A Pop of Color: Carey Mulligan, another member of the hair-chameleon club, knows this trick well: If you're going from dark to light, blush is an absolute non-negotiable to brighten up the face. Especially if you're choosing a blonde shade that's very similar to your skin tone. [Let's face it, most of us are over Twilight and that other-worldly veil of pale.] Apply a peach or coral blush directly onto the apples of the cheeks to create color and much-needed contour.


Lip Tricks: With lighter hair, you can really try any shade of lipstick and it's not going to clash. Certain hues will look even better than they did before, like a true red or a creamy caramel paired with a mane of honey blonde. If you're going dark, just add a wash of those colors or the softness of a nude, rose pink. But to be honest, my only rule when it comes to experimenting with lip color is to wear it for 12 minutes before you make a final decision. A change of lip color can completely change your look, your mood, your day -- you just need to allow your eye time to adjust. If you don't like it, swipe it off. It's only makeup, after all.