Friends and family have asked me "Did you get your hair cut?" after every single relaxer I've gotten for the past eight years. My hair was broken, extremely short and I developed patches of psoriasis on my scalp that never went away, no matter what my hairstylist recommended I use to fix it. My routine consisted of wrapping my hair at night -- thinking that would keep it healthy -- and flat ironing the kinks in the morning to create as much movement and sleekness as possible. And I wondered why I had hair that would never grow longer than just below my ears.
Here's a bit of hair history. Before I started on my healthy hair journey, I was never into hair care. Makeup, skincare and clothes? Those three were always uncontrollable obsessions. If I could go to the salon every week for a blowout, I would do it. I never looked forward to washing and styling my own hair. I've had relaxed hair since I was six years old, and every six weeks, I would get a touch-up.
At one point my hair was extremely long -- I'm talking Pocahontas long -- and between bad relaxers, hairdressers with no skills or knowledge of relaxed hair care, and snatching the blow dryer and flat iron from my mother's hands, my hair started breaking off.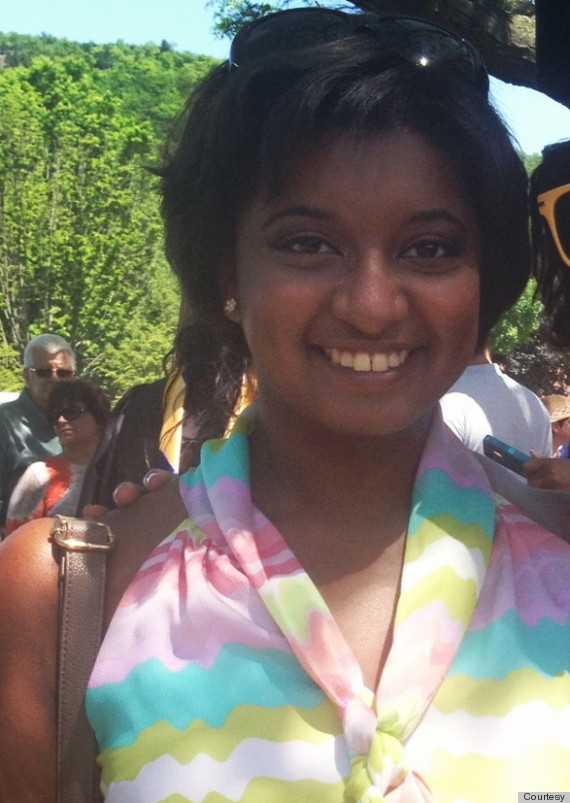 The patches of psoriasis on my scalp started in college, which I can now say was stress-induced, but I never once saw a dermatologist for it. (That's the thing about us girls who are beauty-obsessed. We never want help from a professional because we think we can fix the problem ourselves.) By researching blogs, watching YouTube videos, and getting advice from friends and my new hairdresser, I finally have reached a point of growth in my healthy hair care journey.
I started on my healthy hair care journey about eight months ago. In late September, I got a relaxer at my usual salon and got the same "Did you get your hair cut?" response from not only my colleagues, but my on-and-off hairdresser at the time, Betsy. When Betsy asked me, that was when I knew it wasn't just a "culture thing." My hair was breaking off. I have to thank Betsy for giving me a jump-start into the world of proper relaxed hair care. She was completely honest with me about the condition of my hair and scalp. In December 2012, I started doing more research about what relaxed hair truly needs. Here are the lessons I have learned on this journey.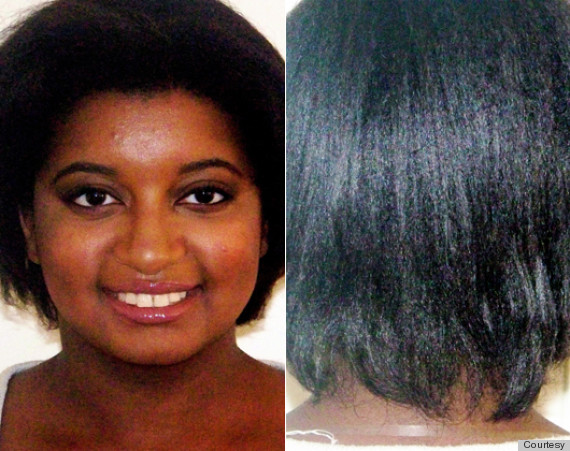 Get a hairdresser that will tell you the truth. My hairdresser Betsy lets me know if my ends need a trim, if my scalp is too dry or if I don't need a relaxer just yet. I now wait about 12 weeks, per her recommendation (she has truly taught me that patience is a virtue). She is encouraging but also realistic; we both know it will take a long time to reverse eight years of damage. She also gives me advice on products to buy, and gives me a deep conditioner every single time I go to the salon.
Read the labels. Before I started my hair care journey, I never looked closely at the ingredients list of the products I was using. Now I look for reviews on YouTube and Amazon, as well as check the ingredients list to see if products have what my hair needs. My relaxed hair loves protein. I make sure there are proteins in my oils and deep conditioner. I even have a separate protein treatment which goes on my hair five to seven days before my relaxer. Some hair is sensitive to protein and needs more moisture-boosting products, so look for what is best for your hair.
Be your own chemist. Don't be afraid to start mixing things up a little bit when it comes to your hair care routine. I put castor oil in absolutely everything: my deep conditioner, my oil for sealing and scalp massages, and I'm even experimenting with putting it on my eyelashes as a low-budget Latisse (I'll let you know how that goes!). I find that castor oil truly helps with stimulating hair growth, adding moisture and making my new growth soft and manageable. Experiment with different oils and start working them into your routine.
Get your essentials and stick with them. Below is a picture of my hair basket. Everything I need to properly style my hair is in there, including styling tools, conditioning oils and detangling leave-in products. I have reduced it from out-of-control clutter to effectively minimal. When I first started on this journey, I bought everything that said "anti-breakage" or "restructuring." Heck, even just "oil" convinced me. (I'm a marketer's dream.. Recently, I've started to educate myself a bit more. With the help of YouTube, specifically -- Crystal Rose Love's channel -- I started to search for products that I knew would work well for my scalp condition and hair type.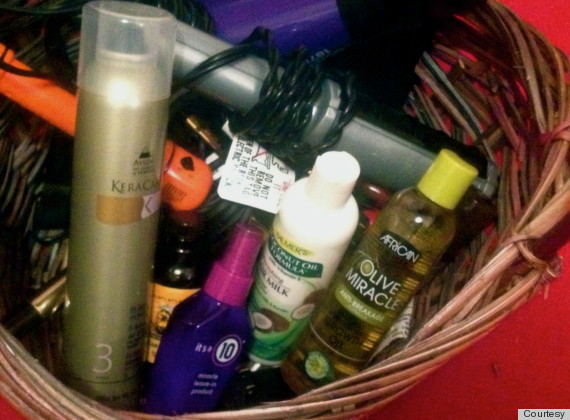 Get a routine started. Once I researched products, I wanted to get a solid routine in order to repair everything that was going on with my hair. To treat my psoriasis specifically, I had to look for a shampoo that would clarify my scalp and cure the itchiness, as well as moisture-enhancing conditioners that would keep dandruff at bay and keep my itchy scalp in check. I also had to start paying just as much attention to my scalp as I did my hair. This took a lot for me, as a self-proclaimed lazy hair girl; I started doing serious scalp messages every night with essential oils. (Don't worry, I'm still too lazy to make my own hair oil. The African Pride Growth Oil mixed with some castor oil works well for me. I've started using the Mizani Scalp Care Conditioner once a week and the T-Gel Shampoo from Neutrogena once a month.)
All of these things combined, got rid of all of the psoriasis patches and helps my scalp to be less itchy. I also had to get used to protective styling, especially with a regular exercise regimen. I wear it back in a clip or a bun on most days just to keep my ends healthy and to keep me from heat styling too often.
When I saw how healthy my hair became after my cycle of stretching, protecting and moisturizing, I was so happy I began my renewed hair journey. No one has asked me if I have gotten a haircut post-relaxer in months; in fact, most people comment about how much longer it has gotten when I wear it pin-straight. The most encouraging part about this journey is knowing that my hard work is paying off, and my goal of healthy hair is so much closer.
Want more HuffPost Style beauty content? Check us out on Twitter, Facebook, Tumblr, Pinterest and Instagram at @HuffPostBeauty. (For everything else check out our main HuffPost Style Twitter, Tumblr, Pinterest and Instagram @HuffPostStyle.)
---
Do you have a beauty story idea or tip? Email us at beautytips@huffingtonpost.com. (PR pitches sent to this address will be ignored.)