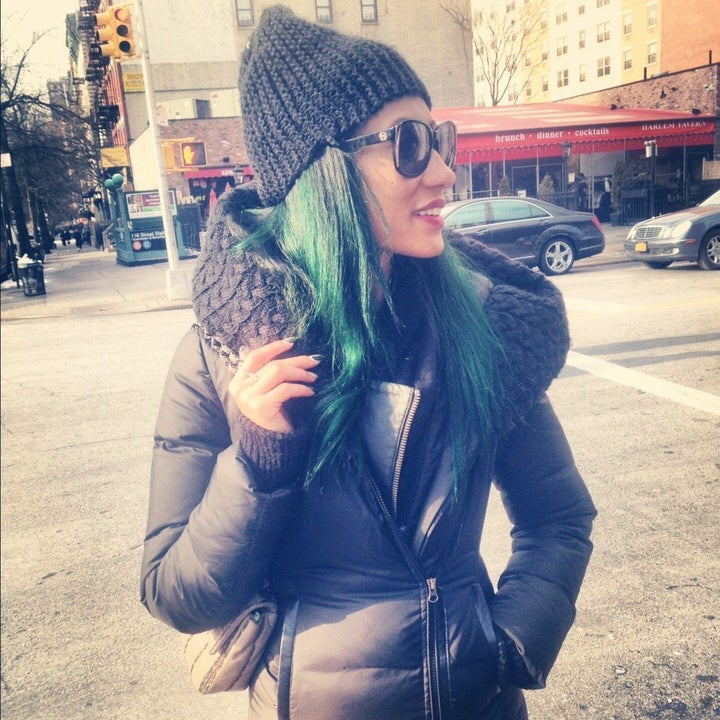 I pride myself on having a fierce and fabulous group of girlfriends. Their ambition is infectious, spirits are outstanding and individual styles a source of endless inspiration.
This sassy lady has been filling my life with joy for a few years now and I can't get enough! She recently landed the plum title of Beauty & Health Director at Teen Vogue and you know what that means--trying out the best lotions, potions, products and treatments you can think of.
With that said, it should have come as no surprise that Elaine strutted into the tents at the start of New York Fashion Week with a head full of green hair. But I was shocked. Elaine's covetable locks have been coated in emerald green( the official color of 2013) and I never thought such an unnatural hue would look so darn amazing--especially on a woman of color.
Just look at all that glorious green--and worn with such awesome confidence!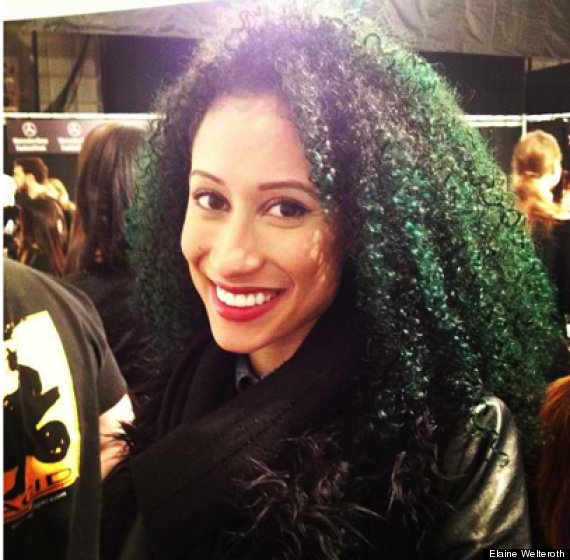 BEFORE: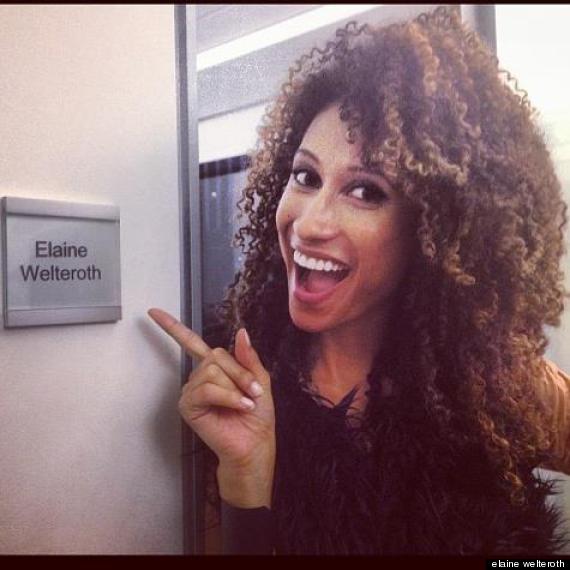 It goes without saying that we had to get to the bottom of this amazing transformation.
So, we got Elaine to dish on the details--when, where, why and how this bold and beautiful look came to be. Check it out...
How long did it take?
Not long. I just asked Aura to replace my golden ombre tips with a cast of emerald green, so there was no bleaching involved and we turned my naturally dark roots a shade or two darker. The result was this sort of blackish-teal effect. I like that it transforms; it can look really subtle or super bold depending on the lighting. It's like mood ring hair!
How long does it last?
It washes out in about 6 six weeks. The great thing about playing with a deeper bold shade like emerald green is that it fades beautifully into a subtle navy bluish teal, which blends really well with brunette hair. Should be fun to watch it evolve with each wash. But truth is I have a business trip coming up so I'll probably switch up my color again before it fades too much. Thinking I'll go with something a little more conservative...like purple. Kidding!
Why did you decided to go green?
Honestly, I got really inspired by the girls I saw when I was in London a few weeks ago. There is this cool hair bleaching bar called Bleach Salon inside the Topshop flagship store. I was getting my nails done at Wah on the lower level (p.s. a great place to find ridiculously cool nail art inspiration) when I saw girls dying their hair in these really gorgeous "My Little Pony-esque" pastel shades. The look has a slight punk-rock reference but it's not at all jarring or trashy. It's whimsical, but still really pretty. So, I got inspired to go for it. I mean, why not? I work at Teen Vogue!
That takes some guts, no?
Since starting my new job back in October, I feel like I've been living out my second adolescence beauty-wise (lol). I think I owe it to my readers to be a little more experimental and adventurous with beauty because they are. So far, they've been really receptive on instagram! Actually, one reader told me she used a picture of my green hair as amo to get her dad to let her dye her tips green! Lol!
So, how do you feel about the new look?
It was definitely fun to switch up my hair color for fashion week. My conservative guy friends are probably scratching their heads a little bit (lol), but that's ok. I'm having fun with it--and my boss approves--so, that's all that matters. Plus, it scored me cool points with my brother who is in a punk rock band.
What's next?
I'm chopping it all off Carly Cushnie-style! Stay tuned!
I absolute love the look! I might just have to go green myself. What about you? I'll definitely report back after she goes for the big chop, but in the meantime check out these pics of Elaine in all her gorgeous green glory and beyond.
PHOTO GALLERY
Elaine Welteroth's Gorgeous Green Hair
REAL LIFE. REAL NEWS. REAL VOICES.
Help us tell more of the stories that matter from voices that too often remain unheard.