It's enough to leave a bad taste in the mouth of any restaurant owner: A customer intentionally puts a hair in the food and uses it as an excuse not to pay the bill. Then the customer attempts to blackmail the restaurant by threatening a bad review on TripAdvisor.
Such an unappetizing encounter reportedly happened Saturday night at Casa Nostra Ristorante, an Italian eatery in Brisbane, Australia.
A customer at the restaurant claimed there was a hair in her pasta and demanded the meal be comped, co-owner Sarah Biuso told News.com.au. However, the waiter noticed the hair didn't match that of any of the employees, she added.
"We all have short dark trimmed hair, and this was a strand of dirty blonde curly hair," Biuso said. "The pair threatened to post a bad review [on TripAdvisor] if the meal wasn't taken off the bill."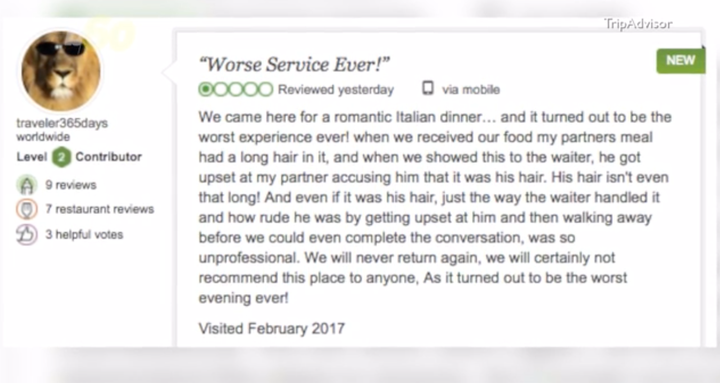 In its Instagram post, the restaurant noted that TripAdvisor has a "no blackmail policy for reviews" and complained that the review was "posted on Trip Advisor for all the world to see." 
But the review was later removed, and Casa Nostra Ristorante has a 4.5 star average based on 67 reviews.
TripAdvisor has since released this statement to media: 
"We take very seriously any allegations of blackmail or threatening behavior by guests against business owners.

It is absolutely against the terms and spirit of our site to use TripAdvisor's name to try and claim discounts, compensation or freebies that would not be available to other guests. We strongly encourage owners who have experienced blackmail to proactively report such threats before a corresponding review is submitted by using our free Management Centre.

When reporting such threats, we advise owners to provide as much information as possible to aid the investigation efforts of our fraud detection team. They will then be able to take action to stop those reviews from ever reaching the site."
Looking for a way to check if the TripAdvisor or Yelp review is legit or written by a person only pretending to be disgruntled? HuffPost blogger Teresa Bitler offers some good tips here.
REAL LIFE. REAL NEWS. REAL VOICES.
Help us tell more of the stories that matter from voices that too often remain unheard.
BEFORE YOU GO
PHOTO GALLERY
Mealbreakers