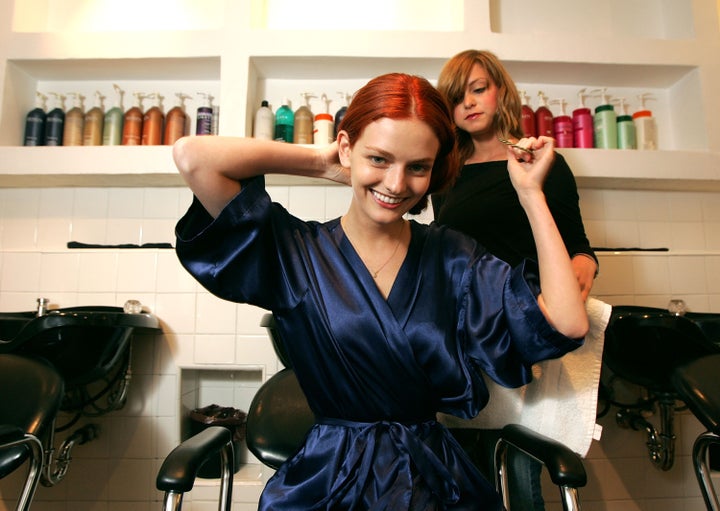 How much should I tip the shampoo person? Is it okay to eat while having my hair done? Good questions! If you ever feel unsure about salon etiquette, simply ask! Every salon will have different rules, but I think you'll find most will be accommodating. As with any service business, it's about you, the client, but that doesn't mean you shouldn't follow basic rules of behavior.
• Most salons have a 24-hour cancellation policy, so if you can't make an appointment, let the salon know as soon as possible. You will most likely receive an appointment-reminder call or e-mail.
• Arrive 15 minutes before your scheduled time so you can get changed and ready for your appointment. If not, your time with your stylist may be shortened.
• Explain in detail what kind of look you have in mind. Bring a photo of the style you wish to achieve and bring it back for every follow-up appointment so the stylist can remember your style! It's easy now with smartphones.
• Your stylist may suggest products to maintain your style at home. If you're not interested or the products are not within your budget, don't be afraid to say, "No, thank you."
• Be courteous and off all electronic devices during your appointment. Scissors and talking on your cell phone don't work well together.
• Fifteen to twenty percent is a customary gratuity, but you may leave more or less, depending on the quality of the service.
• Leave a tip at the reception desk when you pay your bill rather than giving it directly to the stylist. If you receive multiple services from different people (cut, shampoo, blow dry), leave a separate tip for each person.
• Should you tip the salon owner? In general the answer is no, as the owner gets a cut of everyone else's tips. However, when the owner is also your stylist, tip away.
• If you bring children to the salon, make sure they have books or toys so they can entertain themselves and are old enough to stay seated during your visit. If not, they will be a distraction and could even be injured because of the presence of scissors, curling irons, and so on.
• Book your hair appointments well in advance to get the best times possible. Many salons will let you book up to six months' worth of appointments.
Lisa Mirza Grotts is a recognized etiquette expert, an on-air contributor, and the author of A Traveler's Passport to Etiquette. She is a former director of protocol for the city and county of San Francisco and the founder and CEO of The AML Group (www.AMLGroup.com), certified etiquette and protocol consultants. Her clients range from Stanford Hospital to Cornell University and Levi Strauss. She has been quoted by Condé Nast Traveler, InStyle magazine, and the Los Angeles Times. To learn more about Lisa, follow her on www.Twitter.com/LisaGrotts and www.Facebook.com/LisaGrotts.