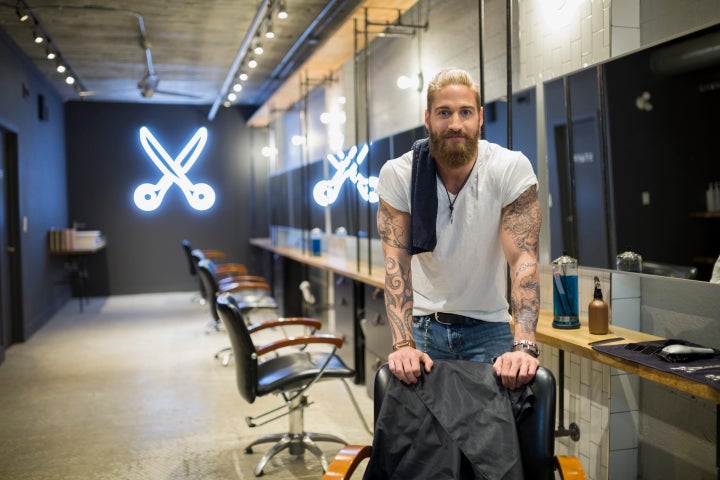 If you've been loyal to your hairstylist for years, switching to a new salon can feel like a betrayal. After all, your stylist or barber not only works their magic on your tresses on a regular basis, they probably have bestie-level knowledge of your personal life.
It's not a friendship, per se, but it's far more personal than the transactional relationships you probably have with your car mechanic or your accountant.
"The sense of friendship can make clients feel uneasy about 'breaking up,' but any reasonable stylist will understand that there is a life expectancy to the relationship," Moore said. "Clients have every right to go elsewhere."
Plus, as Moore sees it, one less client frees her to add new clients into the mix, something that keeps her on her toes creatively.
John Mosley, a barber and men's grooming expert whose client list includes Kendrick Lamar and Eminem, said men worry more about stylist breakups than women. Usually, though, clients just "ghost" their ways out of Mosley's life, which is completely fine, but has made for some awkward run-ins.
"It's really funny when you see a client that hasn't been with you for a while and they try to act as if they lost your number or like the shop has moved," Mosley said. "The thing is, it doesn't hurt stylists' feelings, because we know life changes and it may be a money thing or an availability thing for clients."
Sometimes, excuses are regional. Melissa Hoyle, a hairstylist at Spoke & Weal in Los Angeles, hears very LA-specific explanations when clients leave: They can't bear the commute to the salon any longer, for instance, or the search for parking.
She understands all of that. What she doesn't understand is when clients flake on their appointments with nary a phone call. You should always give your stylist a 24-hour or even a 48-hour heads up if you're not coming, Hoyle said, and if it's a standing appointment, let them know you simply need a break.
"Then, your stylist can give a guest on the waitlist an opportunity to fill that time slot," Hoyle said. "You are scheduled on someone's book of business; respect their time and yours."
Ultimately, your stylist probably wants what's best for you, your wallet and your tresses, said Colleen Duffy, a stylist at Benjamin salon in West Hollywood.
"Our work is really personal to us, so it can sting a little bit when a client we're close to leaves, but it happens," Duffy said. "I've lost clients to friends and they've lost clients to me. It just happens, and you can't take it personally. We know that you can't be the right hairstylist for everyone."
That said, if you leave and decide to come back, your stylist will definitely know if you've seen other people. Returning clients always try to play it sly, but an artist always knows their work, Sal Salcedo, a stylist and co-owner of Nova Arts Salon in Los Angeles, told us.
"I always know when they've gone somewhere else: Their hair and their sad face tells it all," Salcedo joked. "I feel like it's common to hear, 'I've learned my lesson. I thought it would be easier if I I found someone closer or cheaper,'" he said. "For the most part, though, they have not-so-great experiences and come back!"